Soccer brings Robertson to MCC where she finds community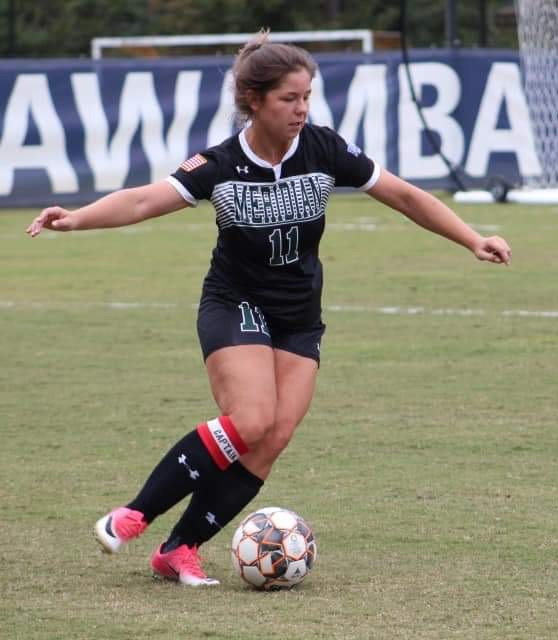 When Winona resident Kristen Robertson came to Meridian Community College in August 2018, she was focused and eager to play for the Lady Eagles soccer team. After all, soccer is a sport she loves. She still finds pick-up games when she goes back home.
However, as she graduates, Robertson discovers that her life at MCC has been much more than soccer. It has been about the friends she has made, the instructors and advisors she has come to depend on, and the education she will take with her into the future.
"I have had the best two years of my life at MCC, and I have learned so much during my time at MCC," said Robertson, who was disappointed the coronavirus shutdown kept her from wishing her friends and instructors farewell in person. "I made so many friends at MCC, and it breaks my heart that I didn't get to spend at least one more week with them."
A 2018 graduate of Winona High School, Robertson is the daughter of Kathy Robertson of Winona and John and Rachel Robertson of Byhalia. At WHS, Robertson was a captain of the girls' soccer team, a cheerleader and a member of the track team. She was in the Beta Club, Mu Alpha Theta Club and Student Council. She took dance at a local studio and participated in Montgomery County Crown Club and Leadership Montgomery Youth.
She came to MCC to play for the Lady Eagles soccer team after being recruited by Coach Mike Smith.
"Kristen was such a big part of the team for us," Smith said. "She was always a great leader and always worked hard at practice and games. She always kept a positive attitude even when things didn't go our way. We're going to miss her."
Robertson said she appreciates the opportunity Smith gave her to play the sport she loves in college. "I really appreciate Coach Mike giving me the opportunity to come and play for the Lady Eagles," she said. "I had such a good experience that I would play another two years if I could."
A defender, Robertson was voted captain her sophomore year by her teammates. "I thought it was a good choice because of the leadership qualities she possessed, including her accountability, positivity, confidence and communication skills," Smith noted.
A University Transfer Program student, Robertson earned her associate of arts degree from MCC. The College held its spring commencement virtually as the event was streamed live on the MCC Facebook page and YouTube channel.
She plans to transfer to the University of Mississippi in the fall to pursue her degree in accounting.
For her hard work at MCC, Robertson was awarded the Wilton (Bill) Johnson Jr. Scholarship, given to a graduating sophomore who plans to continue their education in the College of Business at Ole Miss. "I am so grateful that I was chosen to receive this scholarship. It is going to be financially helpful as I finish my degree at Ole Miss," she said.
Robertson did not take a straight forward path to accounting. Her major changed a couple of times while at MCC. She started out in biology, and then switched to psychology before she finally decided on accounting.
"I have gone back and forth with my major, but I finally decided on accounting," Robertson said. "I have always been good at math, and I feel that the mathematical nature of accounting, tracking cash flow and balancing books is interesting. I think I am really going to like accounting."
After earning her degree in accounting, she plans to move to Brandon, where she has family, and find a job in the accounting field.
While at MCC, Robertson was able to volunteer in the local community as a member of the Lady Eagles team. She helped with Special Olympics events and participated in My College Cares, an annual community service event where MCC students spend the day participating in community service projects.
"My first year, the MCC soccer team spent the day cleaning Highway 19," Robertson said. "This year, we read books to students at West Lauderdale Elementary School."
She was also a member of Phi Theta Kappa, an international academic honor society for junior and community colleges, and the Phil Hardin Foundation Honors College at Meridian Community College. She was active in the Baptist Student Union, volunteered at blood drives held on campus, helped with the College's Lifetime Quest's Bingo Day, and mentored students at Oakland Heights Elementary School.
"I am so happy I chose to come to MCC. Everyone has been so friendly, and the teachers are all so helpful. I feel like we are all like family," she said. "I did not have one bad experience at MCC and would recommend it to others."
Photo: Lady Eagle Soccer player Kristen Robertson in action at the soccer pitch. With her associate degree from MCC, Robertson will continue her studies to pursue a career in accounting.