University Transfer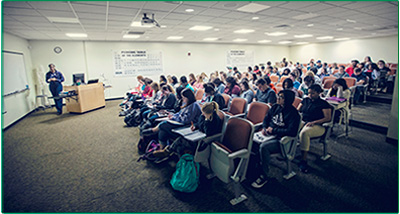 MCC offers the University Transfer Program for students who plan to transfer to a four-year institution. The University Transfer Program is parallel to the courses taken by freshmen and sophomores at universities and senior colleges. Students who plan to continue their studies at a university should secure a catalog from that school so that their schedules can be formatted to parallel the senior institution's curriculum.
The University Transfer Associate in Arts degree consists of a series of core courses and a selection of transferable courses based on the student's desired major. Generally, one-half of the hours required for a bachelor's degree may be transferred from a community college to apply to a degree at a senior institution.
While there are no programs designed for transfer to senior institutions that require a minimum ACT score for admission, the following is a guide for placement in most general education courses at MCC, one of these must be met:
Attain a 17 composite score on the ACT. (Some courses require higher for placement purposes.); or
Score 70 or higher on the ACCUPLACER Reading Section; or
Earn a "C" or above in Intermediate English and Reading (ENG 0124); or
Complete 15 semester hours with a "C" average or above at an accredited college or university. Developmental courses do not satisfy this requirement.
Core Curriculum
3 hours
Approved choices: MAT 1313, MAT 1323,
MAT 1613
8 hours
Approved choices: Approved choices: BIO 1113/1111, BIO 1123/1121, BIO 1133/1131, BIO 1143/1141, BIO 1313/1311, BIO 1533/1531, BIO 2413/2411, BIO 2423/2421, BIO 2513/2511, BIO 2523/2521, BIO 2923/2921, CHE 1113/1111, CHE 1213/1211, CHE 1223/1221, PHY 2243/2241, PHY 2253/2251, PHY 2413/2411, PHY 2423/2411, PHY 2515, PHY 2525
3-4 hours
Approved choices: Any math course
numbered higher than College Algebra (MAT
1313), any science w/lab course listed above.
6 hours
Approved choices: ENG 2223, ENG 2233,
ENG 2323, ENG 2333, ENG 2423, ENG 2433,
HIS 1613, HIS 1163, HIS 1173, HIS 2213,
HIS 2223, HUM 1113, MFL (Elementary or
Intermediate French or Spanish), PHI (any
Philosophy course).
3 hours
Approved choices: ART 1113, MUS 1113,
MUS 1133, SPT 2233


6 hours
Approved choices: CRJ 1313, ECO 2113, ECO
2123, EPY 2523, EPY 2533, GEO 1123, PSC
1113, PSY 1513, PSY 2523, SOC 2113, SOC
2133, SOC 2143, SOC 2213
While it is not required, MCC strongly encourages students to enroll in a physical education course as a degree plan elective. There is a direct correlation between the quality of one's health and capacity to learn and function well in society. MCC's physical education courses promote personal wellness, which transcends curricular considerations, and is rather a lifelong goal for every human being.
For more information:
Chad Graham, dean of university transfer education
cgraham@meridiancc.edu
601.484.8698