A financial helping hand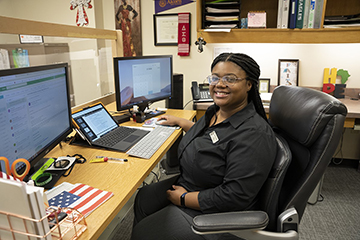 For many students, financial aid is vital to making college affordable, and MCC Director of Financial Aid Whitney Stevens sees how money matters in education.
"Financial aid makes a huge difference sometimes. With it, students can focus on their studies without having to worry about the stressors of the coverage of the (tuition) bill," she said.
Stevens moved into the director position earlier this semester after serving as associate director; she began her MCC career in October 2013. In her new role, Stevens likes seeing the overall picture. "It's the big picture of the impact of what we do – that's the good part about it," Stevens said.
She added, "that's what keeps the smile going, being able to see the fruits of your labor."
Stevens holds a bachelor of science in business administration from Alcorn State University and a master of business administration from Mississippi College. She and her husband, Derrick have a son, Derrick Jr., who is also called Duce.
The College's Financial Aid department is nearing completion of implementing a higher education financial aid software, CampusLogic, that will help not only students applying for aid but also assist College staffers in processing financial aid tasks.
However, the personal connection continues. "You're constantly thinking about the student," she said, noting that wanting the best for students is paramount. "I look at them like they're family; you just carry them in your heart," Stevens said.