Surplus items become another learning opportunity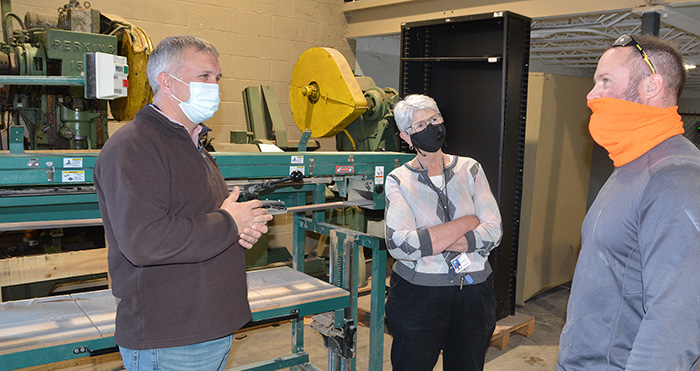 It's not often that a chance conversation at a soccer field turns into a win-win for state agencies and taxpayers. But a discussion between two acquaintances, Dusty Culpepper and Myke Shirley, did just that.
Culpepper is the deputy executive director of outreach for the Mississippi Veterans Affairs and Shirley is Meridian Community College program coordinator and instructor of the Construction Trades Program.
"We were talking just about the program and how redemptive it is. You've got Veterans who may have made some mistakes after they were discharged, but they still wore our nation's uniform and served," Culpepper said about the Mississippi Statewide Incarcerated Veterans Program – the Mississippi VA Housing Unit for the Military Veterans (HUMV) at the Central Mississippi Correctional Facility in Pearl.
At the unit is the Veterans Career Education Training Center, V-CET, where the focus is on successful job re-entry. B.R. Hawkins, HUMV director, explained the prison does not have a vocational-technical education program on-site until now with the creation of V-CET.
Hawkins said there are 1,091 Veterans in the prison system. She leads an initial training program that will accommodate 115 Veteran offenders. Because of COVID, there are fewer qualified incarcerated Veterans who can populate the course. "So, we're also pulling from the general inmate population. The idea is that Veterans will lead the way, and we're going to make it better for all of the folks who are willing to have what we want," she said.
Culpepper said that Hawkins' efforts are successful. "You've got Veterans who may have made some mistakes, but while they're in, B.R. identifies them, accesses their skills and abilities, and enrolls them in cognitive behavior therapy, anger management and co-dependency courses. She re-programs them, so they're doing the right thing: they're telling the truth – learning the consequences of telling the truth. So, that part comes even before we put a welding torch or hammer in their hand," he noted.
Mississippi's recidivism rate is 33 percent, Culpepper noted. The HUMV program's rate is four percent over a four-year period.
This program witnesses milestones. "We've put out 96 participants who are gainfully employed – when we say gainfully, they're making $28,000 a year or better," Culpepper said, adding, "there have only been four who have come back to prison. "That is much as a win as anything. If we do nothing but put them through the moral recognition program, we've done them a great service. But phase two of that is not only do we want to get them work-ready, but we also want them to be able to not come back to prison – we want them to be prepared," Culpepper said.
Hawkins has done a yeoman's job of keeping it afloat, Culpepper said. "Our agency has known about B.R.'s program for several years now, but it was always grant-funded from year-to-year and unstable. This year, with the leadership of Stacey Pickering, the program has been taken over by Mississippi Veterans Affairs for sustainability," he noted. Pickering is the Mississippi Veterans Affairs executive director.
In order to train the participants, there's a need to have the necessary equipment and tools. When Culpepper and Shirley chatted, Shirley said there may been some welding machines that were not being used – that were being set aside to return to state's government surplus site.
"We were able to work out the transfer of assets, and we're now able to put (the equipment) to good use to train our Veterans to put them in good jobs," Culpepper said.
Nine welding machines and three sheet metal bending machines were collected at the College's Workforce Development Center by Hawkins and her crew and unloaded at the Vo-Tech Center in Pearl.
"Four people will take a look at the equipment to see what needs to be repaired, what can be worked on, to see what condition it is in and get it ready to go," Hawkins said.
"This was (a gift) of about $22,000 in cost," Hawkins said. "And it's the first equipment and materials we have for our Veterans program," she said.
However, Hawkins noted, "the biggest value is that it's the first domino that falls."
She explained that people are eager to help Veterans. "They're not so willing to do lots for felons. So, companies and industries and folks want to make sure that somebody else is given, too, and so MCC tipped that first domino for us," Hawkins said.
"Now, when we go to companies, we can show that we've got by-in. And that's probably more valuable than the $22,000. That's goodwill – it's priceless," she added.
She said, "It goes back to the John F. Kennedy quote: 'A rising tide lifts all boats.'"
Joseph Knight, MCC vice president for workforce solutions, said, "We were happy to see the equipment go to such a worthy cause of helping Veterans prepare for a better future."