Downtown Meridian mural spotlights talents of MCCers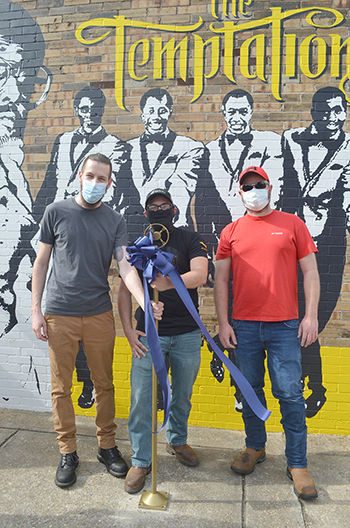 For some MCCers, the creative spark let their imagination run away with them by creating a mural in Downtown Meridian.
A community-based project that spotlights Whynot native David Ruffin and the Temptations came to life thanks to the collaborative efforts of many, including MCC Graphic Technology Program Coordinator Daniel Ethridge and MCC Precision Engineering Technology Program students Jae Murphy and Michael Bishop.
The mural is a graphic design highlighting musician Ruffin with fellow members of The Temptations, the 1960s-1970s-era group from Detroit who sang on the Motown Records label and landed on the Billboard charts at No. 1 with "My Girl," "Papa Was a Rolling Stone," "Can't Get Next to You" and "Just My Imagination (Running Away with Me)." Also, at the brick canvas setting is a stand-up microphone for photo opportunities.
The idea evolved from City of Meridian Intern James Prewitt, who pitched the concept to Meridian Mayor Percy Bland. After the mayor's okay, Pruitt turned to his former Meridian High School Art Teacher Cary Haycox, who in turn reached out to Ethridge.
Ethridge, Haycox and Prewitt spearheaded the creation and completion of the mural in a few weeks. "Welcome to Meridian Hometown of David Ruffin – The Temptations" is the first in a series of downtown murals celebrating Meridian artists.
Adding to the mural was a microphone stand created by MCC students Murphy and Bishop, who are also members of a rock band, Via Novas.
Ethridge explained the mural was outlined in pencil and then painted with MCC, Meridian Museum of Art and Meridian High School students and passersby. "People would walk by, see us working, and would pick up a paintbrush to help," Ethridge said.
Murphy said designing and completing the period-correct replica of a microphone was fun and challenging; the bonus was that it gave him and his partner Bishop a chance to apply the skills they are learning from their MCC career and technical program.