Lady Eagles roll past Co-Lin 82-68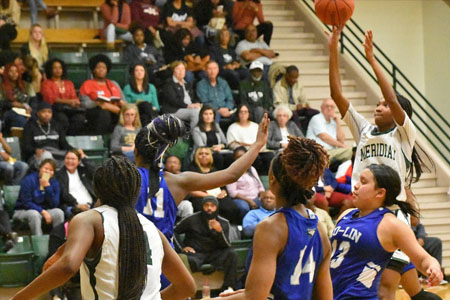 Meridian - The Lady Eagles started the homecoming night off with a blast by rolling past the Co-lin Lady Wolves 82-68. The Lady Eagles improved to 8-14, 5-8 on the season with the 14 point victory.
The Lady Wolves came out of the gate firing as they took a quick 8-2 lead over the Lady Eagles. However, the Lady Eagles bounced back fast and took a 19-18 lead into the second quarter. The second quarter would prove to be just as close as the first as both teams traded baskets. The Lady Eagles took a four-point lead into the break, 41-38. The Lady Eagles capitalized on the hot shooting of Berniya Hardin and Sidney Sims, who both had a team-high 21 points each.
The Lady Eagles were red hot to start the third quarter and started the half on a 6-0 run. The Lady Eagles would outscore the Lady Wolves 21-8 in the third quarter, taking a 62-46 lead into the final quarter.
The Lady Wolves wouldn't go down without a fight, going basket for basket with the Lady Eagles in the final quarter. Tamara Riley led the Lady Wolves with a game-high 25 points. However, it wouldn't be enough as the Lady Eagles held on for the 14 point win. Both Yolanda Nelson and LaChrisha Williams finished the night with ten points.
In the nightcap, the Eagles would follow suit be defeating the Co-lin Wolves 92-79, improving to 9-13, 4-9 on the season.
The Eagles jumped out to a 20-12 lead in the first 8 minutes of the game, but the Wolves would battle back and tie the game a 22-22 late in the half. The Eagles knocked down two quick baskets to retake the lead 26-22 and carry a 5 point lead into the break, 36-31. The Eagles wouldn't relinquish the lead again as they outscored the Wolves 56-48 in the second half to roll to the 13 point victory. The Eagles were led by Lorenzo Waddy, who had 19 points and 7 rebounds. Alvarez Powell had 17 points, and Justin Brown had 16.

Both teams will close out the regular season this Thursday night, February 20, 2020, at home as they host the Pearl River Wildcats at 5:30 p.m. and 7:30 p.m.