MCC grad helps bring eLearning to state's students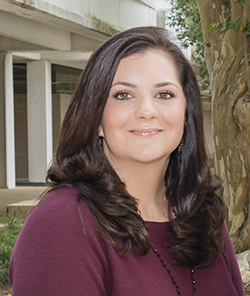 Meridian Community College graduate Dr. Krista LeBrun uses her passion for education and love for technology to support Mississippi's community colleges in bringing distance education classes and training to their students.
"Ten years ago, there was a tremendous surge in online enrollment because eLearning was still relatively new," said Dr. LeBrun, who serves as assistant executive director for eLearning and Instructional Technology at the Mississippi Community College Board. "It was still a rather taboo methodology of instruction, and nowadays, it is not necessarily optional. Students are expecting to have some sort of digitized learning experience."
Technological advances, including artificial intelligence and virtual reality, are causing colleges to rethink how they offer classes to students, she noted.
"Who would ever have thought workforce education would be online," she said, "but with the capabilities of virtual instruction, virtual reality and artificial intelligence, I think we are going to see a shift in other subject areas that we might not have thought capable of being able to be put online and produce the same caliber or quality of instruction that you would expect to see in face-to-face instruction."
Dr. LeBrun credits MCC for starting her on a career path in education.
Originally from Great Falls, Montana, Dr. LeBrun grew up as a military child with her father spending more than two decades in the Air Force. The family eventually ended up in Meridian, where she later dropped out of high school in the ninth grade.
Dr. LeBrun moved out of her home and started working. She was juggling work at a jewelry shop, gift card store and candy store in the mall when one day she ended up at MCC. There, she met Browning Rochefort, director of adult education program at the time, who talked with her about getting a GED.
"She said you know if you got your GED you probably would be able to get a better paying job," Dr. LeBrun recalled. "She gave it to me in very realistic terms like you do not want to have to be flipping burgers for the rest of your life."
Dr. LeBrun earned her GED at MCC in the early 2000s when she was 16 and a couple of years later enrolled in classes with help from Rochefort. She received her associate's degree in 2004, followed by her bachelor's degree in elementary education in 2006 at the Meridian campus of Mississippi State University.
"Once I earned my GED, I realized, 'oh, I can do this.' It was hard, but it wasn't as unattainable as it had always seemed," Dr. LeBrun said. "I received my associate's degree, and I just kept going."
She worked as a third-grade teacher at Southeast Lauderdale Elementary School and then as an online advisor at the University of West Alabama while at the same time earning a master of arts in Education/Curriculum and Instruction with an emphasis in distance education from the University of Phoenix in 2008.
Adept at computers and technology, Dr. LeBrun had taught computers to seniors at the Meridian Activity Center while working on her degrees.
"While working towards my master's degree, I discovered I really enjoyed working with technology and working with adult students," she said. "That kind of led me down this path."
She returned to MCC in 2009, this time as a distance learning coordinator and was later promoted to director of eLearning.
In 2012, she earned her doctorate in Instructional Leadership with a concentration in Instructional Technology through the University of Alabama. Two years later, she became dean of eLearning Education at East Central Community College.
Dr. LeBrun began her current role as assistant executive director for eLearning and Instructional Technology for the community college board almost five years ago.
"If it wasn't for Mrs. Rochefort and her having that faith in me of 'yes you can do this,' I am not sure where I would be now," Dr. LeBrun said. "She has rooted me so deeply in the community college system. I received my GED from a community college, my associate's degree from a community college, and I got my first real leadership experience working at a community college. I do not see myself working outside the community college system. I see so much value in our state's 15 community colleges and what they offer students and the community."
Today, she lives in Brandon with her husband, Patrick LeBrun, who also received his GED through MCC and later worked as a campus police officer. Presently, he is a sergeant with the Reservoir Police Department in Brandon. The couple has a 10-year-old daughter, Lorelei.
Due to the coronavirus pandemic, the state's 15 community colleges have had to adapt to increased virtual learning offerings this year quickly, Dr. LeBrun noted.
The state already had the Mississippi Virtual Community College (MSVCC) consortium that allows the colleges to leverage their distance learning resources, including faculty, courses, support services and technology.
"We already had such a great foundation for online learning," Dr. LeBrun said. "Through 20 years of supporting online learning, we had a lot of resources and services already in place, including our systemwide learning management system, Canvas, and MELO, which is our Mississippi Electronic Libraries Online."
The challenges came from community colleges having to shift from offering select courses online to providing numerous courses through distance learning at one time, she noted.
"When you're talking about the magnitude of taking campuses from picking and choosing which courses you want to be online to suddenly having to push a very high volume of courses online, there is a tremendous amount of training that needs to take place and a lot of coordinating of those resources and services," she said.
She applauds the consortium members and employees for being able to get the job done. "I can't speak highly enough of our group because they really all came together," she said. "There were no territorial type conversations. Everybody was extraordinarily supportive of each other."
Said Dr. LeBrun, "I am so incredibly grateful to be a part of this system, and it would not have been possible without Mrs. Rochefort and MCC."
Photo: Dr. Krista LeBrun earned her GED and her associate degree at MCC; today, she serves as the state's assistant executive director for eLearning and Instructional Technology for the Mississippi Community College Board.