MCC grad proves it's never too late to follow your dream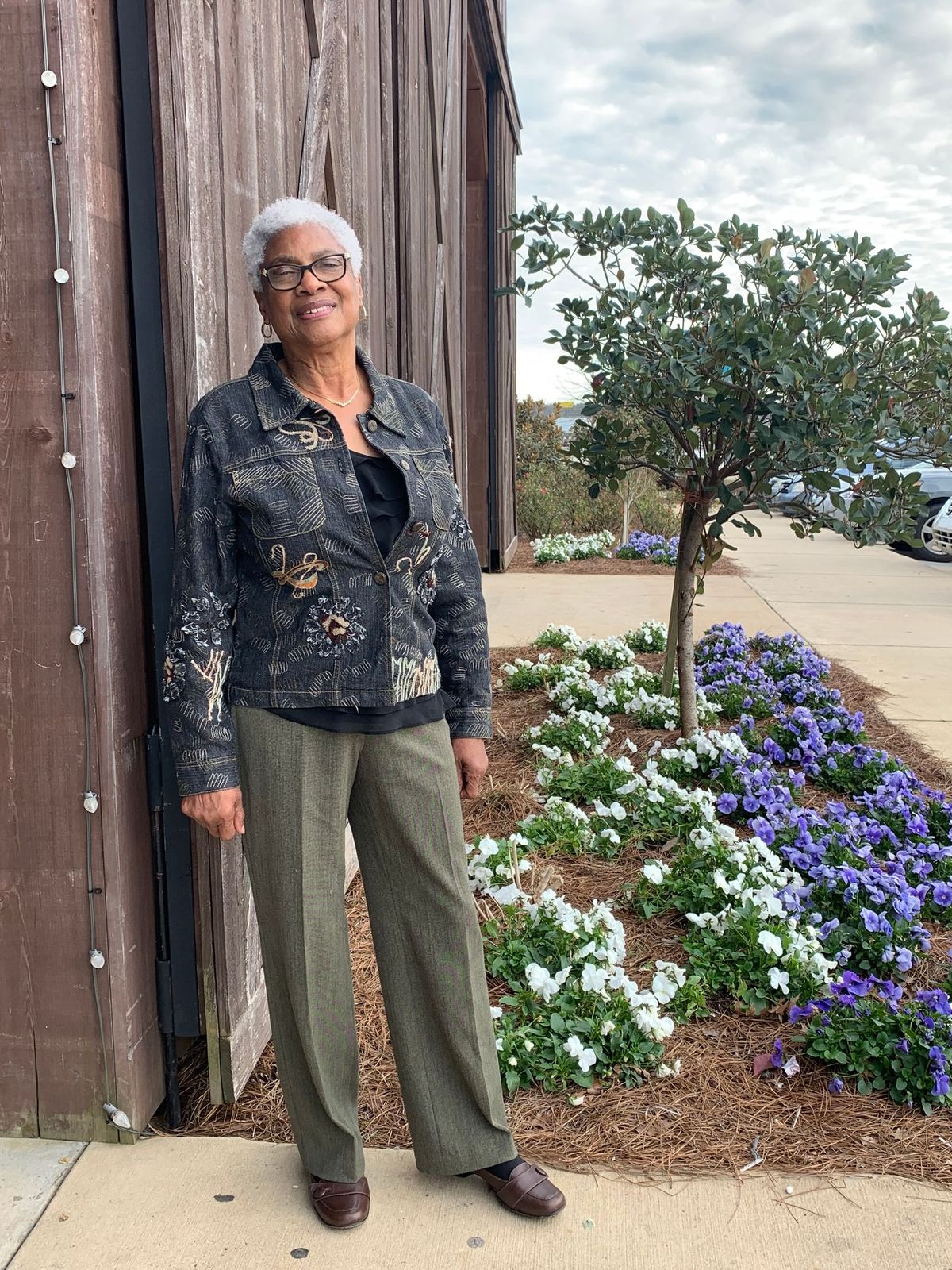 For Meridian Community College alumna Gloria Brown, the phrase "You are never too old to follow your dreams" rings true.
After years spent working and raising a family, Brown enrolled in MCC at the age of 54 with the life-long dream of pursuing a college degree. She graduated from the community college in 2004 with an associate degree in University Transfer; then, she continued to pursue her education by earning three bachelor's degrees.
"I was a widow after 31 years of marriage, and my three kids were out of college," she recalled. "I wanted to fulfill a lifelong dream of going to college, so I enrolled at MCC. I had always wanted to go to college, but I knew I had to get my children through their education first."
A native of Meridian, Brown moved to St. Louis to live with relatives after her mother's death when she was 16. She returned to her hometown after graduating from high school.
She married her husband, the late Willie Brown Sr., and had three children. She went to work at Sanders Lumber Co., laying stickers between lumber in a stack to separate each board before the stack was sent to the kiln for drying.
"I was the first woman that ever worked at Sanders Lumber Co. doing that kind of work," she recalled.
She stayed at the lumber company for two years before joining Meridian Coca-Cola Bottling Co., where she worked for 25 years before retiring in 1991. She also worked a second job at Winn-Dixie grocery store, but she had to leave that job to care for her husband when he became ill. She also worked for a time at Children's Education Connection.
During this time, her children were graduating from college and finding success in their respective fields. Her son, Willie Brown Jr., lives in Brandon and is a market sales leader for Bimbo Bakery. Her daughter, Alicia Brown, a registered nurse with a bachelor of science in nursing, lives in Walnut Grove and serves as complex nurse manager for Tyson Foods Inc. in Forest. Her youngest child, Jamila Brown Coleman, lives in Meridian and serves as adult education lead instructor at MCC. She also has nine grandchildren and three great-grandchildren.
After her husband passed away, Brown became interested in working for Hope Village for Children. This non-profit organization opened in Meridian in the early 2000s and provides emergency shelter and residential programs for children who are removed from their homes due to neglect, abuse or misfortune.
"When Hope Village for Children opened in Meridian, I knew that it was a place where I wanted to work," she said. "After looking at the job requirements, I saw that even though I had many years of work experience and I also had experience working with children, I still was not qualified. I did not have my high school diploma. Of all of the jobs that I had worked, I had never been asked for my high school diploma, so I didn't think that at my age, I would have needed it."
The school where Brown had attended in St. Louis had no record of her graduating. So first, she decided to enroll in the adult basic education program at MCC to obtain her high school equivalency, or GED.
Brown credits Jennifer Whitlock, who at the time was the Adult Education instructor but now serves as director of the program, and Susie Chapman, another instructor, with helping her navigate the program to receive her GED in 2002.
"They were both understanding and, most of all, patient with me," she said. "They helped me to quickly be able to earn my high school equivalency diploma."
Brown said earning her GED is one of her proudest accomplishments.
"Fulfilling the dream of going to college came after I received my GED, and I saw that receiving a college degree was an achievable goal," she said.
Coleman, who recognized that her mother earning her high school equivalency diploma was one of her most outstanding achievements, has since founded the Gloria Blackshear Brown High School Equivalency Scholarship at MCC in her honor. The $1,000 scholarship is awarded to a deserving student who earns a high school equivalency diploma through MCC and demonstrates academic ambition and financial need.
After receiving her GED, Brown's quest for learning took off.
She enrolled in MCC classes and earned her associate degree in university transfer in 2004. She was able to apply for the job she wanted at Hope Village and started working for the organization in 2005 as a developmental coach. She worked from 11 p.m. until 7 a.m. and took morning classes.
After graduating from MCC, Brown transferred to the Meridian campus of Mississippi State University, where she earned her bachelor's degree in Interdisciplinary Studies in 2010. Loving college, she continued with her studies and earned a bachelor's in Social Work in 2012 and a bachelor's in History in 2013.
"I was so into school, I just stayed on after my first degree," she said. "I just wanted to keep going."
Brown enjoyed the atmosphere of college and being a non-traditional student among young students fresh out of high school. She learned a lot from them, and she believes she was a good mentor and influence on them.
"Some of them are still in touch with me, and they tell me that if it wasn't for me, then they probably would not have kept going," she said. "For me, I was not going to college for a long-term financial gain, job stability, career satisfaction and success or advancement in the workplace. I just wanted the personal satisfaction of earning a college degree."
Brown, who at age 75 still works for Hope Village as a house parent, has proven that it is never too late to follow one's dreams or to pursue an education.
"Never doubt yourself or what you can do. Be persistent," she said. "I am at peace with my life because I look back and see that I accomplished something I always wanted to do and, as a result, I am now doing something that allows me to give back and help others."
Brown laughed, "I am definitely not going to go out of life as a grouchy old lady who did not fulfill what she wanted to do in life."