Saluting: College video to spotlight veterans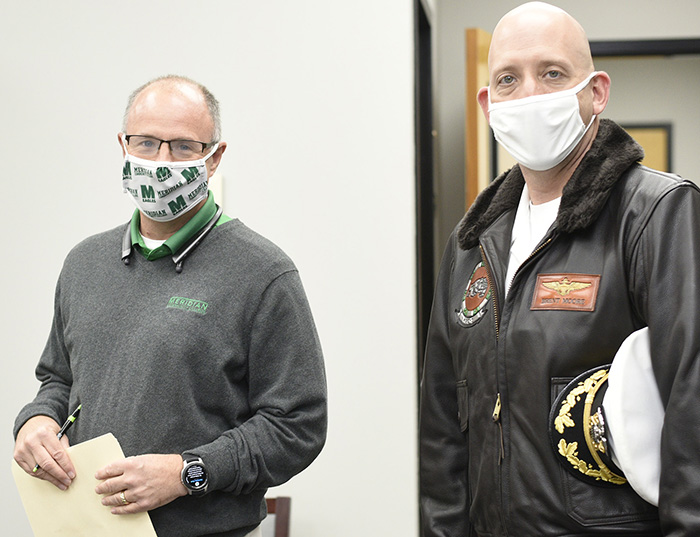 With the theme of "Honoring All Who Served," Meridian Community College will pay tribute to veterans via a video salute featuring remarks from Capt. Timothy B. Moore, commanding officer of Naval Air Station, Meridian.

In the past, MCC hosted Veterans Day programs on campus spotlighting both on-campus and community veterans. Still, because of the pandemic's limitations, a different way to salute veterans was created, said Pam Baranello, MCC veterans and military services coordinator. So, the idea of a video emerged.

"This program is very special to our campus and community," said Baranello. "We wanted to be respectful of this COVID environment, but we also wanted to remember our service people," she said.

Capt. Moore, who began serving as the commanding officer of NAS Meridian in August, is the keynote speaker for the video. He has flown over 3,200 hours in fixed and rotary-wing aircraft, including 150 combat flight hours in Iraq's skies. His decorations include the Legion of Merit, Defense Meritorious Service Medal, the Meritorious Service Medal, the Air Medal, the Navy and Marine Corps Commendation Medal, the Army Commendation Medal and various unit and campaign awards.

The program also includes MCC President Dr. Thomas Huebner and MCC veteran students Justin Rawson, Tracey Moncrief, Corey Byars, Zuley Yepez and Amber Thompson. Campus staffers including Charlie Price, Cindy Bratu and Nate Nomichith will also be featured.

As a special tribute, video vignettes from veterans from Aldersgate retirement community will be added. "MCC is honored, proud, and so excited to have these veterans included," Baranello said.

The video will go live on MCC's YouTube channel on Nov. 11, Veterans Day, and the College's Facebook social media and website will promote the video.