Konnar gets jump-start on college at MCC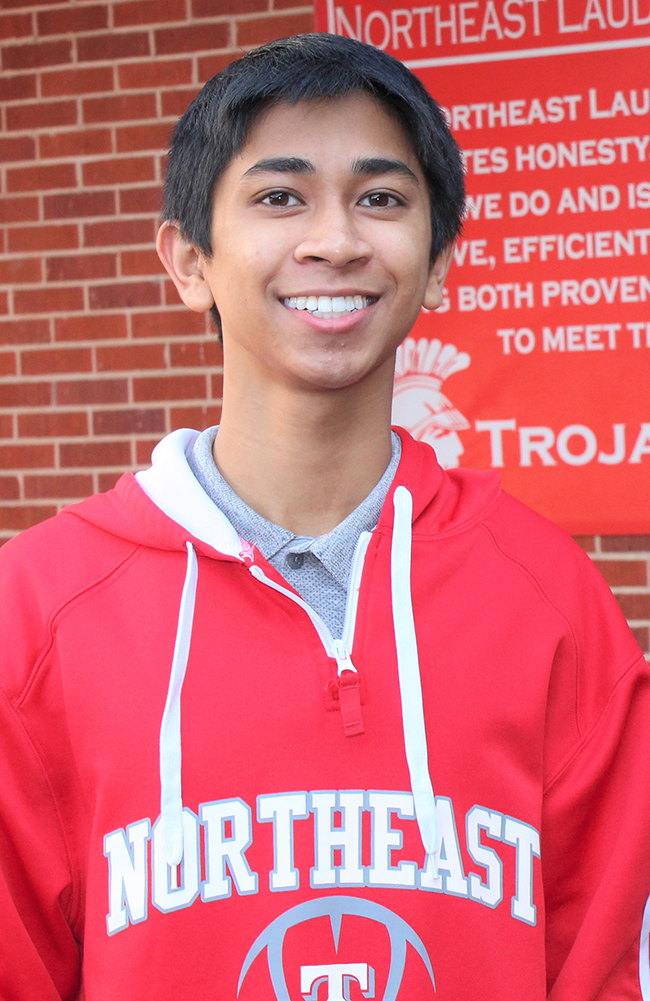 By the time Veshal Konnar graduates from Northeast Lauderdale High School in the spring, he should have enough credits to enter college as a sophomore.

A senior at Northeast High, Konnar also is enrolled in Meridian Community College as a dual credit student, so he receives both high school and college credits for some of his coursework. He has taken courses through MCC as a dual enrollment student, too.

"Dual credit and dual enrollment classes prepare you for a higher level of thinking since they are college level classes," said Konnar. "They better prepare you for taking AP classes, and they give you the experience of college courses so you will have the foundation of what a college class is like before you step foot into college as a freshman."

Konnar, 17, is one of approximately 600 local high school students who take dual credit and dual enrollment classes through MCC's early admissions program each semester. The program is open to students at all public and private high schools in Lauderdale County, as well as homeschool students.

"Dual credit offers high school students the opportunity to not only get a feel for what college courses are like but also helps them to get a jump-start on their college education," said Desi Ross, MCC's Dual Credit Coordinator. "Most undergraduate college students are required to take many the same general education courses no matter their major. Dual credit allows them to get some of those courses under their belt while simultaneously awarding them high school credits that they need to graduate."

Through dual credit classes taught at Northeast, Konnar receives both one high school Carnegie unit toward graduation as well as one three-hour postsecondary credit toward college graduation requirements. He has taken American History I and II, Principals of Marketing and Personal Selling as dual credit courses. This semester he is taking English Composition I with plans to take English Composition II in the spring.

As a dual enrollment student, Konnar completed College Algebra during the summer between his sophomore and junior years and has taken Spanish I and Spanish II, all as a MCC student. This past summer, he completed General Physics with a lab online because of the COVID-19 pandemic.

"Because of dual enrollment and dual credit classes, I should have about 31 hours by the time I finish English Comp II in the spring," noted Konnar, which would make him a sophomore when he enters college next fall.

MCC Physics Instructor Stuart Brown, who taught Konnar the online class this summer, said the high school senior was an outstanding online student.

"He regularly asked questions via email and always completed his assignments on time, which is very important when completing College Physics I in a four-week online summer course," Brown said. "Students must be very dedicated and organized to successfully complete that amount of material in a short time.

"Veshal was an outstanding student and finished in the top of his class," he added.

A resident of Meridian, Konnar is the son of Rama and Heather Konnar, the operators of Danshal Hotels LLC. He has always excelled at school and other extracurricular activities.

At Northeast, he serves as president of the student council and president of the senior class. He is a member of the Beta Club, Young Politicians of America and Future Business Leaders of America. He is the editor of the Trojan yearbook and a member of the tennis team.

In his junior year, he represented East Mississippi Electric Power Association (EMEPA) at the Electric Power Associations of Mississippi's Youth Leadership Conference in Jackson and the National Rural Electric Cooperative Youth Leadership Conference in Washington, D.C. Earlier this year, he won first place in the Lauderdale County School District's first-ever Shark Tank Competition for his proposal for teeth whitening gum.

"Veshal is a fantastic student," said Northeast High School Teacher Candice Maloney. "He is very intelligent, motivated and helpful. He always completes his assignments, asks for understanding when needed, and helps his classmates be successful. He is a joy to teach."
To prepare for an AP physics class Maloney will be teaching this year, Konnar participated over the summer in a virtual AP physics camp created by the Global Teaching Project, an initiative working to provide students access to advanced high school courses communities where there are teacher shortages.

Generally held at Mississippi State University, this year's camp was online due to the pandemic, Maloney said.

The camp prepared students for the rigorous course material associated with AP physics and used scientists and teachers worldwide to connect with the students. Participants even got the chance to talk virtually with entrepreneur Mark Cuban, one of the stars of the television show "Shark Tank" and owner of the NBA Dallas Mavericks.

In a physics assessment given after the camp, Konnar earned the highest score of about 80 Mississippi students participating in the event. He received a book scholarship from MCC for his achievement.

"It is a nice honor to represent Northeast and the school district," he said.

Still unsure what major he plans to pursue in college, Konnar is considering mathematics, business or finance. He recommends dual credit classes to other high school students as a way to get ahead in college.

"I consider them as just another class to me," he said. "There is more studying time, so you have to make sure you allocate time to do the work along with your regular schoolwork. You just can't let it sit in a pile and forget about it. But it will not hurt to take one class and test the water to see if you like taking dual credit courses. If you like it, then you can take more."

Students interested in taking dual credit classes through MCC can apply online at meridiancc.edu/dualcredit. The deadline to apply for the spring semester is Dec. 11.