MCC's Gowdy offers students the chance to see the world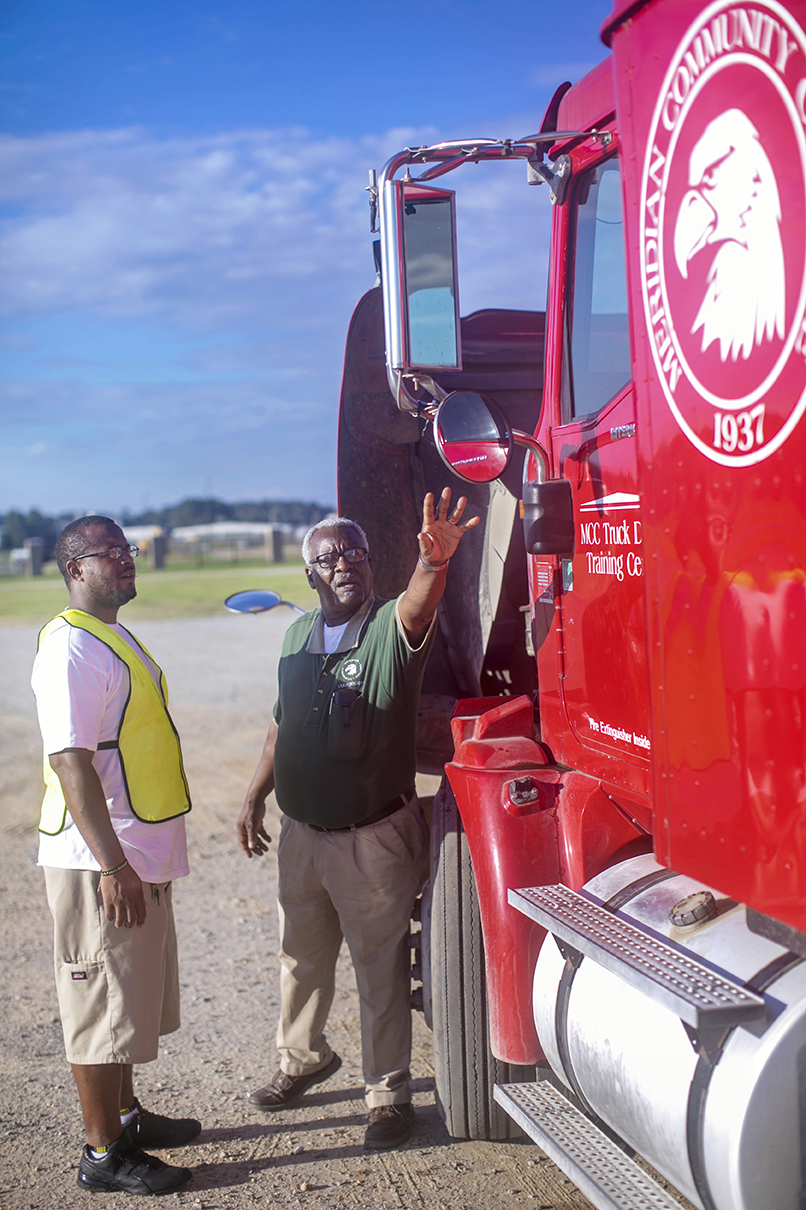 During his years on the road as a commercial truck driver, Otis Gowdy has traveled from one end of the country to the other, navigating his way through large cities and meeting people from all walks of life.
Truck driving is an excellent opportunity for someone from small-town Mississippi to see the larger cities, said Gowdy, coordinator of the Commercial Truck Driving Program at MCC. Seeing the nation, steady work and good pay are many of the perks he sees of long-haul truck driving, which he relates to students as they go through the program.
"I have had the opportunity to travel around the countryside at someone else's expense," said Gowdy, who has hauled cargo to large cities such as Miami, San Francisco, Dallas, and across rural grasslands along remote highways. He has driven through portions of most states in the country.
MCC started the Commercial Truck Driving Program in 2004. The College plucked Gowdy out of the Meridian Public School District, where he taught a vocational class, to head up the program. Jimmy Rigdon is the program's other full-time instructor.
An eight-week program, Commercial Truck Driving, prepares students to drive heavy commercial vehicles and tractor-trailer trucks using classroom instruction, simulator training and actual road driving. Upon completion of the program, students must pass the Mississippi Department of Transportation's commercial driver written examination, which is offered through MCC, and obtain their Commercial Driver's License (CDL).
"Mr. Gowdy is a great teacher. He will get out there and show you how to do it and guide you to do it and stay with you until you learn it," said Marcus Eakins, 27, of Meridian.
Eakins had worked in the oil fields in Wyoming but was laid off. He started the truck driving school in January.
Six months later, he has earned his certificate and commercial driver's license, finished an internship and started a full-time job driving a rig for Terra Oil Field Services in Midland, Texas. He works for three weeks in Texas, and then comes home to Meridian for a week to visit with his son.
"The MCC program is great. It is pretty easy if you work hard and pay attention to what they are teaching. The instructors will help you learn to drive and pass your CDL and find a job," he said.
As a profession, truck drivers play an essential role in the nation's economy by helping to keep freight, goods, supplies and the rest of the supply chain moving, Gowdy said. MCC's program attracts those who want to haul long distances and those who want to drive in town for local businesses and governments.
"Truck drivers play an important role in getting goods to a store," Gowdy noted. "If you think about it, everything that moves, it moves by truck pretty much these days. Even if it goes by rail, someone has to get it off the rail and put it on a truck to make the final trip."
No stranger to the trucking industry, Gowdy started driving when he was young. "Back then, you could do things like that," he laughed.
In his late teens, Gowdy used to ride with a local farmer to Indiana to pick up feed for his hogs. He would watch the man driving his truck, thinking he sure would like to try that.
Then, one day the farmer gave Gowdy the opportunity. "I started driving just south of Indianapolis, Indiana, and drove all of the way to Birmingham," he said. "I have been driving ever since."
Gowdy, who grew up in the Shiloh community near Causeyville, is a 1968 graduate of Middleton Attendance Center, Lauderdale County's school for African American students before desegregation. Following graduation, he enrolled in Mississippi Valley State University in Itta Bena.
He worked part-time as a truck driver while he attended college, becoming a commercial truck driver at age 21 when he was old enough to transport loads across state lines. He graduated from MVSU in May 1972 with a degree in auto mechanics.
Returning to Meridian, he began working as an auto mechanic at a local Chevrolet dealership. In November 1973, he went to work at Meridian's Ross Collins Vocational Center, teaching the vocational class. On weekends, he continued working as a truck driver.
He became the coordinator of MCC's Commercial Truck Driving Program in July 2004 and earned his master's degree in counseling and psychology from the University of West Alabama in 2012.
His wife, Dorothy Brown Gowdy, is a retired educator. He is proud of his four grown children: Dr. Otis Gowdy Jr., a nephrologist with Internal Medicine Clinic in Meridian; Maurice Gowdy, the new high school football coach at Northeast Lauderdale High School; Demetria Boykin, who lives in Ocean Springs and works in the casino industry; and Melody Smith, a speech pathologist in Houston, Texas.
"Truck driving is a great opportunity and is expected to have good job prospects in the future," Gowdy said. "This is a fantastic opportunity here at MCC for anyone to get their truck driving license."
Meridian resident Ryan Smith is doing just that. He started in the March class of drivers and plans to sit for his CDL test in the coming weeks. MCC's shutdown during the coronavirus shelter-in-place order delayed his road driving requirements, so it has taken longer than the eight weeks.
Having worked at East Mississippi State Hospital, Smith said he was looking to switch careers and possibly start his own business. He liked the idea of good pay and open roads afforded by a truck driving job. He had no experience driving a truck, nor had he ever driven a vehicle with a standard transmission, but that did not stop him.
"I have learned a lot from the program," he said. "I had to learn how to back up and shift because I had never driven a standard before. But they will teach you and help you learn. You have to take your time, be patient, relax and don't tense up. Anyone can learn it."
Those interested in learning to drive a commercial truck should contact MCC, which is accepting applications from students for its next Commercial Truck Driving class that is expected to begin in August and run for eight weeks. Applicants must be at least 18 years old with a good driving record and must pass a drug test and criminal background check.
Photo: Otis Gowdy, right, directs a Commercial Truck Driving Program student in a pre-trip inspection. Seeing the nation, steady work and good pay are many of the perks Gowdy sees of long-haul truck driving, which he relates to students in the program.