Take One: Getting in on ground floor of acting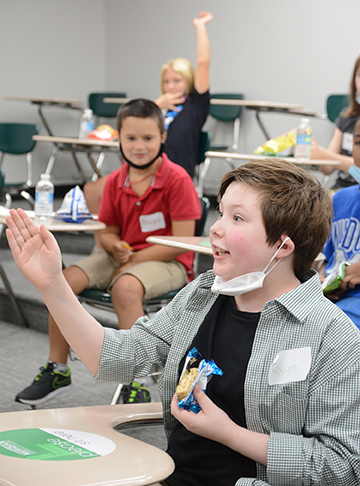 It's never too early to start learning, and youths in Meridian Community College's after school acting classes are discovering that and more.
"They're learning how to use their actor's tools: body, voice, imagination along with concentration and cooperative," said Susie Johnson, MCC director of the Arts & Letters Series, and coordinator of Take One, an acting troupe for youths ages 8-12.
Take One is geared for the younger actor; it's an offshoot of Stage Two, the teen theater training organization that has been in action for 11 years. "Students from all walks of life are a part of Take One," Johnson said, noting that youths from the area and region are members.
Johnson and fellow Take One staffer Sarah Benton encourage the youths to build on improvisational skills, staging and movement, audition, and more. "They are also having a blast in the workshop station where Holly Triplett, who is also with Take One, gives them opportunities to express themselves with visual arts, including design and décor.
The students will also have the chance to show what they learned by participating participate in the Stage 2 Showcase on Jan. 18 and 'Pirates of Penzance Jr.' on Jan. 23 and 24," said Johnson.
The Tuesday afternoon classes meet for an hour and 15 minutes, and safety is stressed along with acting techniques. "We're extra careful – lots of hand sanitizing is going on," Johnson said, noting that masks are worn. "Eventually, we will do more with music, but Apryl Sharp, our music director, is wisely holding back from doing too much music yet," Johnson said.
She added that the group is thankful for the leadership team that's in place. "Nancy Gibson and Joel Johnson both play critical roles in helping keep us organized and running smoothly each week," Johnson said.
New to Take One are teachers' assistants, a team of high school juniors and seniors who help with the Tuesday sessions. And MCC drama production students are pitching in as a part of their class assignment.
College officials are pleased, too. "I'm so excited about this opportunity for elementary and middle school students in Meridian and Lauderdale County. The arts are fundamentally important, and we live in a part of the country that has produced some truly fantastic artists--musicians, actors, visual artists--and I'm excited about the possibility of encouraging the next generation of performers through this program," said MCC President Dr. Thomas Huebner.
Dr. Huebner noted that Johnson is a perfect fit for the program. "Her positive spirit has the ability to bring out the best in her students," he said.
Leia Hill, vice president of institutional advancement and executive director of the MCC Foundation, said Arts & Letters has always been an integral part of the College's community outreach, known for its excellence in production and entertainment. "Take One is a dynamic new program to help prepare students for future opportunities in our Stage Two, and Arts & Letters programs. Take One helps strengthen our partnership and promise to this community in providing experiences that foster learning and growth for our future stars," she added.
Eight-year-old members of Take One include Cadence Bradley, Olivia Nutt, Jenna Boutwell, Braison Gooden, Bond Hill and Brooks Hill. Nine-year-olds include Olivia Benton, Lakyn Devun, Kinsey George and Jackson Ward. Ten-year-olds include Charlotte Irby, Sha'Niya McCarty, Sylaria Nuby and Joe Morrow. Eleven-year olds include Reagan Couch, Elizabeth Crudup, Madilyn Stephens, Cooper Tibbetts, Emma Watson, Carpenter Hill, Ryan Johnson and Ryan Lott. Twelve-year-olds include Gina Garrett, Addison Hughey, Abby McCary, Rhiannon Tanner and Cade Benton.