MCC honors POW/MIA heroes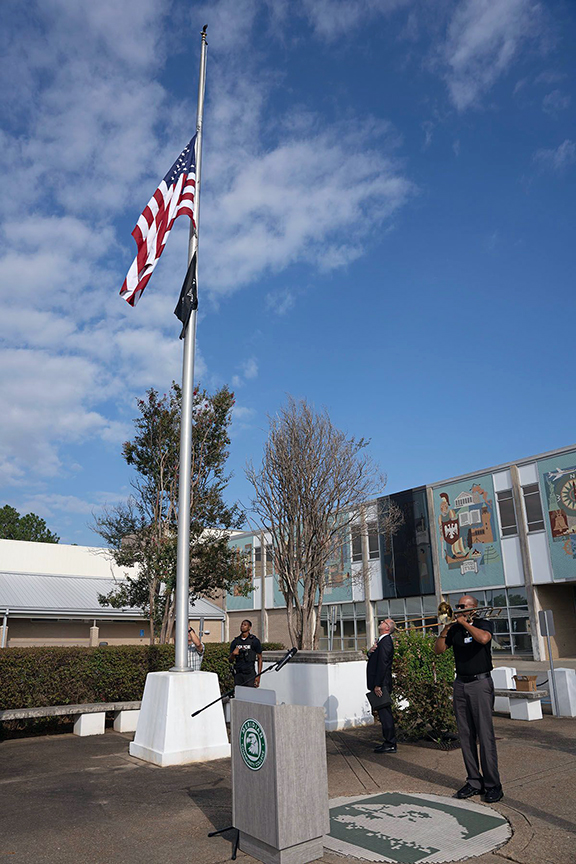 In a ceremony filled with reverence and gratitude, Meridian Community College hosted a Prisoner of War/Missing in Action flag-raising ceremony with campus and community turning out in front of Ivy-Scaggs Hall.
"We set this day as a reminder to remember those who sacrificed on our behalf," said MCC President Dr. Tom Huebner as he addressed those who gathered. "It's a day to say we remember and we're grateful. It's a day for us to remember that the people who sacrificed were not different from the person standing next to you."
Citing statistics, Dr. Huebner reminded the attendees that 81,000 Americans remain missing from various conflicts, including World War II, the Korean War, the Vietnam War, the Cold War, the Gulf War, and others. He also told the story of a former student at Virginia Tech, David Harper, who served in Vietnam, was captured and became a prisoner of war from 1968 to January 1973.
"Never forget those who sacrificed all so that we all can be free," he added.
Dr. Cedric Gathings, vice president for engagement, told the group, "We stand together to show gratitude in support of those families who are still missing someone in action."
As "Taps" was played by Antonio Altman, the POW/MIA flag and the United States flag were raised.
To learn more about the College's assistance for veterans, visit meridiancc.edu/vets.