Making memories through acting
For actors in Meridian Community College's Take One troupe, getting on stage brings more than applause.
"You get a chance to dance and you have a lot of people looking at you. You have your family members there, too," said Madilynn Stephens.
The 12-year-old added, "You get the chance to make memories."
Stephens and 29 other cast members completed their run of "Pirates of Penzance, Jr.," a musical presented by the acting troupe for youths ages 8-12. This group is an off-shoot of Stage Two, the teen theater training organization that has been in action for 11 years. Susie Johnson, MCC director of the Arts & Letters Series, is the Take One and Stage Two coordinator.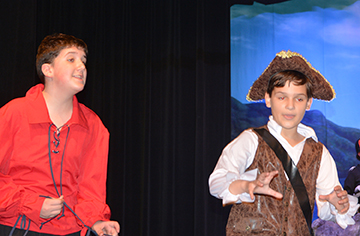 Johnson noted it's never too early to start learning, and that adage applies to acting. In September 2020, Take One participants began their work discovering how to use an actor's tools – body, voice, imagination, concentration and cooperation. Stephens said of the work, "It's fun and it's hard at the same time. You sing, but you also have to do choreography at the same time to make it all come together and look nice." Fellow actor Reagan Couch echoed her words. "You have to come here a lot, but in the end, when you're in the play, it's so nice. When you finally finish a play, you're so happy, but you're really sad, too, when it's over."
Some of the actors needed a little parental nudge to participate in Take One, but they agreed it was worth it when the youths got into the work. Maddox Davis said, "My mom told me it was a good way to meet new people and make new friends. And then I was like, sure I'll do it. And I like doing plays. So, I thought I would do it and have something else to do." Another actor, Carpenter Hill, agreed. "I wanted to see how this works, and I got to meet a lot of people."
Hill and Davis added they are eager to try out for future productions.
Tony Boutwell, whose daughter Jenna performed in "Pirates of Penzance, Jr.," said he noticed that the play boosted Jenna's self-confidence, and she, too, made new friends. "She always wanted to be there for it all and was sad when it was over."
He added Johnson and her team deserved applause, too. "To make it fun and entertaining for everyone was amazing."
Photos: Reagan Couch, left, and Madilynn Stephens work through a scene during a rehearsal.
Maddox Davis, left, and Carpenter Hill go through the paces during a rehearsal.