Headline: MCC nursing alumnus on the frontlines of pandemic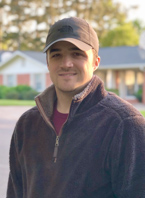 When Meridian Community College alumnus Hamp Glover began job hunting after graduating from nursing school, he traveled to New Orleans.
"I went down there for the interview, really thinking it was a shot in the dark," Glover said. He landed a position with Tulane Medical Center as a newly graduated Associate Degree Program nurse, but little did he know that three months later, he would be on the frontline of a pandemic.
Glover came to MCC's Associate Degree Nursing Program via a circuitous route. After graduating from Meridian High School, Glover went to East Mississippi Community College, where he was on the school's first national championship football team and later played one season at Faulkner University. "Got my third or fourth concussion over there, so I decided to hang up my football cleats," he said jokingly.
He transferred to Mississippi State University, earning his bachelor's degree in kinesiology with aspirations of becoming a coach - perhaps teaching high school and or community college football. He also toyed with the idea of joining the military but changed his mind. "Mainly because I had a good job. At this time, I was working for my uncle Greg Glover in Denver in orthopedic sales," Glover said.
"I always had an interest in health care," Glover explained, and studying nursing was always in the back of his mind. "I don't know. I never really pursued it. Once I got out to Denver and saw kind of what the medical field looked like from that perspective, that sealed it for me knowing what I wanted to do," he said.
He witnessed surgical cases but discovered he wanted to learn more – see how the patient was doing after the procedure. "I enjoyed what I was doing out there in Colorado, but it wasn't enough hands-on for me… I didn't have anything to do with patient care back then," he said. His next step: He decided to come back home and enroll in MCC's ADN program; it was more economically sensible to return to Meridian and live with his parents, Winkie and Becky Glover.
The College's Associate Degree Nursing Program was challenging, Glover admits. "I will tell you, with all my football being played, it was probably the toughest things mentally that I had to do. It was difficult, very trying," he said, admitting the first semester was especially hard. "I thought, 'maybe this isn't for me,' but I ended up making it through and finished in December 2019."
At Tulane, Glover works 12-hour evening shifts in the neurointensive care unit. As the virus outbreak began, the medical center turned this ICU into a corona unit since it was the largest ICU in the hospital.
Working in the Covid-19 environment has been a challenge, too. "It was going to be difficult enough being a new nurse and especially in intensive care units, but then you throw on top of it this once-in-a-lifetime pandemic, and that turns it up a notch as far as difficulty goes.
"I've gotten to where I've stabilized myself mentally – like being prepared, not necessarily frightened. I'm definitely not saying I can take on anything by any means, but I've gotten more comfortable as the weeks have gone by for sure," Glover added. So far, he's had 15-20 COVID patients under his care.
And, Glover said. "We've been able to take care of these patients safely and effectively."
Would he encourage another to study nursing? "If they have a passion for it, then go for it. I would give them a healthy heads-up, especially for the guys in the fourth semester - because they are going to be coming out in the tail end of this. Things might ramp back up in the fall – that will add a new dimension for those guys. I'd tell them to buckle up and get ready for a wild ride and adventure. Be prepared," Glover said.
Glover said he knew coming out of MCC he would pursue continuing his education perhaps in the areas of anesthesia or nurse practitioner, but not just yet. "I knew from the get-go that wherever I got a job that I was going to take this spring – this half of the year - to take off from school, get my feet under me as a new grad nurse. I didn't want to start my master's degree right after I graduate with my associate degree and be overwhelmed with my school work and regular work," he said.
Going from small-town Mississippi to New Orleans was quite the change, Glover noted and added, "It's been quite the start of a nursing career."