MCC's Phi Theta Kappa honor society installs new members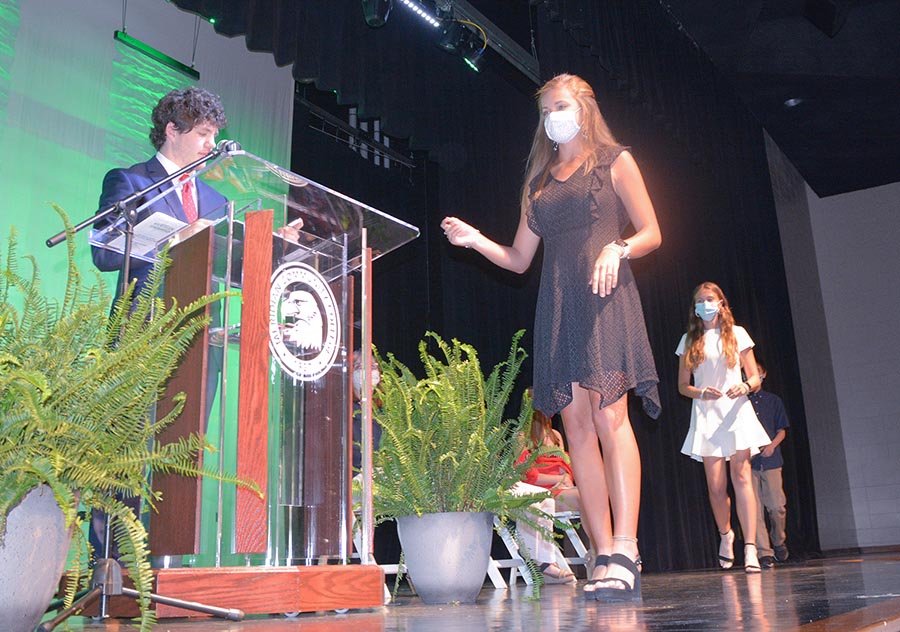 MCC Phi Theta Kappa Chapter President Luke Thomas announces Ralie Boles as a new member of PTK while Britney Murphree waits in the background. The academic honor society welcomed new members into its organization during a ceremony held in the College's McCain Theater.


One hundred and fifty-six Meridian Community College students were installed as new members of the Nu Upsilon chapter of Phi Theta Kappa during a ceremony held in the McCain Theater.
Phi Theta Kappa is the international academic honor society for community and junior colleges. The organization promotes leadership, scholarship, service and fellowship. Membership is open to any student who has earned 12 semester hours and has a grade point average of 3.5 or better on a 4.0 scale.
Guest speaker Dr. Tim Edwards, provost of the University of West Alabama, congratulated the inductees noting that becoming a member of PTK signified their achievements, and he urged them to become lifelong learners.
Fall 2020 inductees include Jenna Lin Able, Jennifer Leigh Austin, Christopher A. Belvin, Parker Alexa Berry, Sibilla H. Blackwell, Camden P. Boes, Addison Matthew Boyette, Joshua M. Bradley, Mckenzie K. Britt, Jacob B. Butler, Zachary A. Castle, Zipora Evette Cooper, Cayley B. Covington, Denver C. Daughdrill, Jaden Mikael Dominy, Ethan C. Doxey, Madison L. Field, Denise Adriana Fuentes, Josiah Nathaniel Goss, Chloe R. Graham, Jacob Isaac Graham, Jason Dwight Hardy, Mary Brittany Hatcher, Olivia Lauren Hawkins, Matelyn Grace Heiser, Joseph Peyton Hertel, Kyla Ciarra Johnson, Landry Taylor Jones, Chenai LaRose Keyes, Wesley Bryce Linton, Braden Kyle Luke, Tamara Leigh Martin, Brett Anthony Mason, Reagan Leigh Mathis, Kennedy Reagan Mayatt, Cameron Antonio McClinton, Laura Caroline McCraney, William Dalton McMullen, Jazzmin Lillian Moore, Keri Lanette Moore, Madison Elise Moore, Britney Roshell Murphree, Loren Nicole Nix, Kalie J. Parks, Hoai T. Pham, Hannah F. Queen, Shelbie Dean Reid, Sophie Alannah Roberts, Carolyn Elise Robertson, Katie Elaine Roe, Madalyn Rose Sanders, Matthew Ethan Sanders, Mckenzie G. Shirley, Amanda Grace Skidmore, Christopher C. Smith, Sheri Lynn Smith, James E. Snowden, Jonathyn Spinks, Joy Alexandra St. Clair, Ashton Steve, Tyreese Maureese Strickland, Julia Thaggard, Harry K. Tucker, Sarah Elisabeth Vice, Emily Ann Waddell, Kiersten Breanne Wilburn, Emily C. Williams, Ashonta M. Willis, Alexis Michelle Wilson, Myea S. Young, Briana Zapata and Henry Zheng.
Spring 2021 inductees include Clara Grace Allen, Meridith Laci Archer, Madison Claire Benson, Allen David Bishop IV, Ralie Olivia Boles, Chloe Isabella Boswell, Josie Leona Brewer, Nicole Marie Briggs, Kierra K. Brown, Avery Harper Bryan, Eli Cayden Bryan, Avery Leigh Byerley, Anna B. Card, John Thomas Carpenter, Caleb James Clearman, Elizabeth Denham Cochran, Dayviyonna My-Quasha Collier, David Bailey Cook, Mark Keenan Covington, Callie Leanne Cowan, Micah Alisabeth-Lynn Crum, Abigail Rose Culpepper, Hallie N. Culpepper, Ferdarius M. Davis, John T. Ethridge, Cineka Melicia Evans, Gabriel Foster Evans, Jacob William Feist, Margaret R. Freeman, Cameron D. Garrett, Louis B. Gatlin, Ally M. Gavis, Sydney L. Goodman, Vanessa A. Graham, Josh Caleb Hallberg, Colin Alexander Hartman, Luke Hunter Hedgpeth, Edwar Stuardo Hernandez, Kolbi Mariah-Ann Holifield, Jharmain Davion Inge, Melissa Ann Ingle, Kyle D. Ingram, Lana Leigh Irby, James Andin Johnson, Joshua Traevyn Taja Kelly, Styler Street Kinard, Tyler Seth Lank, Olivia Gayle Leager, Andrew Martin Linton, Zach Martin Linton, Rileigh Bret Marlow, Kathryn Isabelle Marshall, Aaliyah Kristin McCallum, Bailey Elizabeth McClellan, John Ellis Mitchell, Caleb Daniel Montiforte, Vericka Denise Naylor, Megan Lee Oliver, Andrew W. Parker, John Fletcher Perry, Davis A. Pool, Shundarrius Randolph, Alexsandra D. Rangel, Abby S. Rawson, Justin Tyler Rawson, Ashlyn Bailey Redmond, Anna C. Russell, Emilio Benjamin Chua Santiago, Annsleigh Jean Shelley, Emilee Grace Slade, Tyler Bryce Slay, Ashley Michelle Smith, James W. Stephens, Rebekah Leanne Stephens, Haley B. Stockman, Payton A. Taylor, David Justin Tisdale, Anna Kathryn Touchstone, Jacob Forrest Vance, Lesleigh Denene Wallace, Aleece Breenna Williams, Christina Hope Williams, Dyson Williams, Hannah Leann Woods and Janie Isabella Yoskovich.
MCC's Phi Theta Kappa honor society installs new members
Watch our Phi Theta Kappa Induction Ceremony.