MCC Paramedic Program training tomorrow's heroes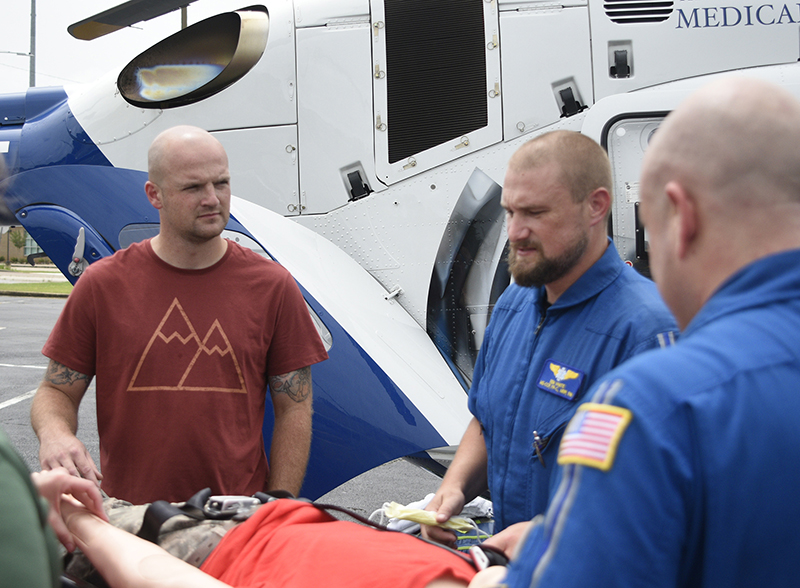 Like most, Daniel Walters is busy these days.
At 28 years old, Walters is a husband and father who works a 40-hour shift at Wayne General Hospital as an emergency medical technician (EMT). And, he's completing his studies next month at Meridian Community College's Paramedic Program.
"It's a pretty good program; it's worth the drive," said Walters, who travels more than 50 miles one way to get to his class and studies at the College. "The instructors are very good. They like teaching, and you can see it," he said.
Paramedics are advanced providers of emergency medical care. They build on their EMT education and learn more skills such as giving medicines, starting intravenous lines, providing advanced airway management for patients and learning to resuscitate and support patients with significant problems such as heart attacks and traumas.
MCC's Division of Emergency Services hosts the state's first Emergency Medical Academy, and the academy is responsible for the delivery of all EMT and paramedic courses, clinical experience and testing at MCC.
The academy, located adjacent to the campus' Tommy E. Dulaney Center, makes the most of an inclusive learning environment designed specifically for EMS students of all levels. The academy has two primary classrooms, high-fidelity skills laboratory, simulated hospital treatment room, skills evaluation area and fully-functional ambulance simulators. The program also relies on a collaborative learning system by integrating EMS students with nursing and other health education students in the same medical environment.
"The equipment we have in the program is top of the line. It's the same you have in the field," Walters said.
Walters and his classmates recently got the chance to see helicopter transport with the University of Mississippi's AirCare unit landing in the center's parking lot. Their instructor, Ben White, explained, "the helicopter is a very crucial resource for us in the state of Mississippi." Bringing the helicopter to the students in a simulated situation offers students another learning and training opportunity. White is also an AirCare paramedic.
"I thoroughly enjoy my job, and I push my passion and compassion into the students, and I try to make them enjoy their job as much as I enjoy my job," White said.
MCC Dean of Workforce Education Lori Smith said to have the training such as the MCC Paramedic Program provides is an incredible opportunity for students. "Our community relies on these specially trained individuals in ways that most will never realize – from the obvious of life-saving measures to educating our community. It takes an incredible person to fill the role of a paramedic, and we at Meridian Community College are honored to be a part of developing the next group of trained emergency medical professionals," she said.
Walters hopes to be a paramedic at Wayne General and has plans to continue his education in critical care and becoming a registered nurse. "I want to get as many initials behind my name," he said.