One call, that's all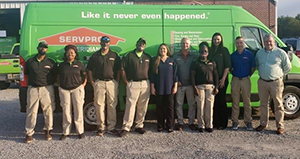 Last fall, SERVPRO of Meridian Owner Lamar Arrington reached out to Shannon Coleman, the Workforce Innovation and Opportunity Act (WIOA) case manager for Meridian Community College's Community and Business Development division, regarding his need for a part-time person to assist with administrative tasks.

"I explained our internship program and asked if he would be willing to hire a student. He agreed, and we were able to place Claire Russell, a Business and Office Technology Program student, in the position," Coleman said.

Russell worked through the end of the semester and was offered a permanent part-time position at SERVPRO.
"Claire continued to work part-time while she completed her program and is now working full-time. She is able to use the various business skills, including QuickBooks and marketing skills, that she obtained while studying at MCC," Coleman said.
For more information about WIOA, go to Grants and Training programs.
Photo: Claire Russell, center, with SERVPRO of Meridian colleagues. Russell was able to gain her position thanks to the efforts of the Workforce Innovation and Opportunity Act (WIOA) program.