New flag flies over MCC campus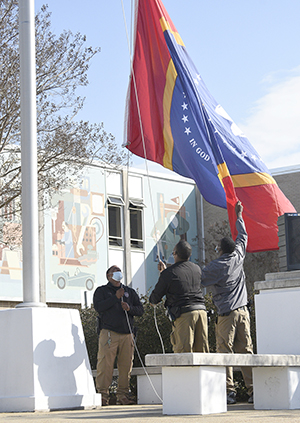 With a new flag to rally around, Meridian Community College students, faculty and staff gathered on an early Monday to usher in the arrival of a new era.
Featuring a design of a magnolia, gold and white stars and "In God We Trust" phrasing, the new Mississippi flag was raised during a ceremony at the Ivy-Scaggs Hall flag plaza.
Mississippi voters approved the magnolia flag in November 2020.
"This magnolia is going to fly many, many days in our future. But today is the first one of those," said Brandon Dewease, MCC director of student engagement.
MCC President Dr. Thomas Huebner told the audience he envisions this new flag will be one that unites. "It's just a piece of cloth, some might say, and in one sense, they are correct. In another sense though, it represents an effort on the part of many to move forward and to represent values and ideals that send a message of hope to the rest of the world," he said.
Dr. Huebner said the new banner is a symbol of unity and togetherness. "I ask us to rise above any political fray and embrace the opportunities and the hope implicit in every single student who enters our doors and work even harder to help them see what could be and not necessarily what is."
Rhonda Smith, MCC college and career navigator for the adult education department, in offering the invocation said that it was her prayer as the new flag waves it would serve as a testimony. She added, "That we support our state and that we stand together united as co-workers, teachers, students, friends and fellow Mississippians."
Photo: MCC Campus Police Officers Emmettrius Rush, Fred Hardy and Terry Boler raise the new flag during the ceremony held at the Ivy-Scaggs Hall flag plaza.