MCC's Miller Art Gallery exhibit spotlights seven women artists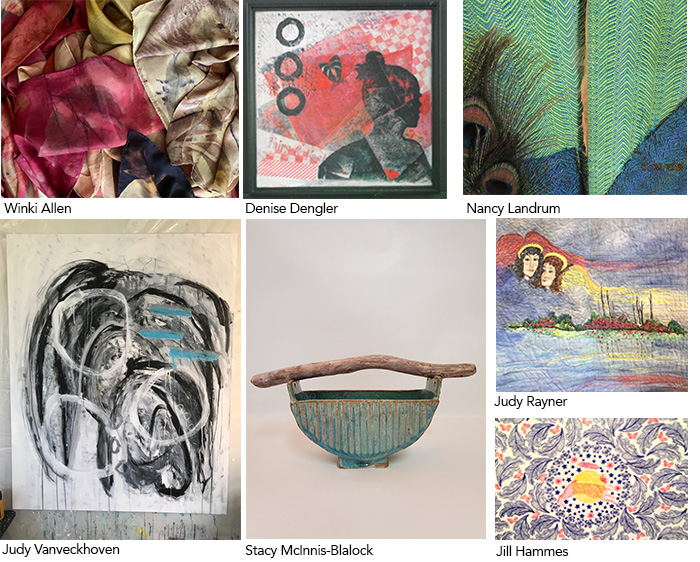 A 2018 study revealed that out of 820,000 exhibits, only one-third featured women artists.
With its next gallery exhibit, the Miller Art Gallery at Meridian Community College is reversing that statistic.
Seven Women, Seven Artists is a show about women's diversity in the arts, said John Marshall, MCC art instructor and curator for the Miller Art Gallery. The show opens Wednesday, Oct. 14, in the gallery that is located in Ivy-Scaggs Hall.
The exhibit features art by Winki Allen, Dr. Stacey M. Blalock, Denise Dengler, Jill Hammes, Nancy Landrum, Judy Rainer and Judy Little VanVeckhoven, showcasing some 51 pieces of work including fibers, quilts, mixed media paintings/drawings, ceramics and monoprint reliefs.
"These seven women represent the hardworking narrative of women making a statement through their art and making a living," Marshall said. "All have a different approach to making and creating art, but they have one thread of similarity, the desire and need to create an approach to speak through visual imaginary," he added.
The women are of or native to Lauderdale County, Mississippi, Marshall said.
Allen grows and gathers many of her dye materials for natural dyeing and botanical printing of silk scarves, shawls and other items.
Dr. Blalock works in clay, a passion that began as a means of stress relief and turned into a force that continues today. "For me, the process of creating art is an exchange of energy where I am able to turn my emotions and thoughts into a physical tangible object," she said.
Mixed media artist Dengler lived on a sailboat for three years with her husband, a former Navy pilot, and created watercolor paintings. Her work has been exhibited in museums and galleries throughout the South and Caribbean.
Hammes, a full-time printmaker, has exhibited widely across the U.S. and most recently showed work in the Meridian Museum of Art's Bi-State competition 2020.
Living on a Navajo reservation in Arizona, Landrum became interested in weaving and purchased her first loom. "A tapestry is art but it serves a function – to beautify the wall and perhaps even warm it. Cloth for wear or for the table is functional but it also can be a unique piece of art that pleases the eye," she said.
At nine years old, Rainer was introduced to embroidery by an aunt. "It started a lifetime of love of color and texture," she said. For more than 30 years, she has worked as a self-taught weaver and works with her own designs. "While I love traditional quilting, I prefer to dye, paint and thread paint my own original work," she added.
VanVeckhoven's desire to paint began as a way to enrich her daily journaling. "So the idea of painting was a good way to help me explore and express," she said. She noted that her painting style is one that she calls, "intuitive painting." "I stand before the blank canvas and begin with an idea of color. Then I begin slapping the paint on. Layer on layer with not idea of a plan. I am almost always happy painting," she said.
"This is a fantastic show that I am proud to have curated for the Meridian Community College Miller Art Gallery," Marshall said.
He added, "I hope that we all can come away from seeing this exhibit feeling better about art and ourselves as a culture of creative and loving people."
Seven Women, Seven Artist show will be on display through Nov. 19. Visitors to the gallery to see this exhibit are to follow guidelines for safety. No more than 10 people will be allowed at one time within the gallery with no more than a 10-to-15-minute wait for others. Guests are asked to wear a mask upon entering and while in the gallery.
Admission is free of charge, and the gallery is open Monday through Thursday from 10 a.m. to 4 p.m. For details, call 601.484.8647 or 601.484.8814.