MCC earns Military Friendly School® designation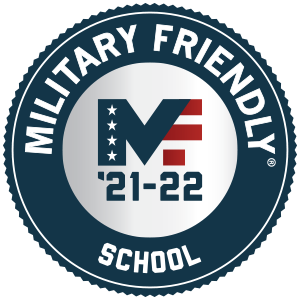 Meridian Community College has been selected as a 2021-22 Military Friendly School® – an honor that salutes top colleges, universities and trade schools that are doing the most to embrace American veterans.
In its 11th year, the Military Friendly® Schools list sets the standard for higher education institutions to provide veterans and their spouses' best opportunities. It offers a comprehensive guide for veterans and their families using federal agencies' data sources and proprietary survey information from participating organizations.
Ashley Tanksley, director of admissions at MCC, noted MCC is one of only three Mississippi community colleges to earn this distinction this year.
"With having two strategic bases in Meridian, NAS Meridian and Key Field, and the overwhelming support they give to us, MCC is honored to serve our military, veterans and their dependents. Our administration, faculty and staff strive to give the best service possible and are committed to those who serve for us," said Pam Baranello, military and veterans coordinator at MCC.
On its website, Military Friendly School® described MCC as a college that welcomes veterans and military service members and families as valued members of the student community. "These students are afforded equal access to all courses, programs and services offered by the college at an affordable cost. The institution provides student support services designed to meet the diverse needs of this important student population."
Institutions earning the Military Friendly® School designation were evaluated using public data sources and responses from a proprietary survey completed by the school. More than 1,000 schools participated in the 2021-2022 survey, with 625 schools earning the designation from every state in the country.
The list can also be found by going to: https://www.militaryfriendly.com/schools/