Celebrating success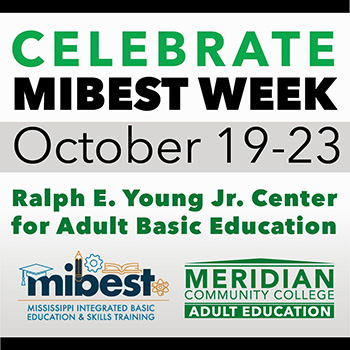 What better time to celebrate success than now? That's the thinking behind Meridian Community College faculty, staff and students in hosting MIBEST 2.0 Week at MCC from Oct. 19-23.
The Mississippi Integrated Basic Education and Skills Training (MIBEST) program is a workforce and economic development initiative that moves low-skilled, non-credentialed Mississippians from the economic sidelines into careers earning family-sustaining wages.
It offers qualifying individuals an opportunity to train for a career while earning their High School Equivalency Diploma. MIBEST seeks to increase the number of these students who are able to secure jobs with a livable wage.
At MCC, students who qualify and are earning a GED/High School Equivalency through the MIBEST Program can enroll in the career and technical education programs such as Truck Driving, Welding, Culinary Arts, Phlebotomy, Health Care Assistant, Medical Office Technology and Entrepreneurship.
Interested individuals can stop by the Ralph E. Young, Jr. Center for Adult Basic Education at MCC from 9 a.m. to noon on Oct. 19 for Monday Morning Muffins. Staffers will be available to discuss opportunities that the programs offer.
For details about MIBEST at MCC, contact Rhonda Smith, college and career navigator, at 601.484.8645.