Sophomore's educational path led to MCC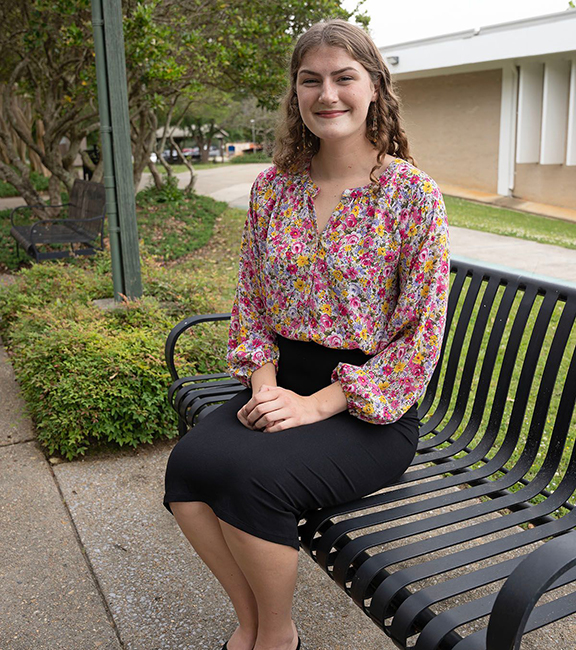 Maggie Freeman's journey to Meridian Community College wasn't a straight path, but it has been one where destiny has played a role.
Freeman, a 19-year-old psychology major from Meridian, received her associate of arts degree from MCC on Friday during the College's Spring 2023 commencement. Her grade point average was a perfect 4.0 on a 4.0 scale.
Her original academic path – as she planned in high school – was to study theater and go off to a university. "But then COVID happened, and everything in the arts shut down. My mom made the point that what if the pandemic keeps going on? What are you going to do in the arts if this continues? I was really lost and confused," she remembered.
Freeman had already logged 15 semester credit hours as a dual credit student, so she changed gears and headed to MCC. That decision led her to a world of opportunities. During her first semester at MCC, Freeman enrolled in psychology taught by MCC Social Science Instructor Dawn Wright, and Freeman credits her with choosing the field. "I took that class and thought, 'This could be a good career.'
"And I think Covid helped with the decision, too, because I saw how much people were leaning into therapy, and they needed that at the time. I've always wanted to help people, and I used to think I wanted to do it through performing – making people feel something. But then I was like, I can help people more hands-on through psychology," she said.
The sophomore with a strong work ethic made the most of her time at MCC; she was a member of the Phil Hardin Foundation Honors College at Meridian Community College, the Dimensions singing group, the MCC Concert Choir, Phi Theta Kappa international academic honor society, and Ivy League Recruiters. And being active on campus, she said, has been a great experience where she's gained confidence and connected with many MCCers – students, faculty, and staff. "I feel as if I went straight off to a university, I wouldn't have had that experience at all," she said.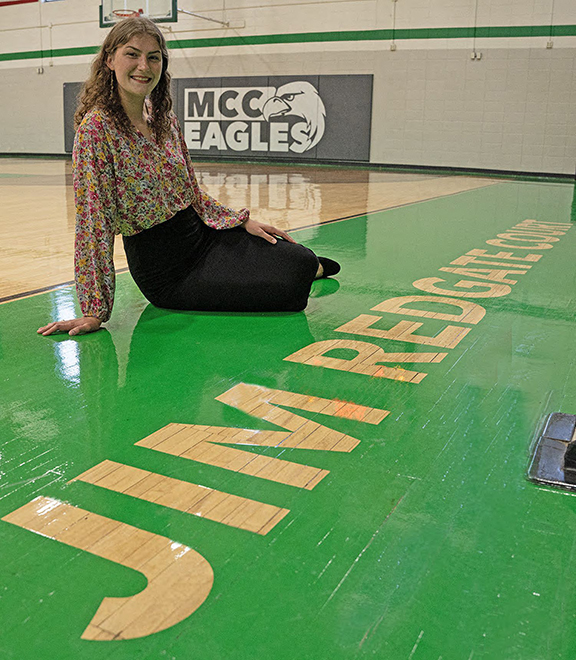 And it was her two best friends, fellow MCC sophomores Piper Gonzales and Rachel Thaggard, who encouraged her to get involved in campus activities—the three plan to room in a house when they begin their junior year at Mississippi State University. "When I decided on psychology, I knew that MSU was a great research institution," she said, explaining she wants to delve into the research side of the discipline.
As for her future, where does she see herself in 10 years? As a research assistant, she predicts. "Because I want to get my doctorate, and that's going to take a minimum of six years from now," Freeman said. She added, "I would love to start my own research facility for psychology."
"Education is important to me, and creating opportunities for myself through education is very important," she said.
Education was vital to her grandparents, too. Her grandmother Teresa Anders taught English at MCC, and her grandfather, Jim Redgate, was a coach and instructor for many years. The basketball court in the College's Graham Gymnasium is named after him. Freeman said when she would give tours as a part of her duty with the Ivy League Recruiters, and there were stops at the basketball arena, she would give a shout-out to her granddad, saying, "Yes, it's Jim's gym."
Her family ties to MCC made Freeman feel it was destiny that she ended up at the College to find her wings. With plans to start a new chapter, she is ready to take on the world.
To learn more about MCC, visit meridiancc.edu.