MCC alumna on her way to helping others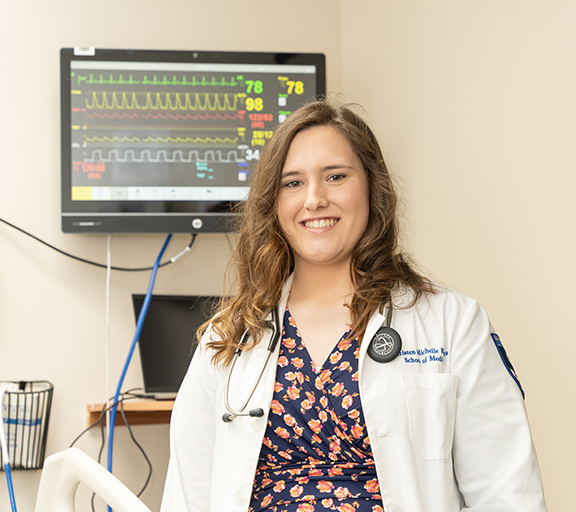 For as long as she can remember, Kristen Michelle Roberts wanted to be a doctor.
She credits Meridian Community College for helping her reach her lifetime goal.
"In May, I will graduate from the University of Mississippi Medical Center and will start an internal medicine residency in July," the Meridian Community College alumna said. "I specifically chose internal medicine because it has the biggest variety, with the most interesting cases, and the best people - both fellow physicians and patients."
Roberts also chose to begin her collegiate studies at MCC. "I was a University Transfer student. Specifically, I took many science and math classes along with the standard pre-requisites," she said. But that's not all. A member of the Honors College, Roberts was an officer in the international academic honor society Phi Theta Kappa and a band member.
"I think community college is always a fantastic option. It saves mountains of money. Plus, you often get opportunities you wouldn't get in a four-year institution," she said. While at MCC, Roberts traveled with the Honors College and PTK to London, New York, and San Antonio, Texas. "Another thing is that community college gives you time to grow up a bit," she added.
After MCC, Roberts attended Mississippi College and received her master's degree in biomedical science from UMMC.
What advice would she give others about going to college? "Take your classes seriously. Even if you don't use a certain class in your career every day, graduate schools or employers want to see if you are teachable and adaptable. Learn as much as you can while you have the time."
But, "don't be afraid to take the fun classes," she added. Throughout her college career, Roberts said she took flute lessons.
Roberts is the third in her family to study at MCC.