Joshua Maeda to present lecture as MCC Humanities Teacher of the Year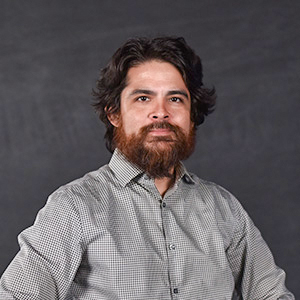 It's a concept that philosophers ponder: If you could be connected to a machine that enabled you to live a virtual life, would you?
Meridian Community College's 2021 Humanities Teacher of the Year, Joshua Maeda, will give audiences food for that thought in his presentation, "Why Live – Isn't There an App for That?," on Friday, Feb. 19.
As the recipient of the humanities accolade, Maeda will present to the public his lecture beginning at 10:30 a.m. in the Casteel Gallery, located in the L.O. Todd-Billy C. Beal Learning Resources Center on the MCC campus.
The Mississippi Humanities Council honors outstanding humanities instructors annually from colleges and universities in the state through its Humanities Teachers Awards, which celebrate these educators and promote continued interest in the humanities.
An MCC alumnus, Maeda began teaching full-time at the College in 2011 and today teaches English, philosophy and world religions. "He is a veteran instructor whose vast knowledge base and fabulous sense of humor delight all who speak with him. As evident by the name of his presentation, the address is sure to be one to make all present think deeply, laugh heartily and be thankful they came to join us in celebrating Joshua as this year's Humanities Professor of the Year," said Beth Calderon, Language, Literature and Student Success division chair.
Explaining that he assigns his philosophy students the Robert Nozick's 1960s-era essay, "The Experience Machine," Maeda said he began developing his talk from this thought experiment. "Essentially, the idea is if you could be hooked up to a machine that simulated or rather made you think you were living your wildest fantasies, would you do it?," Maeda said.
He added, "You plug into this machine and when you're finished with it, once you're unplugged, you've acquired that skill through no hardship or trial of your own."
Maeda said he hopes to show that even if there was such a machine why it would be better to live life as traditionally conceived – not a virtual, electronically-mediated life.
"If I knew there was software that I could download into my head that would allow me to go to sleep and then wake up and know Japanese or French or Latin, I'd be strongly tempted to use it," Maeda said. "So, my point is in to investigate, explore reasons why we'd be better off not using such technology if and when it does arise," he added.
Maeda was a student at MCC from 1997-1999. "I was homeschooled. MCC was my first experience with a traditional classroom setting, so in that sense, I found it to be very helpful. It alleviated any fears that I had about my ability to transition into academia," he said.
He credits Barbara Jones and Dr. Jim Dauphine, English and world civilization instructors, respectively, as being instrumental in leading Maeda to his teaching career.
When he's not in the classroom or online teaching, Maeda relishes spending time with his wife Julia and their one-year-old son, James Henry. A member of St. Patrick Catholic Church, Maeda enjoys reading, writing, training in Brazilian jiu-jitsu, gardening and cooking. In fact, Maeda was once a part-time cook for a local Thai restaurant.
Maeda added, "I'm quite happy in regards to my family, my community and my profession."