Honors College yields challenges, offers opportunities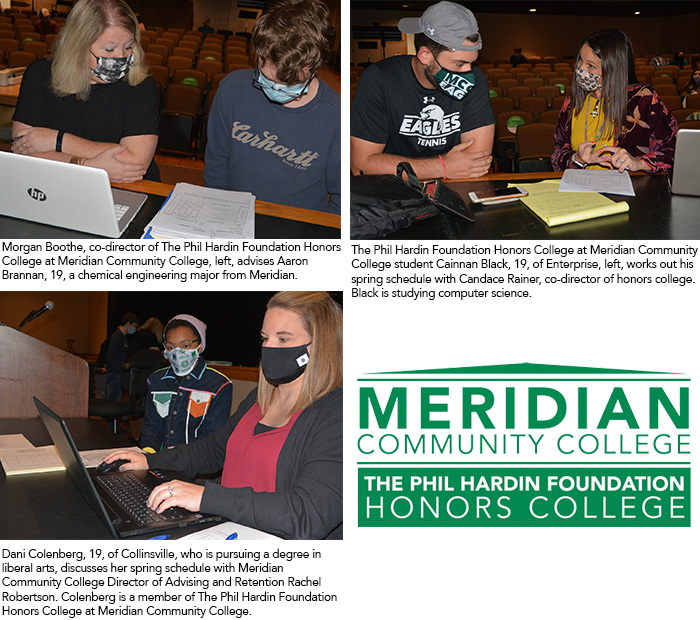 From accounting to sound engineering and all things in between, members of the Phil Hardin Foundation Honors College at Meridian Community College have chosen a wide range of potential careers. One common thread with this year's group of 70 students: they're high achievers.
"The Phil Hardin Foundation Honors College is an integral part of Meridian Community College. It is crucial to offer our higher-performing students an avenue to explore their intellectual abilities," said Morgan Boothe, co-director of MCC's Honors College, and English instructor. Candace Rainer, math instructor and math division chair, also serves as co-director.
Honors College students must maintain a 3.25-grade point average on a 4.0 scale; they are required to enroll in honors courses, which are a little more rigorous than the mainstream classes. Leadership class is also a requirement, and students attend forums with guest speakers who share their experiences.
"I joined Honors College because I wanted to challenge myself," said Henry Zheng, a freshman from Meridian who is majoring in computer science. Sophomore Jimmyia Smith of Meridian, who aspires to become a certified public accountant and establish an accounting firm, echoed his words. "I wanted to be a member of Honors College for the opportunity to meet new people on the same academic level as me and to showcase my academic abilities," Smith said. Another Honors College student, Joseph Aviles, said he wanted to be a member not only for the extra scholarship but also the experience he would gain.
Designed to complement the University Transfer Program through enriched courses, the Honors College develops students' leadership skills and offers more individualized academic support. Additionally, students gain the opportunity for growth through volunteering and meeting with leaders and stewards of the community. Travel is also a component of the program.
Smith said for her the best thing about Honors College is the opportunities it creates such as improving leadership skills. Aviles added getting involved in the organization offers other benefits. "… because the more active you are in Honors College, the more you get out of it," he said.
But due to COVID-19, the plans for this year's class must be approached differently, Rainer said. "We are using the Honors College Forum to have students meet each other in small, socially distant groups. By engaging in Zoom meetings, listening games, and other enrichment activities, we are using the power of the internet to travel, engage and learn from each other each day that we meet."
Zheng and his Honors College classmates are eager to get to know each other, too.
"I'm looking forward to get along with others this year because it's a great way to meet new people," he said.
Still, there's hope for a short trip in the spring, Rainer said. "But if the pandemic is not improved, we will continue to work on skills designed to enhance students' characters and enrich their academic experience," she said.
Boothe explained because of the partnership with the Shackouls Honors College at Mississippi State University and the Honors College at the University of Southern Mississippi, a Phil Hardin Foundation Honors College graduate from MCC can continue his/her educational journey with the assurance of gaining real-world experience and quality education.
Members of the Phil Hardin Foundation Honors College at Meridian Community College and their areas of study include freshmen Jacob Aguirre of Ellisville, University Transfer; Harleigh Barham, Collinsville, secondary education/English; Madison "Claire" Benson of Caledonia, pre-veterinary medicine; Ralie Boles of Meridian, biomedical engineering; Chloe Boswell of Collinsville, medical; Clara "Eve" Bouder of Meridian, pre-medicine; Nicole Briggs of Bailey, business; Avery "Harper" Bryan of Collinsville, veterinary medicine; Eli Bryan of Collinsville, forestry; Jacob "Brock" Butler of Marion, computer engineering; Anna Card of Starkville, biomedical engineering; Bridgette "Brie" Cerda-Marin of Enterprise, chemistry/pre-medicine; Caleb Clearman of Meridian, astrophysics; Jaden Dominy of Meridian, communications; Ethan Doxey of Toomsuba, engineering; Landry Jones of Hickory, kinesiology; Skylar Kinard of Lauderdale, computer engineering; Braden Luke of Collinsville, University Transfer; Rileigh Marlow of Meridian, biology/pre-medicine; Brett Mason of Collinsville, mechanical engineering; Aubrey McCary of Meridian, speech pathology; Loren Nix of Meridian, University Transfer; Andrew "Drew" Parker of Quitman, physical therapy; Jeremy Pippin of Lauderdale, biological sciences; Davis Pool of Steens, business; Alexsandra "Alex" Rangel of Ripley, international business; Mya Robinson of Philadelphia, business; Ansley Shelby of Enterprise, biological sciences; McKenzie Shirley of Meridian, biology/veterinary medicine; Jayla Smith of Lauderdale, elementary education; Tyler Smith of Meridian, communications; Joy St. Clair of Collinsville, mechanical engineering; Jacob Vance of Collinsville, civil engineering; Emily Williams of Meridian, secondary education/math; Ashonta Willis of Meridian, nursing; Alexis Wilson of Meridian, biology/pre-medicine; and Henry Zheng of Meridian, computer science;
Sophomore members include Joseph Aviles of Collinsville, theological ministry; Cainan Black of Enterprise, computer science; Makenzie Bohl of Collinsville, accounting; Aaron Brannan of Meridian, chemical engineering; Grace Brown of Meridian, biology; Sara Beth Brown of Rose Hill, speech pathology; Estefany Chavarria of Meridian, secondary education/Spanish; Chandler Cline of Taylorsville, nursing; Jordan "Dani" Colenberg of Collinsville, liberal arts/foreign language; Thomas "Tank" Cottrill of Meridian, accounting; Erin Gibson of Meridian, biology; Dieter Gonzales Guevara of Meridian, aerospace enginnering; Madelyn Gray of Meridian, business; Jesse Harrison of Meridian, electrical engineering; Andrew "Zach" Hodges of Lauderdale, accounting; Andrew "McCrae" Houston of Brandon, biology; Tia Malley of Collinsville, University Transfer; Morgan Marlow of Meridian, biology/pre-medicine; Britney Murphree of Little Rock, speech pathology; Cassie Nguyen of Marion, biology; Camryn Parten of Collinsville, nursing; Wesley Phillips of Collinsville, marketing; Tara Shelton of Meridian, accounting; William "Blake" Shirley of Meridian, mechanical/aerospace engineering; JImmyia Smith of Lauderdale, accounting; Rhett Smith of Meridian, political science; Jade Temple of Meridian, kinesiology/athletic training; Lucas Thomas of Meridian, journalism/history; Kayleigh Tidwell of Meridian, medical technology; Jourdan Williams of Meridian, chemical engineering; Presley "Ragan" Williamson of Meridian, biology/pre-medicine; Nolan Yates of Meridian, pre-pharmacy and Myea Young of Meridian, sound/audio engineering.
SIDEBAR:
The Phil Hardin Foundation Honors College at Meridian Community College started in 2009 with 12 students and were led by Barbara Jones and Cathy Parker. Both educators retired from the College in Summer 2020.
Noting they had big shoes to fill, Boothe and Rainer are ready for the challenge.
"We were excited to take the reins of a program so well-respected and expand their vision to make it grow each year. The Honors College gives us a chance to work with the best and brightest MCC has to offer, and we enjoy helping these students find their place at our College and in the world beyond," Boothe said.
Honors College Sophomore Jimmyia Smith said the advisors are advocates for students. "They both seem to be very involved in the Honors College program and have shown how much they care and want us to succeed," Smith said.