MCC alumna finds success in medical laboratory field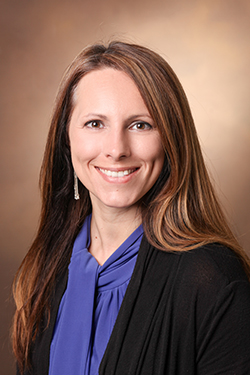 The talk of biomarkers, the human genome, infectious diseases and contagious viruses may frighten some, but Meridian Community College alumna Holly Covas finds it interesting.
Covas, who earned her associate degree in Medical Laboratory Technology at MCC in 2007, now serves as Assistant in Pathology, Microbiology and Immunology at Vanderbilt University Medical School and Program Director of Medical Laboratory Science.
"One thing I enjoy about the laboratory is how dynamic it is," she said. "We routinely identify new biomarkers that correlate with disease processes or understand diseases to a greater degree."
Over the past decade, technology has dramatically advanced the medical laboratory field with many laboratory tests now performed through automation instead of manually as years ago. This allows for more accurate testing in less time, she noted.
"As technology expands, we can identify diseases earlier than before, which provides a better prognosis for our patients," Covas said.
"As we learn more about the human genome, we are increasingly using molecular testing to identify genes associated with disease and treatment options," she added. "This means that we can determine which medications will be successful in treating patients before the patient starts taking the medicine."
The field of medical laboratory science first interested Covas in high school.
Born in San Bernardino, Calif., she moved to Meridian when she was young. She graduated from The Mississippi School for Mathematics and Science (MSMS) in 1999.
While at MSMS, she took courses related to medical laboratory, including microbiology, anatomy and physiology, human infectious disease and biochemistry. Because of her love of those courses, teachers arranged for her to participate in a summer internship with the microbiology department chair at Montana State University between her junior and senior high school years.
"This internship allowed me to learn about applying knowledge from the courses to research and health care as the department chair specialized in HIV research," she said. "After that, I knew I wanted to work in a medical laboratory."
Between enrolling at MCC, then moving and transferring colleges, working and moving again, Covas finally ended up back at MCC, where she graduated from the two-year Medical Laboratory Technology program in 2007. She immediately went to work as a generalist at Rush Foundation Hospital.
"I actually finished my clinical rotations on a Friday, started training the following Monday, and graduated from MCC the next Saturday," she recalled.
Covas continued with her education, earning a bachelor's degree in Clinical Laboratory Science from the University of Mississippi Medical Center in 2010. She obtained a Master of Public Health degree in Public Health from the University of California, Berkeley in 2014.
While still working at Rush, Covas started teaching at MCC and served as the education coordinator of the MLT program. In 2013, she left MCC and Rush to take the job at Vanderbilt.
"The educational path I chose has allowed me to expand the knowledge I learned at MCC into preventative health care and education," she said.
While its workers are sometimes overlooked, the medical laboratory field plays a significant role in the fight against the COVID-19 pandemic, according to Covas. Medical laboratories have been instrumental in creating and implementing clinical tests used to accurately and quickly identify individuals with COVID-19.
The way healthcare institutions nationwide have come together to fight the pandemic has not been lost on her.
"I have been able to see how quickly laboratories across the country have shared information to develop and implement laboratory tests," Covas said. "We share this information as we learn it so that others can implement changes to support the individuals in their communities as well."
But the sharing has not just been in the lab. Hundreds of instructors who teach in medical laboratory educational programs share and collaborate on ways to teach in virtual learning environments, she noted.
When not working, Covas stays busy with her two children, Hana and Kaleb. She loves to hike, especially around waterfalls, and to perform aerial silks. She also dabbles in body painting. She enjoys traveling and trying new activities and food. Last year, she visited the United Kingdom and plans to travel to Germany and Switzerland next summer.
In 2018, Covas received the American Society for Clinical Pathology Member Excellence in Education Award, which is given annually to an educator who shows superior teaching performance. She is currently working on her doctorate and is enrolled in the Doctor of Education in Learning and Organizational Change program at Baylor University.
Her ultimate goal is to become a dean so she can help support instructors and students in healthcare-based educational programs.
"I advocate for the field as a top consideration to young students because it's so diverse and progressive," said Covas, who now lives in Spring Hill, Tenn.
"The field is not stagnant," she added. "Many opportunities exist for advancing in the lab, and the job outlook is greater than average, especially considering the advancement of testing that occurs. The laboratory is a field that can guarantee job opportunities in almost any location immediately after graduation."