The season of giving: MCC alumni set challenge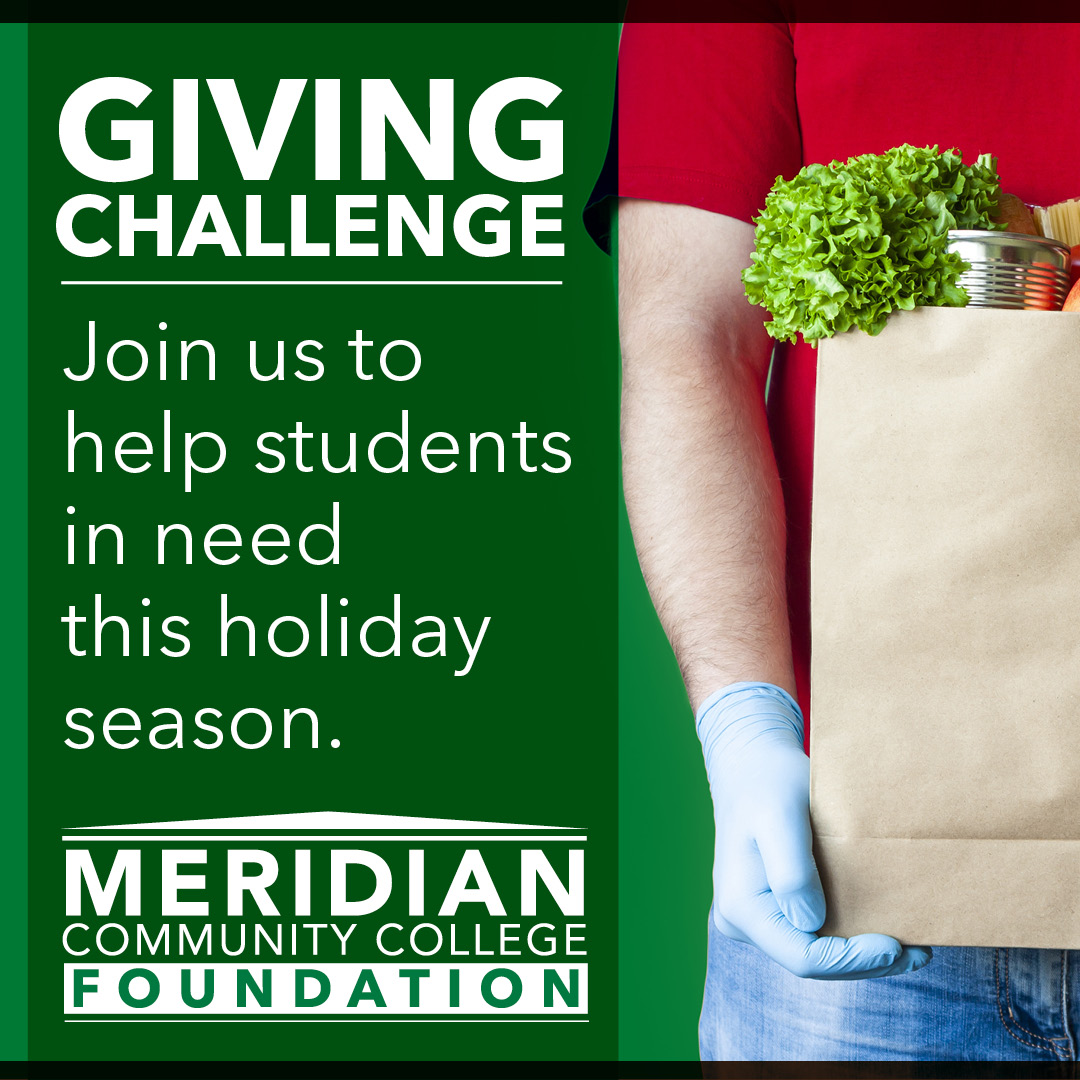 Meridian Community College alumni are always up for a good challenge.
Take for example of one anonymous alum's gesture of goodwill. The Meridian Community College Foundation received an unexpected gift - a large cash gift for the College's Food Pantry. But that's not all; the donation came with a challenge for others.
"I was thinking about my time here, and I remembered the students who were in need, especially around the holidays," the former MCC student said. "I knew I could help, and I thought, 'Why not challenge others to do the same?' "
The challenge is simple: give what you can to help those in need through the MCC Foundation to the College's Food Pantry. It can be food, non-perishable items, or a cash gift. Donors can bring their donation to the MCC Foundation or give online at meridiancc.edu/giving.
"People really want to help each other now," said Theresa Hogan, MCC scholarship and alumni coordinator. "We know the holidays are always a tough time to do without, so we knew the challenge was something we could get behind."
All funds collected will go to the pantry to purchase necessary items.
The College's food pantry began 11 years ago when the social-sciences division chair Diane Sollie came up with the idea to help students who needed food.
Now under the direction of La'Shundra Grady, MCC support services coordinator, the pantry is an extended closet in Smith Hall, tucked in between classrooms and offices. Inside are 7-foot shelves that hold food and bottled water, sample size toiletries, nursing uniforms and shoe, and paper products. From organizations to athletes, campus groups help fill and restock the pantry shelves, as do individuals and churches.
Receiving is a matter of asking; MCC food pantry recipients do not submit an application for food.
Grady noted since she has been in her position for a few months, she's recorded a great need for the pantry, specifically citing since COVID, items from food pantry and gas cards have been in demand. In thanking the alumni in advance for assistance, Grady said the pantry helps students maintain their daily life needs. "And, the food pantry is great to have on campus because students will not have to reach out to another agency," she said.
To give, go to: www.meridiancc.edu/giving