Foundation celebrates lifetime givers, inducts new members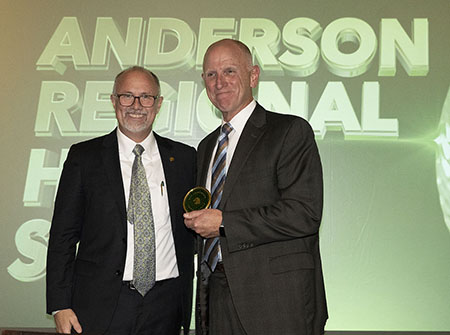 The Meridian Community College Foundation welcomed newly inducted honorees in the Lifetime Giving Awards presentation when the Foundation hosted its annual membership celebration at Northwood Country Club.
Lifetime giving levels are grouped in categories that include the Emerald Circle, $1 million-plus; 1937 Society Platinum Wings, $251,000-plus; 1937 Society Gold Wings, $101,000 to $250,000; 1937 Society Silver Wings, $51,000-$100,000, and 1937 Bronze Wings, $25,000-$50,000.
The event marked the second year that individuals and groups were spotlighted for their continued lifetime giving support.
Hundreds joined in applauding Anderson Regional Health System as the newest member of the MCC Foundation Emerald Circle.
Other inductees included Citizens National Bank and Waters International Trucks, 1937 Society Gold Wings; Community Bank – Meridian, Corey and Beth Anne Dickerson and Gipson Steel Inc., 1937 Society Silver Wings; and Bonita Properties Inc., Margene and Robert Bullock, Community Foundation of East Mississippi, Fruge' Oil Co., Howard Industries Inc., Cary and Faith Vaughn and Randy and Marcia Sanders West, 1937 Society Bronze Wings.
Throughout the years, donors have given life-changing dollars to truly impact students' lives who have come through the College's doors.
"It's been incredible to see the commitment of our givers," said Leia Hill, vice president for Institutional Advancement and the executive director of the MCC Foundation. "Their gifts have been truly transformative, and we thank them for their commitment."