Eagle Leadership Convocation members gain crisis management tips
In today's fast-paced world, a crisis can strike at any moment, and the ability to react quickly and confidently is essential.
That's what participants in the MCC Eagle Leadership Convocation learned when Dr. Kimberly M. Ennis spoke to the class for its March session. ELC is an academic year-long professional development and leadership program comprising 10 MCC faculty and staff members: Tony Boutwell, Mitch Brantley, Cyndy Bratu, An Howard Hill, Brandy Hill, Mandy Hurtt, Victoria Liddell, Whitney Stevens, Marlo Turner, and Kristi Williamson.
Dr. Ennis is founder of KME Consulting Group, an organization that specializes in corporate training and motivational speaking. Working for 35 years in various roles at Bevill State Community College, Dr. Ennis was president of Bevill. During her talk, she emphasized the importance of on-site or available during a crisis. She also noted facing a crisis is a defining moment in a professional career. In addition, she stressed: "Always over-deliver – that's where you're going to come out ahead."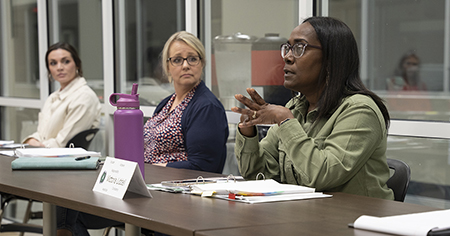 Conducting sessions such as the ELC is vital, Dr. Ennis said. "Because the leaders need to grow the next generation. It's our duty to grow them. A program like this here at MCC prepares this institution's future leaders. They may be sitting in this room today. They will gain knowledge that, hopefully, they will be able to use when it's their turn for the crisis," she added.
Williamson said Dr. Ennis' talk hit home. "She is a true educator who has lived it and shared real-world applications," she said. Another takeaway for Williamson was Dr. Ennis's advice about conducting effective and efficient meetings.