Grads, students gain laptops through Connect2MCC grant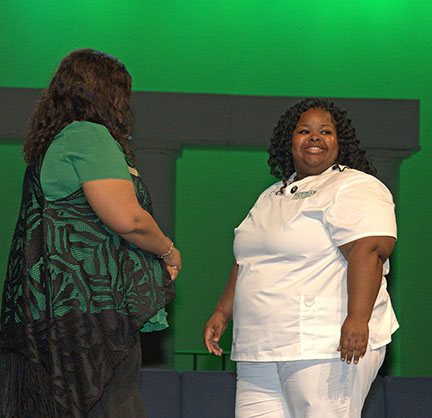 Persistence pays off; ask Meridian Community College recent graduates and current students who participated in the Connect2MCC grant.
Funded by the Women's Foundation, the grant is geared toward helping female two-generation students.
Participants joined monthly online sessions focused on healthy relationships, financial literacy, and balancing work, life, school, and others. The MCCers received $250 and a new HP laptop computer for their successful efforts.
 "All the students completed their monthly lesson, had a check-in with their mentor, and graduated and or had a grade point average of 2.5 or higher," said Kim Rush, MCC associate dean of advising, retention, and student success.
MCC Practical Nursing Program graduates Jazmine Mosley, April Shears, Toyteshia Ruffin, San Quishia Ruffin, Brittani Howard, and LaTrisha Aldridge were recipients, as were Associate Degree Nursing Program graduates Mia Adams, Kellie Payton, and Eryka Rhodes. "Receiving grant funds and being a part of Connect2MCC has really helped me," said Aldridge. Another recipient, Adams, was grateful for the assistance. "Many thanks to the grant for helping me achieve my goal of becoming a nurse," she said.
Second-semester Dental Hygiene Program students Tessa Windham and Mary Shivers were also given the stipend and laptop. Keoka Leggett also participated in the program.
To learn more about Connect2MCC, contact Wendy Cox, support services coordinator and dual education coordinator, at wendy.cox@meridiancc.edu.
Editor's note: The Women's Foundation spotlighted this MCC program on its blog. To see the post, go to https://www.womensfoundationms.org/celebrating-the-class-of-23/.