Tis the season: Christmas concert set Dec. 2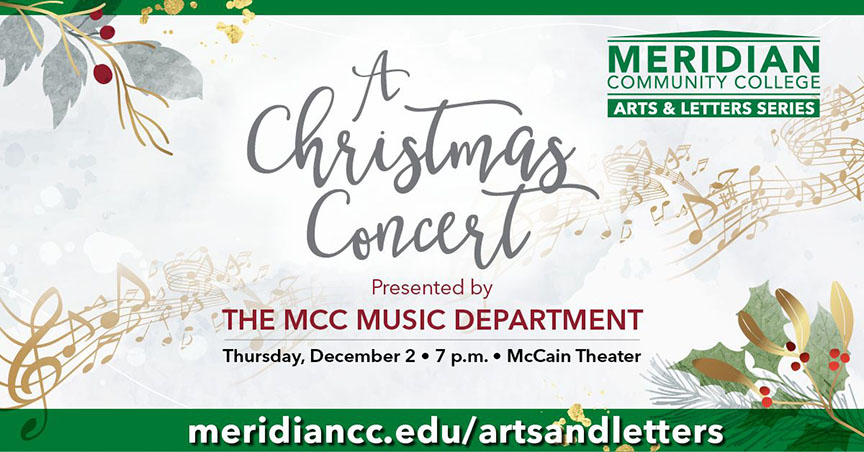 Holiday music will return to Meridian Community College's McCain Theater when the Arts & Letters Series presents, A Christmas Concert, on Thursday, Dec. 2, at 7 p.m.
Organizers of this MCC Music Department showcase said they consider the performances by the Guitar and Brass ensembles, Concert Choir, and Dimensions as their gift to the community. As a part of the evening's music, audience members are encouraged to participate in a carol sing-along.
Seasonal favorites including Sleigh Ride, Jingle-Bell Rock, Dance of the Sugar-Plum Fairy and Rudolph the Red-Nosed Reindeer will be performed, as will the special arrangements of Through the Dark and I Sing Because I'm Happy.
Members of the MCC Guitar Ensemble include Colton Albritton, Jharmain Inge, and Dylan Laird. Mitch Brantley, guitar instructor, is the director. The MCC Instrumental Ensemble, under the direction of Antonio Altman, include Xzavier Henderson, Amiyah McClendon, and Liiric Trussel, trumpet; A'Sauni Rainey and DanQuez Joseph, euphonium; Jamira Bastiste, trombone; Daniel Edwards and Ja'Quiyalen Chaney, tuba; and Trevion McCoy and Tyler Nicholson, percussion. Under the direction of Tammy Miles and Twyla Hurst are members of the MCC Concert Choir, including Maggie Freeman, Shelbie Reid, Mackenzie Robinson, Peyton Thomas, Brooklyn Hill, Rachel Thaggard, Abby Grace Bush, Parker Berry, Chelsea Litchfield, and Joy St. Clair, soprano; Alexandria Bailey, Jillian Goodman, Bethany Junkins, Miracle Brock, Savannah Cooksey, Celeste Pederson, Skylar Scott, and Payton Taylor, alto; Brett Gordon, Jalen Harden, Justin Humphrey, Noah Stephens, Tyi Burrage, and Zet Mirabueno, tenor; and Dylan Laird, Cohen Hurst, Patrick Martin, Cameron Plowman, Tanner Smith and Peyton Parker, bass. Miles and Hurst are also accompanists. Members of the Dimensions are Maggie Freeman, Parker Berry, Joy St. Clair, Alexandria Bailey, Miracle Brock, Brett Gordon, Noah Stephens, Tyi Burrage, Zet Mirabueno, Dylan Laird, and Patrick Martin. Miles serves as director of the ensemble.
Admission to this Arts & Letters Series event is free of charge. For more information, click the link below.