Candy Cruise returns with more in store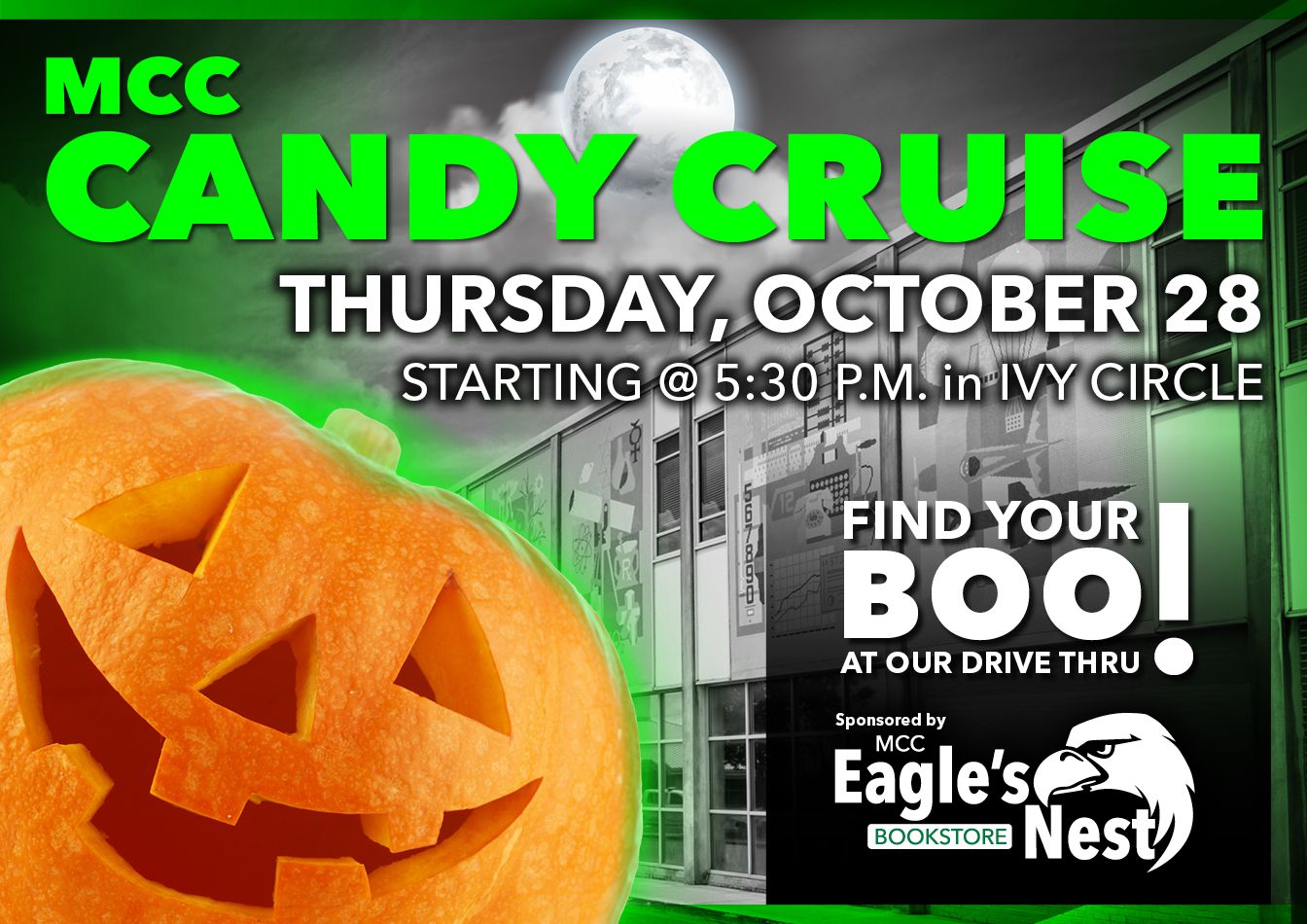 When Meridian Community College hosted its first Halloween-themed Candy Cruise last year, the response was "spook-tacular."
And this year, organizers anticipate a bigger response for the Thursday, Oct. 28, event. Candy Cruise hours are 5:30-8:30 p.m.
"We love to interact with our students and community," said Cher Warren, Eagle's Nest Bookstore manager, about the event in which residents drive through the circle in front of Ivy-Scaggs Hall and receive candy from MCC students, faculty, and staff. Last year, hundreds of cars and more than 1,000 adults and children ventured through the "Find Your Boo in Our Drive Through Candy Cruise," taking treats and leaving smiles and laughter.
The Bookstore is responsible for organizing and planning this event. "We start planning in July. It's a fun event, and we want to make sure we cover every detail thoroughly," Warren said.
Twenty-four campus departments, groups, and teams are prepping for this year's cruise. New this year will be groups of MCCers walking through the parking lot handing out candy to those waiting in line.
Drivers will enter the line for the candy cruise at the main entrance, which has the traffic light in front of Ivy-Scaggs Hall. The vehicles will snake through the parking lots till they reach the circle.
Though there's not an overall theme, each participating group will decorate their tent with a Halloween theme. "We wanted Candy Cruise to be similar to trick-or-treating. It is so much fun to see something different every 10 feet," Warren said.
Each child in a vehicle will get one to two pieces of candy at every tent. "We like to adjust depending on the candy. If it's a smaller piece, we'll give more," Warren added.
"This is such a fun event that just relaxes people," Warren said, noting that MCCers get into the spirit of things with the Candy Cruise, too. "It's great to see everybody have a good time while making so many kids smile. The adults have just as much fun as the kids, though."
---
MCC Candy Cruise 2020
Check out the video from last year's Candy Cruise! The faculty, staff and students dressed up in costumes and decorated tents with a Halloween theme. 17 departments participated in the event and handed out candy to cars as they drove through.