MCC's new Gene Haas Advanced Manufacturing Center gives students edge on learning highly technical skills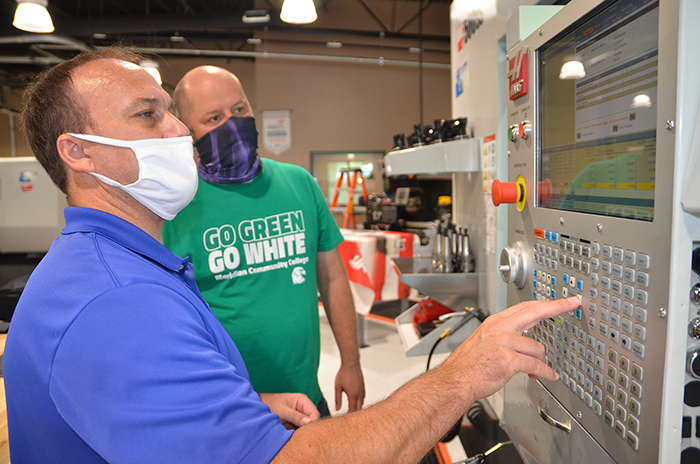 When students enrolled in Meridian Community College's Precision Machining Engineering Technology program return to campus, they will find themselves training in a new high-tech lab that emulates some of the most advanced manufacturers in the region.
The 10,500-square-foot Gene Haas Advanced Manufacturing Center, located on Highway 19 North in MCC's Workforce Development Center, features classrooms, lab space and state-of-the-art computer-aided design and machining equipment. It is considered one of the best advanced precision manufacturing education facilities in the state.
"Our new Gene Haas Advanced Manufacturing Center reflects how the modern workplace looks, feels and functions," said Brian Warren, program coordinator of Precision Machining and division chair of Industrial Technology at MCC. "We have taken the concepts of lean manufacturing and 5S and applied them to an educational facility so that this lab not only simulates what it is like to work for an advanced manufacturer, it emulates it."
The all-new CNC learning lab was funded through a $1.1 million Advanced Manufacturing Technology Program grant awarded to MCC in fall 2018 by the Mississippi Community College Board. In addition, California-based Hass Automation, one of the largest machine tool builders in the world, awarded MCC a $250,000 naming rights grant in support of the facility.
"There are only a handful of these Gene Haas Advanced Manufacturing Centers in the United States, and we are the only one in the Southeast," Warren noted.
MCC students will be learning on some of the most advanced CNC (computer numerical control) and CMM (coordinate measuring machine) equipment in the industry. The new lab features a five-axis Haas UMC500SS, a Haas ST-30Y turning center with Y-axis and live tooling, a Tsugami B0205 Swiss style CNC lathe, a Zeiss CMM, and 11 CNC machines, along with numerous manual lathes, mills, drill presses, band saws and other equipment.
"These are not the old machine shops that people imagine from 40 years ago," Warren noted. "These are all clean, well lit, air-conditioned facilities that meet or exceed the standards for DOD and FDA inspections."
The new CNC manufacturing and CMM inspection equipment will give the lab a tremendous advantage when it comes to employment opportunities for MCC's Precision Machining graduates, Warren said.
"We are able to train for the jobs of today and tomorrow," he added.
Automation and technology are the driving forces behind manufacturing today whether it is in the medical, aerospace, marine biology, automotive or most any manufacturing field. The design of most products and components is accomplished through the use of computer-aided design and manufacturing programs using CNC machining.
Manufacturers today are demanding workers who are more skilled in advanced technologies, and community colleges are perfectly positioned to provide this training to meet their demand, said Brian Berard, applications engineer for Mississippi and Louisiana's Haas Factory Outlet, Trident Southeast, which is based in Florida.
"The sad thing is that we don't look at community colleges the same way we do universities. Students are encouraged to choose a university based solely on its academics, regardless of its location," he said. "When choosing a community college in the past, students have been expected to settle for whichever is closest, regardless of its academics.
"That just isn't the case anymore. Students are traveling and seeking out the best program available in that particular trade now," he said. "That's why MCC's Precision Machining Program has students traveling to come here."
MCC's Precision Machining is already well respected in the state for the quality of its training program. Since 2015, MCC students have won all CNC SkillsUSA competitions at the state level with one student going on to win a silver medal at the national SkillsUSA competition in 2019. The program boasts a nearly 100 percent placement rate among its graduates.
The larger lab facility will allow MCC to increase the number of students accepted into the Precision Machining program each year and will offer long-term and short-term training courses for both credit and non-credit students, Warren said.
Due to the Coronavirus pandemic, MCC will offer hybrid model classes this semester where students are able to get the hands-on training they need in the lab and complete the classroom objectives using online learning suites, Immersive Engineering and CamInstructor.
Program graduates can obtain a one-year certificate, a two-year certificate with more advanced training, or combine with college classes to earn an associate of applied science degree. All program students become NIMS (National Institute for Metalworking Skills) Certified Machinists and Certified Haas CNC Operators.
"Program graduates will be skilled in manual machining, print reading, shop mathematics, CNC operation and programming, metrology inspection and CAD/CAM design," Warren said.
MCC graduates will be able to go to work at manufacturers throughout the region making anything from parts for a missile guidance system to the bone screws used in spinal surgeries, Warren said. In addition, five-axis and Swiss style machining centers are found in aerospace and medical manufacturers which Mississippi has an abundance of across the state.
"Upon graduation, our students will be very marketable, essential and in high demand," he said.
Anyone interested in this or other programs offered at MCC, can go to www.meridiancc.edu for details.