MCC Business Office Program teaches office job skills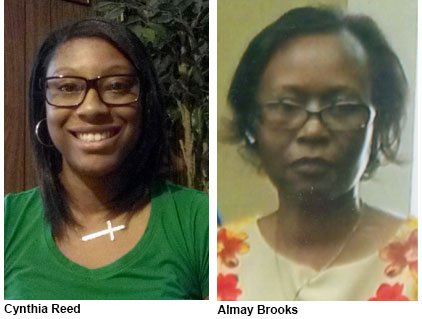 Meridian Community College graduate Cynthia Reed is glad to be back to her regular routine at the office.
"The walls were starting to close in (at home)," laughs Reed, an assistant at WD Enterprises, a professional tax and accounting service in Meridian.
Like many other office workers, Reed had been working remotely since March when Mississippi's shelter in place order went into effect. Juggling her work and the needs of her 11-year-son, Joshua Newton, while at home could sometimes be challenging.
She admits she was glad to return earlier this month to the daily routine and the hustle and bustle of the office – her first job since graduating from MCC's Business & Office Management Technology program in May 2019.
"I love computers, and I love numbers, so I really enjoy the work that I do," said the Geiger, Ala., resident.
Like Reed, many office workers across the country have been affected by the coronavirus pandemic. Many were furloughed for weeks or months, and some still work remotely from home. Others are waiting for their jobs to come back.
"This pandemic has affected all jobs, especially office jobs," said Flora Sumrall, coordinator of MCC's Business & Office Management Technology program.
As the nation's economy recovers from the pandemic, now is a good time for individuals to get prepared to re-enter the job market by completing their educational goals and working on their training skills, she said.
"Now is the perfect time to be in school, especially for people who like to say they don't have time to go back to school. They have time now, and this is the best way to be prepared to re-enter the job market as the economy recovers," Sumrall said. "There will always be a need for office and business support jobs."
A two-year program, the Business Office Management Technology program is designed for students who plan to go to work full time immediately after graduation. Graduates earn an associate degree in applied science and can find jobs as word processors, administrative assistants, data entry clerks and receptionists.
The program attracts a wide range of students, including some who have been displaced from their previous jobs, some who are re-entering the workforce after raising children and some who want to make a career change. Most are non-traditional students, and many have families. Many are employed and work their schedules around their classes, Sumrall noted.
"Graduating from the program will prepare you for the workplace," said Sumrall, who earned her associate degree through the program 16 years ago. "Many students – some who already work in the office setting – come into the program without the basic understanding of office procedures, software, hardware and proper office etiquette."
Students in the program become very familiar with office software programs such as Microsoft Office, Business Math, Business Accounting, Communication Essentials and Quickbooks. Through the professional seminar part of the curriculum, students learn leadership, customer service, communication and networking skills.
Almay Brooks had worked for Avery Dennison for more than 20 years when she was laid off due to the manufacturing plant closing in 2017. That August, she enrolled in the program at the age of 59. "I had worked for Avery Dennison for 20 ½ years, but when it was sold, I lost my job. I had worked in a lot of different areas at Avery Dennison, in production and quality," she said.
Not sure what route to take, Brooks decided to enroll in the Business & Office Management program. Decades earlier, she had begun MCC's executive secretary program out of high school, but had eventually dropped out, married, started a family and went to work.
"I always wanted to go back to school, so when the opportunity arose, I thought, 'Why not,'" she said.
Brooks had picked up some knowledge of computers, usually getting her grandchildren to show her how to do things. She was already pretty good at keyboarding from typing skills she learned years ago.
"I really enjoyed the program. It was a challenge to me, but I am glad I went through it," said Brooks, a resident of the Daleville community. "I feel like I learned a lot through the program. Some of the programs, like Excel and Access, took some time to learn, but I managed it. The program was something I looked forward to every day."
Brooks had to work harder in some of the basic courses like English composition and math classes, but she is pleased she finished the program and finally earned her associate degree at the age of 61. Presently, she is taking care of her mother who has health issues but hopes to use her business skills one day again.
The program's students must complete an internship before graduation, which is what led Reed to WD Enterprises and to her full-time job.
"The MCC program really prepared me for working in an office environment," Reed said. "The program was more than I expected it to be and involved a lot of hands-on work. It helped me to become more motivated with what I wanted in a career and improve my leadership and communication skills."
Anyone interested in the Business & Office Management Technology program should visit www.meridiancc.edu/bot