MCC salutes outstanding students with two ceremonies
Outstanding Meridian Community College students' academic and athletic achievements shone as they were spotlighted in the College's annual Awards Program.
Two ceremonies were held again this year in the McCain Theater in Ivy-Scaggs Hall. The first, University Transfer Awards Night, was held Monday, April 24. The second, Career and Technical Awards Night, was held Tuesday, April 24.
Campus officials said the students worked hard this year, and officials wanted to recognize their achievements.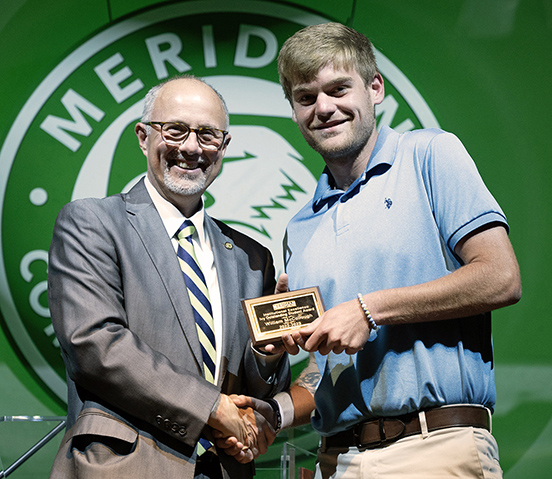 MCC sophomore William McCullough received the Ivy Outstanding Student Award. This award is given to the most outstanding graduating sophomore active on campus and has positively impacted the school and surrounding area. McCullough, a graduating sophomore from Brookhaven, is a University Transfer Program student who plans to major in biochemistry at Mississippi State University.
MCC Foundation award winners include Maggie Freeman, the Royalty Education Scholarship; William McCullough, Lucile Reisman Rosenbaum Memorial Scholarship; and J.D. Voss, Robert F. Cochran Memorial Scholarship.
Patrick Martin received the Sammy Broadhead Memorial Scholarship, which Devin Chadwick, Transfer Student Admissions counselor from the University of Southern Mississippi, presented.
Other MCC students selected for awards included:
Allison Beard and Catherine Compton, MCC Faculty Staff Association Awards; Brianna Arrington, Freshman Military/Veteran of the Year; Tulsa Kirk, Sophomore Military/Veteran of the Year; Latoya Robinson, G.V. "Sonny" Montgomery Foundation Scholarship; Justin Pugh, Chuck Nicholson Community Bank Veteran Scholarship;
Ali Applebee, Outstanding Biological Science Student; Joel Linton, Outstanding Business Student; Taylor Williams, Maude Smith English Award; Garrett Riggs, Sue Key Excellence in Mathematics Award; Peyton Parker, Outstanding Music Major Student; Jayden Williams, Outstanding Theater Student; Dylan Williams, Outstanding Physical Sciences Student; Christian Valazqeuz, Jimmie Evans Social Science Award; 
Ronald Ries, Outstanding Student Producer; KaDarious Johnson, Outstanding Business and Marketing Management Technology Student; Ainsley Sharp, Outstanding Cosmetology Program Student; Matthew Gressett, Outstanding Information Systems Technology Student; Whitney Hill, "Star Polisher" Early Childhood Education; Janiyaah Phillips, Outstanding Graphic Design Technology Student; Outstanding Medical Office Management Technology Student, Idasha Glenn; Diana Suarez, Outstanding Culinary Artist Award; Mark Anthony Thomas, Mark Chandler Rising Star Award; Tulsa Kirk, Outstanding Emergency Management and Communications Technology Student; Gage Wesley, Outstanding Fire Protection Technology Student; Trenton Evers, Outstanding Paramedic Student; 
Joslyn Overstreet, Outstanding Dental Assisting Student; Sade' Gammage, Outstanding Dental Hygiene Student; Anna Kate Touchstone, Outstanding Health Information Technology Student; Ashley Stribling, Outstanding Medical Assisting Technology Program Student; D'Undra Jackson, Outstanding Medical Laboratory Technology Student; Colton Mozingo, Outstanding Physical Therapist Assistant Student; Edwin Trejo, Outstanding Radiologic Technology Program Student; Kaitlyn Ralls, Outstanding Respiratory Therapy Program Student; Myra Boler, Outstanding Surgical Technology Program Student; 
Alan Rigdon, Margaret Armstrong Excellence in Nursing, Fall 2022; Camryn Parten and Destiny Little, Margaret Armstrong Excellence in Nursing, Spring 2023; Kimberly Tyson, Excellence in Practical Nursing, Fall 2022; SanQueshia Windham, Excellence in Practical Nursing Spring 2023; Malerie Covington, Outstanding Health Care Assistant Student Fall 2022; Justin Hopkins, Outstanding 3D CAD Engineering Technology Student; Joseph Covington, Outstanding Commercial Truck Driving Student; Jamaal McDonald, Outstanding Electrical Technology Student; 
Stanton J. Michael, Outstanding Industrial Maintenance Technician Student; Elon Preslely, Outstanding Precision Machining Engineering Technology Student; Carmella Wilburn, Outstanding Construction Trades Student; 
Chris Terrell, Male Athlete of the Year; Privilege Chikara, Female Athlete of the Year; Will McCullough, Male Scholar-Athlete of the Year and Mary Driskill, Female Scholar-Athlete of the Year; Allison Beard, Phi Theta Kappa Courtyard of Scholars Recipient; Patrick Martin and Jaylen Vance, Transfer Pathway Scholars, second team; Destiny Little, New Century Workforce Pathway Scholar, and Workforce Pathway Scholar, first team; and Rodney Senseney, Workforce Pathway Scholar, second team; MCC Campus organizations were also saluted with the presentation of the B.G. Raden Memorial Award given to the top three outstanding groups. The groups named were Medical Laboratory Technology Program, first; Early Childhood Education, second; and Respiratory Therapy and Medical Assistant Technology, third.
National Technical Honor Society Members were recognized. Members include Margaret Austin, Christina Bell, Daniel Bihn, Autym Brashier, Madison Carr, Cameron Case, Alexander Coleman, Savannah Cooksey, Savannah Edwards, Sade Gammage, Noah Garner, Idasha' Glenn, Madison Gregg, Shawanda Harris, Hannah Herrington, Jadazia Hillie, Hanna Homra, Samantha Howell, Khadeja Johnson, Tulsa Kirk, Cora Manning, Dorcia Mayer, William McMullan, Stanton Michael, David Mixon, Brooklyn Mowdy, Kamori Munnings, Jonathan Polk, Brinnon Powell, Destiny Redmond, Ashley Stribling, Brittany Thomas, Jennifer Torres, LaToya Tubbs, Ashley Viverette, and Jamiah Warnsley.
As a special tribute, Sheila Johnson, the Medical Laboratory Technology Program coordinator and instructor, presented the Honorary Outstanding Medical Laboratory Technology Student Award to the family of Jacob Touchstone. Touchstone passed away in March. Johnson said the award recognized Touchstone's impact on his classmates, MLT faculty, and medical laboratorians he encountered. "Jacob had a spirit that brought joy to those around him, and for this and his many other outstanding qualities, he will never be forgotten," she said.
To watch the live stream videos of the Awards Night programs on YouTube, click on the links below.
University Transfer Awards Program