MCC salutes outstanding students with two ceremonies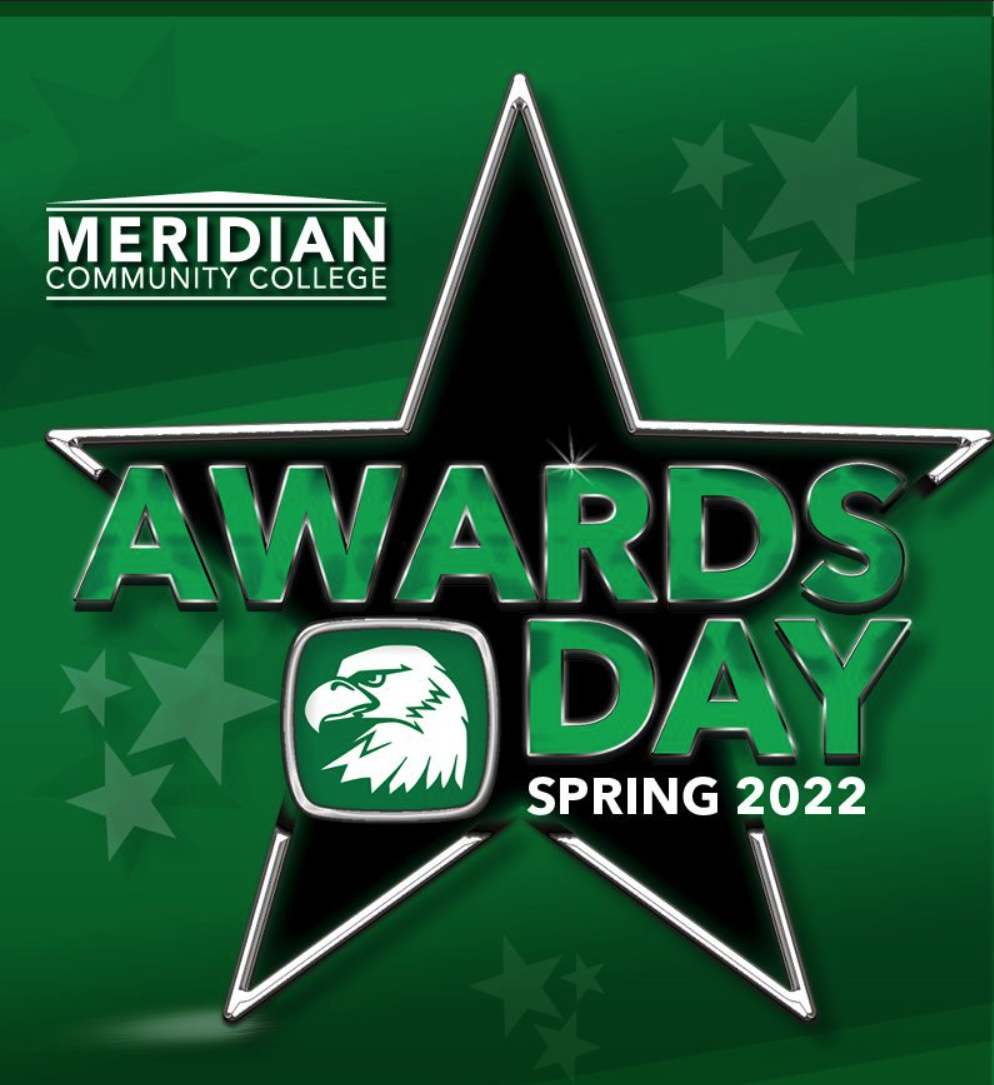 Outstanding Meridian Community College students' academic and athletic achievements shone as they were spotlighted in the College's annual Awards Program.
Two ceremonies were held this year - a first in the College's award presentation. The first, University Transfer Awards Night, was held Monday, April 25. The second, Career and Technical Awards Night, was held Tuesday, April 26. Both ceremonies were held in the McCain Theater in Ivy-Scaggs Hall.
Campus officials said the students had worked hard this year, and officials wanted to recognize their achievements, so a new presentation was developed for the event.
Meridian Community College sophomore Joy St. Clair received the Ivy Outstanding Student Award. This award is given to the most outstanding graduating sophomore who is active on campus and has shown a positive impact in the school and surrounding area. St. Clair, a graduating sophomore from Collinsville, is a University Transfer Program student who plans to major in mechanical engineering.
MCC Foundation award winners include Megan Oliver, the Royalty Education Scholarship; Joy St. Clair, Lucile Reisman Rosenbaum Memorial Scholarship; Colin Hartman, the Wilton B. (Bill) Johnson Scholarship; and Anna Card, Robert F. Cochran Memorial Scholarship.
Other MCC students selected for awards included:
William McCullough and Caitlyn Rhea, MCC Faculty Staff Association Awards; John Ely, Freshman Military/Veteran of the Year; Cornelius Griffin, Sophomore Military/Veteran of the Year; India Whittle, G.V. "Sonny" Montgomery Foundation Scholarship; Cornelius Griffin, Chuck Nicholson Community Bank Veteran Scholarship;
Landry Jones, Outstanding Biological Science Student; Colin Hartman, Outstanding Business Student; Megan Oliver, Maude Smith English Award; Joy St. Clair, Sue Key Excellence in Mathematics Award; Parker Berry, Outstanding Music Major Student; Anna Card, Outstanding Physical Sciences Student; Micah Crum, Jimmie Evans Social Science Award; Joy St. Clair, Ricardo Calderón Spanish Award;
Tyi Burrage, Outstanding Student Producer; Jerica Blakney, Outstanding Business Office Management Technology Student; Amber Clearman, Outstanding Cosmetology Program Student; Brayden Stewart, Outstanding Information Systems Technology Student; Ansley (Brett) Jones, "Star Polisher" Early Childhood Education; August Gurry, Outstanding Graphic Design Technology Student; McKensey Dearman, Outstanding Culinary Artist Award; Stephanie Valle, Mark Chandler Rising Star Award; Daniel Stevens, Outstanding Fire Protection Technology Student; Megan Perry, Outstanding Paramedic Student;
Rebecca Cullum, Outstanding Dental Assisting Student; Shayna Tullis, Outstanding Dental Hygiene Student; Destiny Barnett, Outstanding Health Information Technology Student; Anna Cumberland, Outstanding Medical Assisting Technology Program Student; Jimmeka Neal, Outstanding Medical Laboratory Technology Student; Gerry Parker, Outstanding Physical Therapist Assistant Student; Hannah Dues, Outstanding Radiologic Technology Program Student; Katrina Digby, Outstanding Respiratory Therapy Program Student; Dianna Trigg, Outstanding Surgical Technology Program Student;
Michelle Eakes, Margaret Armstrong Excellence in Nursing, Fall 2021; Gabrielle Jones and LaCamiyah Taylor, Margaret Armstrong Excellence in Nursing, Spring 2022; Phyllis Watkins, Excellence in Practical Nursing, Fall 2021; Roshida Nelson, Excellence in Practical Nursing Spring 2022; Tori Ferguson, Outstanding Health Care Assistant Student Fall 2021; Lisa Edmonds, Outstanding Health Care Assistant Student Spring 2022; Abdur Downey, Outstanding 3D CAD Engineering Technology Student; Angela Ware, Otis Gowdy Rising Star; Lisa Goodman, Outstanding Commercial Truck Driving Student; William Ball, Outstanding Electrical Technology Student;
Russell Shroeder, Outstanding Industrial Maintenance Technician Student (Two-Year Program); Michael James, Outstanding Precision Machining Engineering Technology Student; Hunter Pearsell, Outstanding Telecommunications Technician Program Student; Jocquavius Spinks, Outstanding Welding and Cutting Technology Student;
Keshaun Black, Male Athlete of the Year; Ana Julissa De Mata, Female Athlete of the Year; Brock Butler, Male Scholar Athlete of the Year and Claire Benson, Female Scholar Athlete of the Year; Jaylen Vance, Phi Theta Kappa Courtyard of Scholars Recipient; Harper Bryan, Transfer Pathway Scholars, first team, and Joy St. Clair, Transfer Pathway Scholar, second team; Summer Martin, Workforce Pathway Scholar.
Campus organizations were also saluted with the presentation of the B.G. Raden Memorial Award given to the top three outstanding groups. The groups named were Medical Laboratory Technology Program, first; Early Childhood Education, second; and Respiratory Therapy and Medical Assistant Technology, third.
National Technical Honor Society Members recognized included Eris Adams, Jennifer Austin, Michael Banks, Sabra Blackwell, Jerica Blakney, Kia Marquisha Renea Bramlett, Josie Brewer, Sallie Carver, Ronsbel Castillo-Lopex, Gabrielle Clayton, Elizabeth Cochran, Calandria Coleman, Carley Collier, Revecca Coonce, Kenyon Darden, Josiah Davis, Kayla Evins, Ally Gavin, Lakelyn Graham, Noah Hatcher, Sebastian Hendricks, Michaela Hill, Kaytlin Hillman, Christopher Hopson, Tiffany Hornesbuger, Jaylon Jones, Summer Martin, Brandon Martin, Shyanne Maye, Amy Moore, Jolinda Moore, Paden Moore, Steven Adam Motes, Vericka Naylor, Jimmeka Neal, Roshida Nelson, Ortega Noguera Ortega, Jayla Osborne, Yokanda Plummer, Claudia Preciado, Elon Presley, Kaitlyn Ralls, Vincent Reynolds, Tylier Roberts, Joseph Rosenbaum, Matthew Sanders, Martravius Scandrick, Ki'ara Smith, James Snowden, James Stephens, Joseph Stephens, Brayden Stewart, Brittany Thomas, Landrika Thompson, Madison Topcik, Shayna Tullis, Jaylen Vance, Antonio Wallace, Michaela Washington, Phyllis Watkins, Dyson Williams, Cynthia Williams, Kalisha Williams and Sanqueshia Windham.
Joy St. Clair received the Ivy Outstanding Student Award during the first of the two nights of the Awards Night ceremonies.