MCC adult education student finds hard work pays off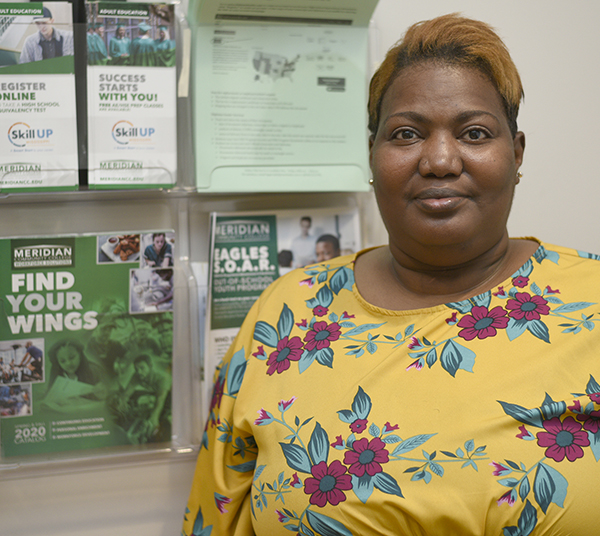 At 48, Shatagia Bell believes it's never too late to learn.
"You've got to keep going. It's challenging… sometimes it's hard but don't stop. It's rewarding at the end," said Bell. Enrolled in Meridian Community College's Adult Education program, Bell, a wife and mother of Meridian, is working on completing her high school equivalency certificate.
After seeing her daughter successfully complete her studies, Bell thought it was her time to get her GED. "I took the assessment, and I've been going ever since," she said. Since September 2019, Bell has been steadily working toward her goal.
When the COVID-19 crisis surfaced, and the College had to reconfigure how learning would occur, online lessons became the norm. Jennifer Whitlock, director of adult education at MCC, said some students struggled to transition to online learning. "So many didn't do anything. Some had the means to - just didn't do the work. Some didn't have computers nor Internet, so we understood, but many had a phone," Whitlock said.
Bell had a computer at home, but her time to use it was limited. "My daughter had work to do on the computer, and my husband had to use it, so I'd sometimes have to wait until they finished," she said.
Whitlock explained that Bell logged in many hours – even though she was sharing the computer resource with family. "She has made a gain in the program. That's one of the most important things for us - making a gain," Whitlock said.
"Shatagia knew that she wanted to keep working, so she just did what she had to do," Whitlock added.
For her determined efforts, the Adult Education Division presented Bell with a laptop of her own, complete with a carrying case and pre-loaded computer software. "We wanted to give a computer for all the dedication and hard work she put forth working online during the COVID-19 crisis. She didn't know she would receive anything; she just wanted to do the work and figured out a way to get it done," Whitlock said.
"I was so overwhelmed … happy to get this," she said. "It has blessed me so and I am so thankful," Bell said of the gift.
Bell is making up for lost time; she dropped out of high school when her mother needed help raising other family members. "It was a situation out of my control," Bell said. "I'm controlling my situation now," she said.
"To be able to study and see that I can do it makes me feel good," Bell said.
Before her mom passed away seven years ago, Bell said her mom encouraged her to finish school. Armed with aspirations, Bell is interested in going to law school or hotel management.
"I want to do it a step at a time, continue and finish," Bell said. She added, "I don't have to wait."