MCC hosts its Summer Commencement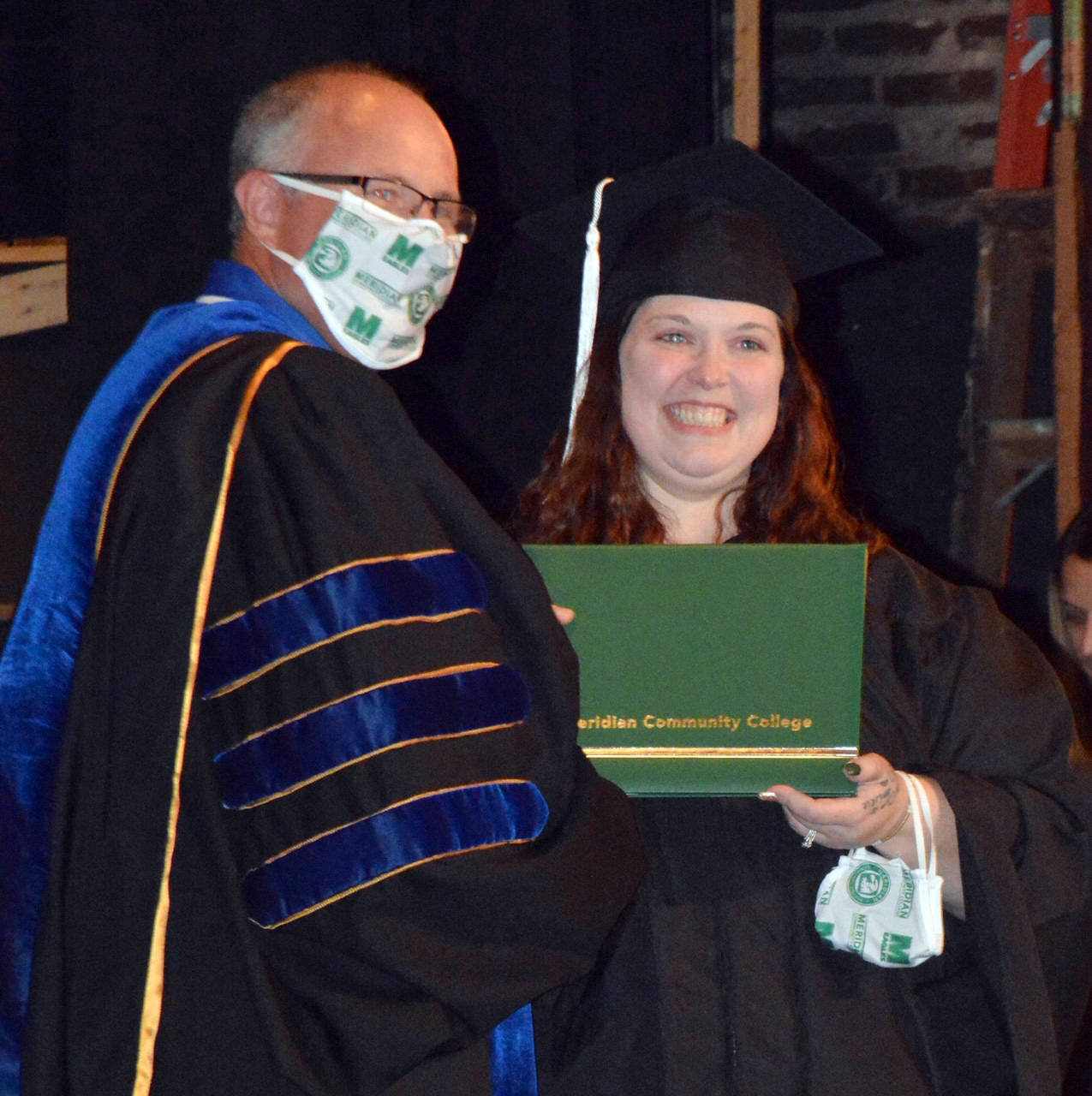 "I'm pretty excited," said Meridian Community College student Christy Roberts as she and other members of the Summer Commencement 2021 waited to be called to receive their diplomas.
MCC hosted its Summer Commencement in the Temple Theater on Aug. 6. Earlier in the day, the College's Practical Nursing Program held its pinning ceremony. Deanna Smith, MCC dean of student services, said, "graduation is a special day, one of my favorite days. Our graduates have showed resilience over the last year, and we are excited to celebrate their success."
MCC President Dr. Thomas Huebner also acknowledged the class members' resiliency. "I'm thinking of a few words: focused, flexible, patient, techie, willing to learn, and refusing to quit. That's this class, and we're proud of them."
A student in the College's Medical Assisting Technology Program, Roberts said she came to MCC to advance her career; she is a Certified Nurse Assistant. She credited her MCC instructors for their help. "It was an awesome experience," the Meridianite said.
During the ceremony, nine students were selected as this term's class of Circle of Excellence. Recipients are recognized as outstanding graduates and are chosen based on scholarship, leadership, spirit, and service. Honorees include Elizabeth Cochran, Ally Gavin, and John Williams, all of Enterprise; Breanna Davis of Collinsville; Mary Hatcher of Union; Tamician Hunt of Philadelphia; Morgan McMahon of DeKalb; and Shyanne Maye and Katelynn Smith, both of Meridian.
Candidates for graduation include Naikia Keshae Price of Ackerman; Kyana Deajanique Ebow and Macy Caroline Montgomery, both of Bailey; Gabrielle M. Semonelle of Biloxi; Dashia Z. Williams of Brandon; Clarissa Shea Brown of Buckatunna; William Allen Ball of Butler, Ala.; Kyndall Antoni Jones of Byhalia; Bridgett Natlia Erving of Canton; Raylie Jo Dandridge and Nathan Robinson, both of Chunky;
Jordan Makayla Colenberg, Breanna Marie Davis, Bonnie Ruth Pickard, and Lamanda Parker Vick, all of Collinsville; Angelia Rice and Kamillia Genae Sherrod, both of Columbus; Megan Michelle Jim of Conehatta; Morgan Olivia McMahon, Rekeishia O. Miller, and Abby J. Rose, all of DeKalb; Tikela Nicole Caples of Decatur; Shawata Brenyelle Hunter of Edwards; Elizabeth Denham Cochran, Ladarius S. Collier, Ally M. Gavin, Ashlyn Bailey Redmond, Meissa D. Thomas, and John Lee Williams, all of Enterprise;
Raymond Bronson Walker of Hickory; Kaydriuna K. Brown, Summer Lea Johnson, Martinique Marseilles Munn, and Toboris Jamall Pack, all of Lauderdale; Olivia Lauren Harrison of Little Rock; Kajsa Annette Cole of Marion;
Erica Brooke Ballard, Eubreesha B. Barney, Mckayla R. Bedwell, Janerio Dwonne Bell, Heather LeAnn Cason, Olivia B. Castle, James A. Cole, Christinia Lynn Coon, Artavis Lavondrick Crowell, Claribel Fernandez Castillo, India Aaliyah Starr Fielder, Skylar Nicole Glenn, Julia Andria Hall, Quadarius S. Hall, Juanita Lakeshia Hopson, Keith DeShawn Horne, Kristen Rebecca Gibson, Deric Jackson, Keira Samone Jackson, Jawaan De'Anthony Leflore, Au'Zyunna Ty'Unne Lewis, Destiny Ta'Lisha Va'Shea Little, Kiera Nichole Long, Rileigh Bret Marlow, Shyanne S. Maye, Cornelius Reeshod Mosley, Yasmann Alexzay Newell, Car'Taezia Powell, Hannah F. Queen, Heather M. Radcliffe, Christie Michelle Roberts, Canaan J. Rutledge, Olivia A. Satterfield, Zack Kenneth Shelton, Katelynn Rebecca Smith, Landricka T. Thompson, Gabriel N. Trosper, Anthony Ramsey White, Laura E. Williamson, and Sharmetrica Young, all of Meridian;
Aleah Samone Manuel and Melissa Robertson, both of Millry, Ala.; Kearrah Nykeria Lewis of Needham, Ala.; Destiny JaMelle Amerson, Timothy Shawn Chapman, and Michelle Lee Ryans, all of Newton; Sharnice R. McDonald of Noxapater; Sayjah Miella Jones of Pachuta; Melanie D'Anne Trotter of Paulding; Emry Arlious Smith III, of Petal; Shermar L. Taylor, of Phenix City, Ala.;
Alexandria ShyAnn Ben, Victoria L. Copeland, Tamician Chanel Hunt, Johndreas Deshana McGee, Jacob Dwight Tindol, Tara D. Willis, Shellye D. Talbert, and Jonah E. Flake, all of Philadelphia; Perryon J. McClelland of Porterville; Marly Brianna Johns, Taylor Danielle Melton, Remington Cheyenne Molina Nunez, Courtney Odom, Justin Tyler Rawson, and Joi Simpson, all of Quitman; Montrea Lynette Alexander, Courtlee Mikala Bridges, Jamyiah Lynette Broach, and Kimberly D'Andria Hill, all of Toomsuba; Grover Winston, of Tuscaloosa, Ala.; Mary Brittany Hatcher and Erica Destiny Vaughn, both of Union;
Kasenthia H. Bloodsaw and Josie Kaitlin Greene, both of Walnut Grove; Skylar Jones, Sherreon C. Jordan, Kristenlyn R. Robinson, Charris Dewaun Smith, and Geniah Oceaniah Warsham, all of Waynesboro; Horatio Justavious Parker of Wiggins; and Dominique Davontae Jenkins of York, Ala.;
---
MCC Practical Nursing Program students were all smiles behind their masks as their received their nursing pins in a special ceremony held before the College's Summer 2021 commencement. The pins serve as symbol to identify the nursing school from which they graduated. Twenty students received their nursing pins during the event.