Smith named South Mississippi Education Support Staff Person of the Year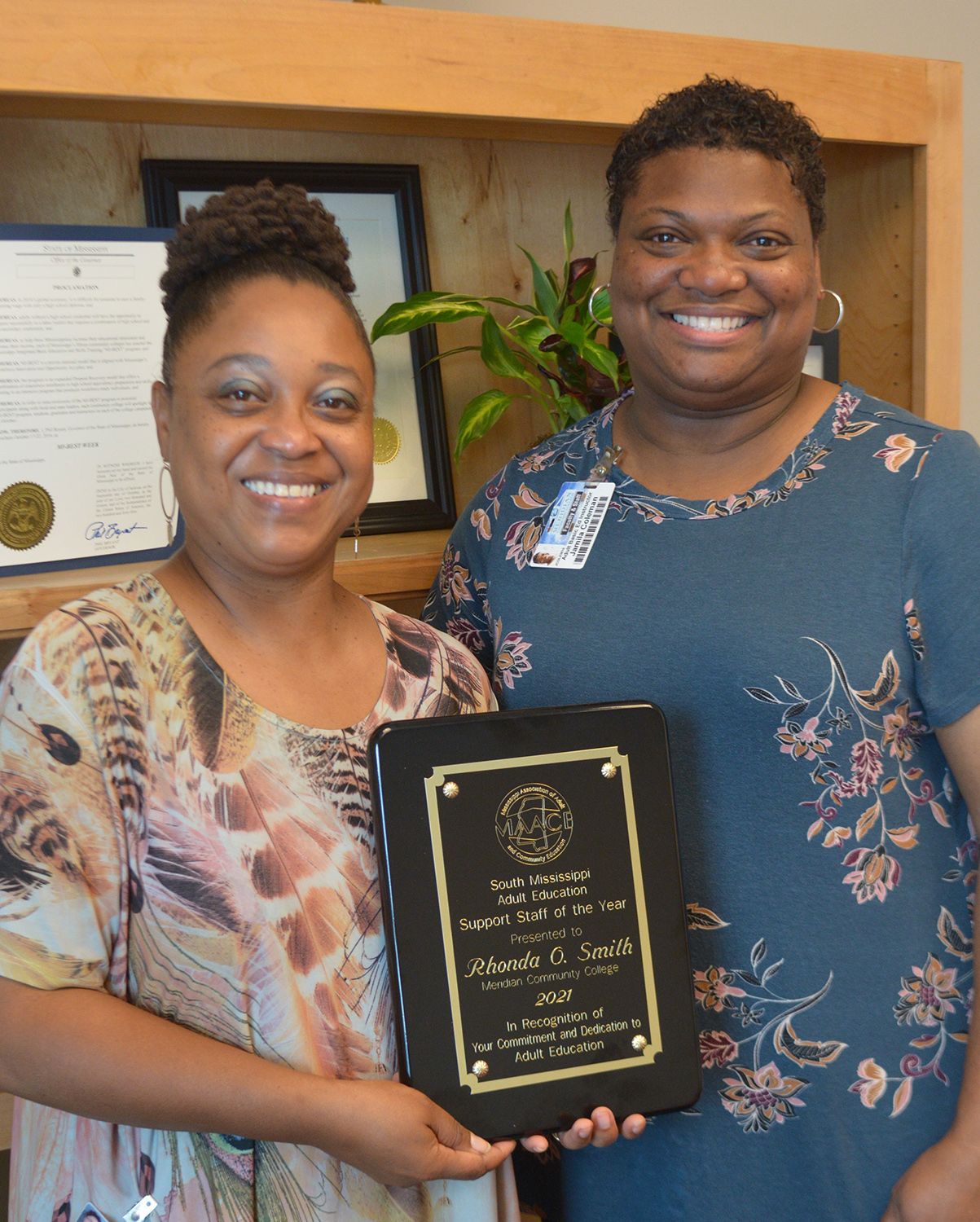 Rhonda Smith, MCC college and career navigator in the adult education department, often offers a helping hand to adult education students, getting them through the sometimes more-than-choppy academic waters.
Because of her commitment, she was named South Mississippi Adult Education Support Staff Person of the Year. The announcement came at the Mississippi Association of Adult and Community Education (MAACE) Association meeting. 
Colleague Jamila Brown Coleman, who nominated Smith, explained MAACE is the adult education's professional organization. Yearly, MAACE recognizes a teacher and a support staff person spotlighting those making significant contributions to or improvements in adult education.
Coleman noted Smith makes it a point to meet with each adult education student who comes through the program. "She allows students enough independence to grow academically and assists them in developing realistic goals while having proper college/career support when they need it," Coleman said. 
Smith goes beyond the call of duty. Coleman noted, "She helps students in finding child care, health care providers, food resources, jobs, and countless other needs. She has been known for delivering meals to students, taking students to doctor appointments, going grocery shopping for students, taking students home if they do not have transportation, providing mock interviews for students who have job interviews, and many other things that are outside of her job description."
The recognition humbles Smith. "The best part of my job is that I get the opportunity to build a relationship with all of our students. That could be anything from helping them to enroll in our High School Equivalency Prep, SMART Start or Literacy Classes, enrolling in college or workforce courses, finding a job, connecting them with a military recruiter, finding food to feed themselves or their family, conducting a mock interview to help them prepare for a job interview or just encouraging them to keep moving forward toward reaching their goals," she said.
She thanks her colleagues for the kind words. "And the smiles from our students when I do something to help them is enough for me," she said.
Smith added, "However, I will have to say that having that piece of hardware displayed in my office will always be a gentle reminder of how much my MCC family cares for me and also that I must be doing something right."