MCC Phlebotomy Essentials Program completers celebrate
Phlebotomy Essentials Program completers are, from left, Ashanti Stennis, Angel Ross, Melisa

"Missie"

Windham, Yutaka Chess,

D'undra

Jackson,

NaKesha

McGill, Lauren Chatham, Ginger

"

Grace

"

Bowers,

Shelanda

Curtis and

Emmaneisha

"Emma"

Brown.




With 100 hours of clinical experience gained and 100 sticks performed, 10 students in Meridian Community College's Phlebotomy Essentials Program celebrated their completion with a ceremony held in MCC-Riley Workforce Development Center.
The course teaches students the proper techniques for drawing blood, said Joseph Knight, MCC vice president for workforce solutions, as he addressed the audience. MCC partners with Anderson Regional Health Systems and Rush Health Systems and other health care facilities to offer this five-month program. The hospitals provide the clinical experience, and each student is assigned a location and a phlebotomist who mentors the students. "This experience helps them toward eligibility to sit for the National ASCP Phlebotomy Technician certifications," Knight said.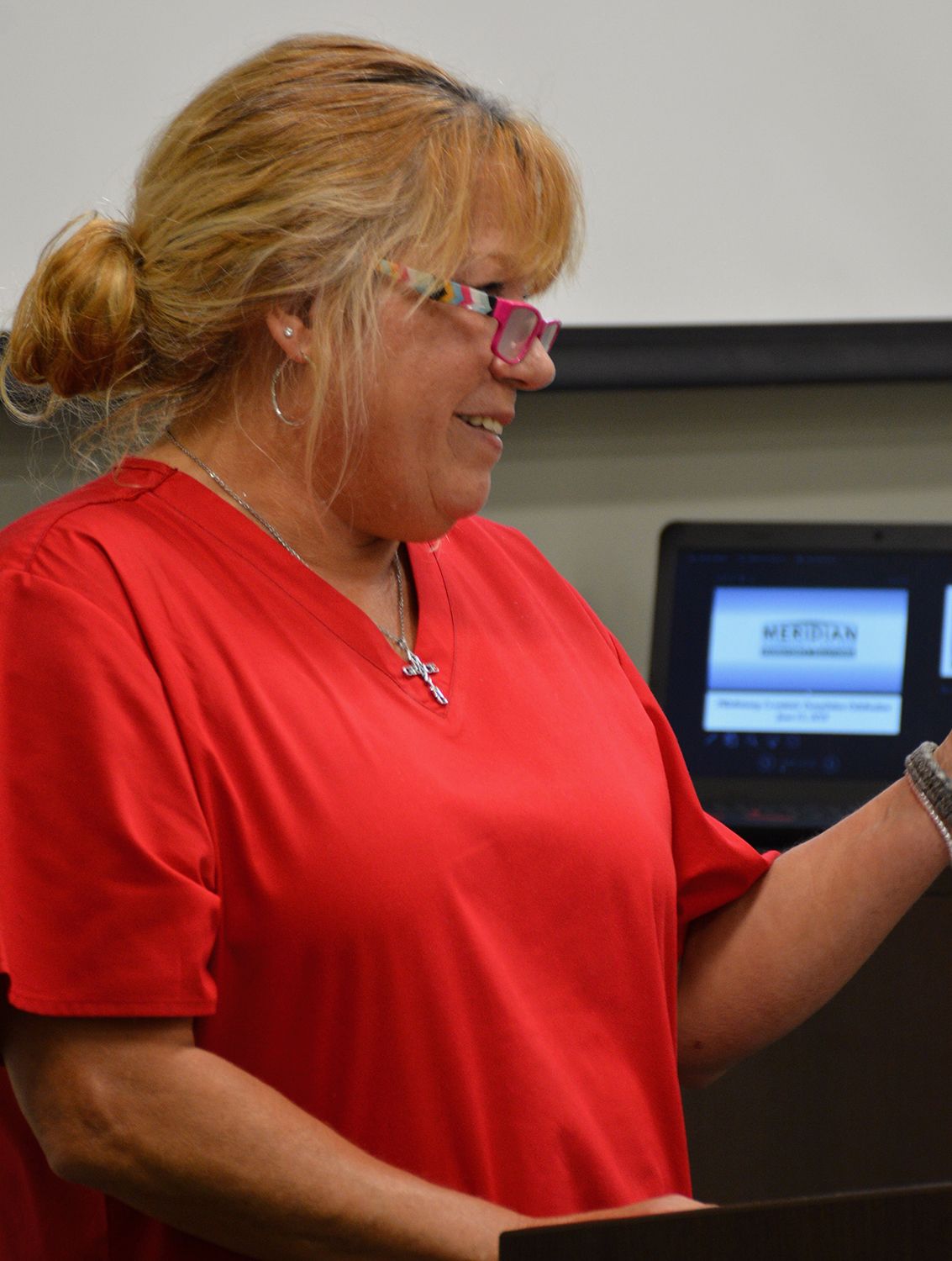 "Local industry recognizes the training provided as a vital asset to the community. They look to this program for experienced and educated professionals to fill their vacancies," he added. Instructor Angela Cullum, an MCC alumna, is employed with Rush, where she has worked for more than 20 years as a medical lab technician with supervisory experience in phlebotomy. In addition, she has taught the Phlebotomy Essentials program for more than 13 years.
Class member and program completer Melisa "Missie" Windham said she had always thought phlebotomy would be an interesting career and earlier tried to enroll in the program. "But it just didn't line up. So this time it did," she said. "I've gained a lot of confidence in myself and a desire to learn more," she said.
Other completers in the class include Ginger "Grace" Bowers, Emmaneisha "Emma" Brown, Lauren Chatham, Yutaka Chess, Shelanda Curtis, D'undra Jackson, NaKesha McGill, Angel Ross, and Ashanti Stennis.