MCC Hall of Fame Inductee Neil Henry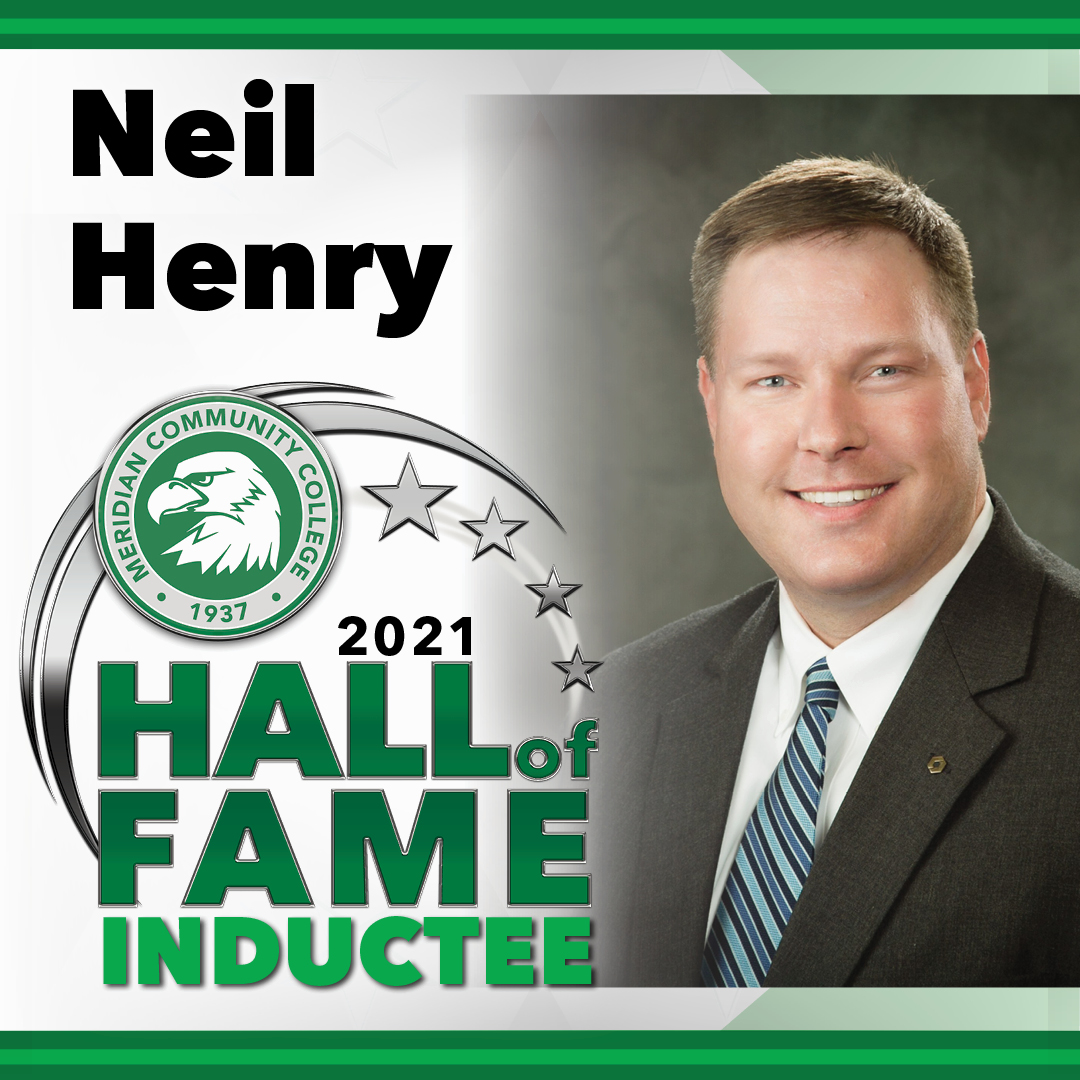 MCC served a foundation for his future
The decision to begin his academic studies at Meridian Community College was the best choice for Neil Henry. "I was undecided on my major and I wanted to stay local."
With the offer to continue to play basketball in college in his hometown, Henry learned it was a slam dunk win for him and his future. "I loved the fellowship and relationships built at MCC. To this day, I still have many friendships that started either in class or on the court at MCC and I'm forever grateful for this experience," he said.
Henry is one of four MCCers who will be added to the College's Hall of Fame roster on Thursday, March 25, during a ceremony spotlighting the honorees' achievements. Hosted by the MCC Foundation, the induction ceremony will begin at 2 p.m. in the McCain Theater. The ceremony will be live-streamed via www.mcceagles.live.
Honorees are alumni or former employees who have excelled in their careers and life missions and have elevated MCC's esteem through their achievements, service and association with the institution.
Joining with Henry in this year's class are Wanda McPhail, Michele Maida Smith and Dr. Reginald Sykes.
Today, Henry is regional president of Citizens National Bank. After finishing his studies at MCC, he earned a bachelor of science degree in business administration from Mississippi State University. He graduated from the Advanced School of Commercial Lending at Vanderbilt University and Louisiana State University's Graduate School of Banking. He serves as board president of the State Games of Mississippi and volunteers as a coach and leader of many sports teams and organizations within the Meridian community.
While an MCC student, Henry was a basketball team captain, and he credits MCC faculty and staff for serving as role models. "A few of these leaders, Barbara Jones, Dr. Tommy McDonald, Coach Fred Thompson, Billy Beal, Quinn Carlisle, Alice James and Dr. Bill Scaggs, each held me accountable in many ways (good and bad) and pushed me out of my comfort zone.
"They challenged me and made me the person I am today," Henry added.
He explained the MCC classes were never easy. "After a tough day in the classroom, I would often see each of these leaders later in the Graham Gymnasium encouraging me and cheering me on when we played a basketball game," Henry said.
"This helped me in so many ways and gave me the confidence to succeed in life," Henry added.
With a nod to the present, Henry views today's faculty and staff carrying on the tradition of excellence. " I see the current leadership in great hands with people like Deanna Smith, Chad Graham, Coach James Green, Coach Rodney Broughton and Sander Atkinson as these leaders lead by example," he added.
He said MCC has also impacted his children; Henry's daughter graduated in 2020 was a member of the Circle of Excellence – a recognition that applauds students' scholastic, leadership, spirit and service qualities.
Henry noted the impact and leadership that current MCC President Dr. Thomas Huebner demonstrates reminds Henry of Dr. Scaggs. "I look forward to seeing, and working with him, from a business development aspect as I want to make Meridian and Lauderdale County a better place," Henry said.
He added, "MCC is home and I will forever be indebted to my hometown college and the experience it provided."