MCC's volunteer project seeks site hosts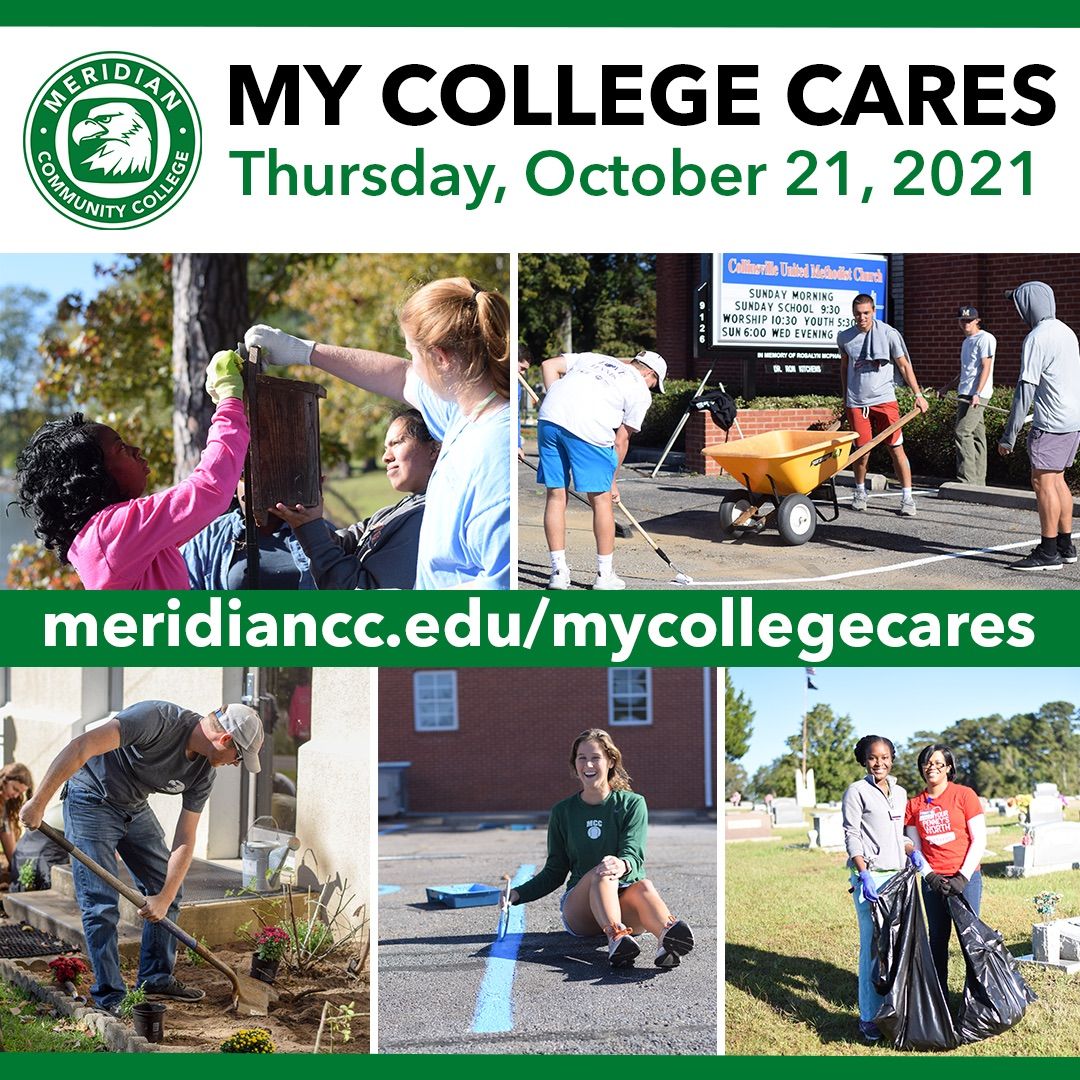 With the word community centered in its name, Meridian Community College reaches others to serve.
Case in point: MCC's My College Cares. 
Each fall semester, the College hosts this volunteer endeavor where faculty, staff, and students take time away from the classroom and computer screens and canvas the community throughout Lauderdale County, performing many projects ranging from painting, trash collecting, landscaping, reading to youths, washing buses, folding and hanging clothes, playing bingo at nursing homes and others. 
For more than 20 years, the event serves as a visible outreach for the community. 
This year's My College Cares Day is Thursday, Oct. 21, and MCC Campus Life Coordinator LeAnne Motes seeks local groups, organizations, and businesses who want to be location sites for volunteers.
Noting that the event is just a one-day event, Motes said the College cannot provide tangible items but tries to provide the labor.
At Okatibbee Lake, Natural Resource Specialist Tommy Miller welcomes MCC students, faculty, and staff for My College Cares Day and looks forward to the October event. He said officials from the College contacted the federal facility officials asking if they could lend a helping hand.
 "It helps us do some things that we wouldn't be able to do otherwise that would cost a lot more for us to do. It saves the taxpayers a lot of money when the community comes in and gets involved with certain things," Miller said. 
He added that there's the bonus of working with younger people and sparking interest in federal lands. "We want really qualified people to come work for us; that's important to us. If we can get some interest and get them excited about federal lands and volunteer, they may want to come and work for us one day," Miller said.
In previous My College Cares days, some 10-12 students typically volunteer to do many tasks. "This year, they'll probably paint numbers in the campground for each site. We're a short staff here, and we have many things going on at one particular time. It's nice when we can get a dozen sets of extra hands," he said.
Roger Smith, president of the Temple Theater in Downtown Meridian, said he appreciates those who help. My College Cares volunteers clean, paint, and perform other tasks at the 93-year-old building in previous sessions.
For more information, contact LeAnne Motes at 601.484.8632 or smotes1@meridiancc.edu or visit meridiancc.edu/mycollegecares.