MCC to host annual MLK Commemorative Celebration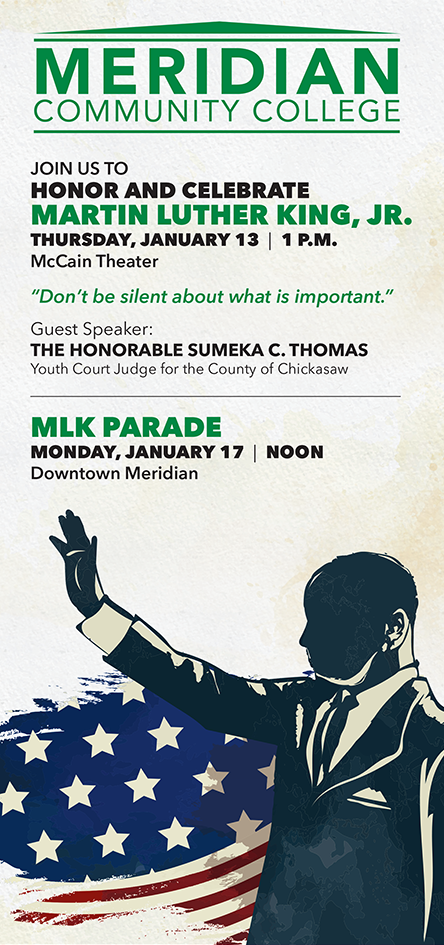 The Hon. Sumeka C. Thomas, the first African American female judge in Okolona and Verona and the first African American to be appointed Youth Court Judge for Chickasaw County, will present the keynote address for Meridian Community College's The Rev. Dr. Martin Luther King, Jr. Commemorative Celebration on Thursday, Jan. 13.
With the theme of "Don't Be Silent about What is Important," the event will get underway at 1 p.m. in the McCain Theater on the MCC Campus. Admission is free of charge, and community and campus are welcome.
Thomas, a native of Okolona, graduated as valedictorian of her Okolona High School class and earned her bachelor's degree from the University of Mississippi and later her juris doctor degree from UM. She currently has a law practice in her hometown where she specializes in domestic relations such as divorce, child custody, support and guardianship, and criminal defense. Thomas serves as the Okolona Chamber of Commerce vice president and president of Upsilon Pi Omega chapter of Alpha Kappa Alpha Sorority Inc. of Starkville. She became the first African American female judge in Okolona and Verona in 2013 and 2016, respectively, and the first African American to be appointed youth court judge in Chickasaw County in 2019.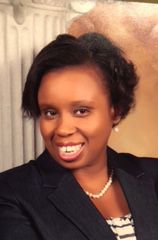 In addition to Thomas' address, the program will include announcing the winners of a creative contest, the presentation of the MLK Program scholarship by the Charles L. Young family, and the Billy C. Beal Award.
Recipients of the Young Family Scholarship include MCC students Lakeesha McFarland, Emily Smith, and Tina Dukes.
Winners in the creative project were separated into two divisions, high school and college. Named winners from the high school division were Mya Shook, first; Jamarcus Towner, second, and Dankira Holliday, third. Winners in the college division were Alexsandra Rangel, first, Ashley Pinion, second, and Jacob Vance, third.
Melba Clark-Payne, business owner, community and civic leader and retired educator, is the recipient of Billy C. Beal Award.
The Rev. Morris Thompson, rector of the Church of the Mediator, will offer the invocation; Deitra McKenzie, meteorologist and reporter for WTOK TV, will serve as emcee for the program. Musical offerings will be presented by Jeri Hill Johnson, teacher with the Newton Municipal School District, and Dr. Sheila Walker, Meridian Public School District, and Mitch Brantley, MCC guitar instructor.
---
Meridian Community College's Diversity Committee is encouraging MCC students, faculty and staff to participate in Meridian's Martin Luther King Jr. Parade on Monday, Jan. 17, in Downtown Meridian.