MCCer of the Month for April: Caleb Benson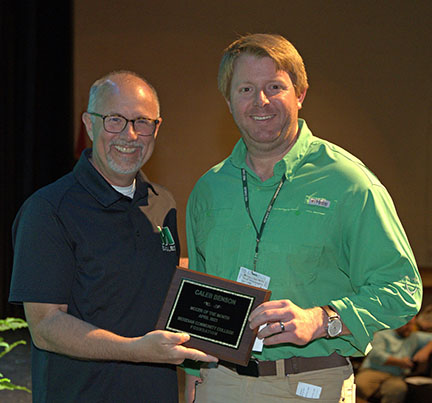 Supportive. Helpful. Patient. Professional. Caleb Benson models these words, and for his service to Meridian Community College, he is MCCer of the Month for April.
A biology instructor for four years at MCC, Benson was awarded this MCC Foundation-sponsored accolade during the College's End-of-the-Year celebration. The MCCer of the Month program salutes the College's hardworking employees who go above and beyond their duties. In addition to a commemorative plaque, honorees are given $250.
Benson is a native of Philadelphia and holds a bachelor of science degree in biology from Mississippi University for Women, a master of science degree in medical science from Mississippi College and is pursuing his associate of applied science degree at MCC, where he is studying in the weekend program of the Associate Degree Nursing Program.
When asked about what is the most enjoyable part of his job, he said, "The students and co-workers."
A nominator noted that Benson is a true team player. "He volunteers to help with projects like moving lab equipment during the science lab renovations in 2020, cleaning and organizing the storage room, and serving on ad hoc committees created by the division chair. His students like his laid-back, yet thorough, teaching style."
Dr. Angie Carraway, Science, Wellness and Fitness Division chair, chemistry instructor and Benson's supervisor, agreed. "He's always willing to go the extra mile in a way that does not always bring recognition. He genuinely cares for his students and wants them to do well," she added.
Benson sees others are helpful. "I was impressed with how everyone came together and worked so hard to make the necessary changes during the COVID years," he said as a memorable MCC event for him.
When he's not at MCC or studying, Benson enjoys deer hunting, riding in his Jeep, and spending time with his family, which includes his wife Nicole, stepchildren Jaxon and Hattie, and son Ollie. 
To learn more about MCCer of the Month, visit meridiancc.edu/foundation.