MCC Hall of Fame honorees spotlighted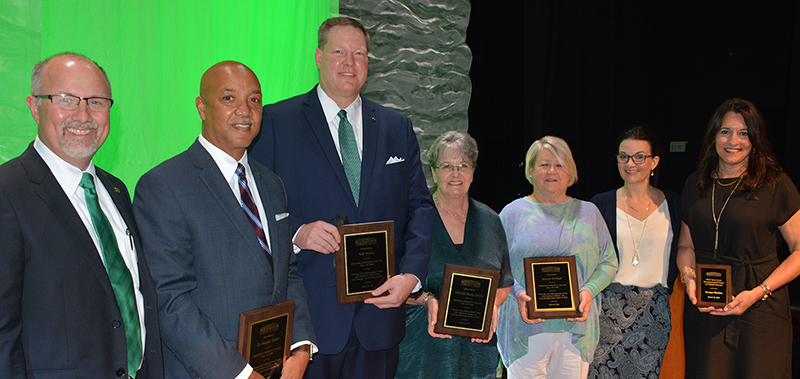 With a common theme of remembrances, four Meridian Community College Eagles, Neil Henry, Wanda McPhail, Michele Maida Smith and Dr. Reginald Sykes, joined the College's Hall of Fame roster during a ceremony spotlighting their achievements.
Each year, MCC honors a group of servant-leaders who have distinguished themselves in their professions and their community service with the Meridian Community College Hall of Fame award. The MCC Foundation hosts this ceremony. The annual homecoming celebration began in 2002 to promote and preserve a sense of tradition at the College.
MCC President Dr. Thomas Huebner said the ceremony spotlights the people who have contributed to College and the community. "It's a great honor for an institution like Meridian Community College to be able to recognize its treasured people who are in our Hall of Fame," he said.
Henry is regional president of Citizens National Bank; McPhail is retired MCC tennis coach; Smith is retired MCC athletic director; and Dr. Sykes is president of Bishop State Community College in Mobile, Ala. "I am grateful to be considered for this tremendous honor," Henry said. "MCC realigned me as a student, challenged me to be successful, and I'm grateful for that."
McPhail shared, "All I was, all I am and all I hope to be, I owe to my Creator. He has guided me every step of the way, and I believe He placed me at MCC, and I am a better person for having served here." She said working at the College was the best occupation – other than motherhood – that she ever had.
Smith thanked former MCC Fitness Instructor Wilhelmine Damon for her friendship and support and Dr. Kathy Baxter, former dean of academic affairs, for her guidance. She also credited President Emeritus Dr. William F. Scaggs. "He influenced me in so many ways; he had a way about him that seemed to bring out the best in me," she said.
Dr. Sykes said mentors in his life helped shape his career, and he pointed to Dr. Scaggs's vision. Noting that in his current position, Dr. Sykes said he had asked himself, "Where would I be if Dr. Scaggs had not offered me a job as dean of students? He saw something in me that I did not see in myself."
"And I can honestly say, I am here today because he gave me a chance. He was my supporter; he mentored me," Dr. Sykes said.
In addition to the Hall of Fame ceremonies, the College recognized Soraya Welden as a new Talon Club member. The designation salutes employees who have attained 30 years of service to the College. In January, Welden, who retired from the College, held many positions at MCC, including student loan officer, financial aid director, dean of student services, and vice president for operations. "Dedication from our employees to the College and our mission is something that is highly valued here and critical to our success," said Pam Harrison, CFO, as she lauded Welden for her contributions to MCC and the community. "Soraya has always taken service to our students very seriously," she said.
Moreover, former employees who have passed away since the last year's ceremony were remembered by the tolling of bells. They included Billy Earl Stubbs, Rae Ellen Gordon, Mark Chandler, Lou Weddington Hart, Clay Hamilton, Ray Hosley, Dr. William F. Scaggs, John A. Johnson Jr., Bridgette Horn, Vivian Valentine Fulton and Agnes Copeland Carter.
Induction Ceremony
Watch the 2021 Hall of Fame Induction Ceremony.