MCCer of the Month: Julie Ricks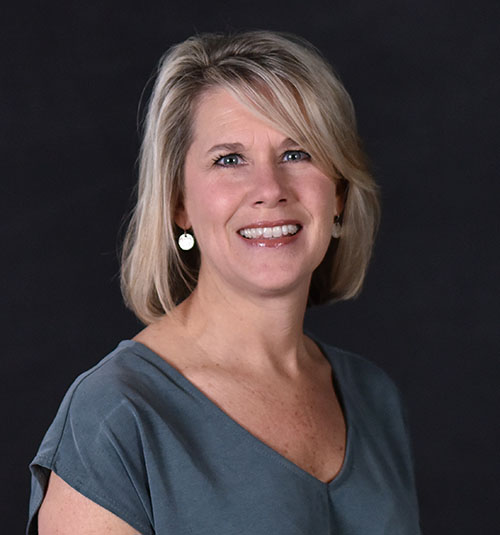 Though she may not be in front of a classroom behind a podium, Julie Ricks knows that every MCCers' contributions are essential.
"Each of us, even those of us who are not on the educational frontlines, play a part in the success of MCC students and the success of our community and state, Ricks said.
A two-year employee at the College, Ricks is MCCer of the Month for September. The peer-nominated award, sponsored by the MCC Foundation, recognizes outstanding College employees and comes with a $250 honorarium.
Ricks is a purchasing/accounts payable specialist who finds her job rewarding. "I enjoy helping fellow employees with the purchasing process," she said.
A native of Orange, Texas, Ricks earned her bachelor of arts degree in religion and biblical studies from Liberty University. Her first job: An accounts receivable/billing position with Matrix Engineering in Beaumont, Texas. She and her husband, Wade, a pastor with Collinsville First Baptist, are parents of Aaron (an MCC alumnus from the Class of 2016) and daughter-in-love, Abigail. The younger Ricks live in Albuquerque, N.M.
In her drive to help others, Ricks counts serving on missions in the Dominican Republic, Romania and Guatemala as memorable life events; she's also traveled to Peru to visit the Christian child sponsorship non-profit organization, Compassion International Children's Centers.
She said among her favorite quotes are one from Proverbs: "Trust in the Lord with all your heart, and lean not on your own understanding; in all your ways acknowledge Him, and He shall direct your paths."
But she'll also quote that of Dutch Christian watchmaker and later writer Corrie ten Boom, who, along with her family, hid Jews in her home to escape the Nazis in World War II. Sent to a concentration camp, ten Boom said, "It is not my ability, but my response to God's ability, that counts."