Gather 'round for hot stove discussion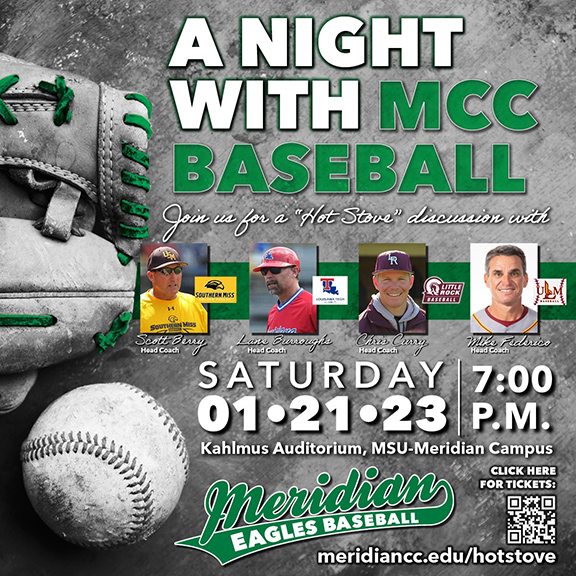 Former Meridian Community College Eagle Baseball Coaches Scott Berry, Lane Burroughs, Chris Curry, and Mike Federico will return to Meridian for A Night with MCC Baseball on Saturday, Jan. 21.
This "hot stove" discussion will get underway at 7 p.m. in Mississippi State University Meridian's Kahlmus Auditorium. Individual tickets are $50 and include dinner and open seating. Tickets for a table are $500 and come with preferred seating, sponsorship sign, and MCC gifts. Tickets are available online at meridiancc.edu/hotstove.
Now NCAA Division 1 head baseball coaches, the four will be panelists discussing coaching at the collegiate level, their experiences as former Eagles, and their thoughts on the current state of college baseball. Berry coaches at the University of Southern Mississippi; Burroughs coaches at the Louisiana Tech University; Curry leads at the University of Arkansas-Little Rock; and Federico is at the University of Louisiana-Monroe.
"This is a great opportunity to hear from some MCC legends and meet the current team," said MCC Baseball Coach Dillon Sudduth. "It will be a night of celebrating MCC baseball."
The term " hot stove " refers to baseball's early days when players would practice during the winter season by playing ball in their hometowns while staying warm with hot stoves. It also draws from fans gathering around a hot stove to discuss their teams.