Making the grade: MCCers named to honors lists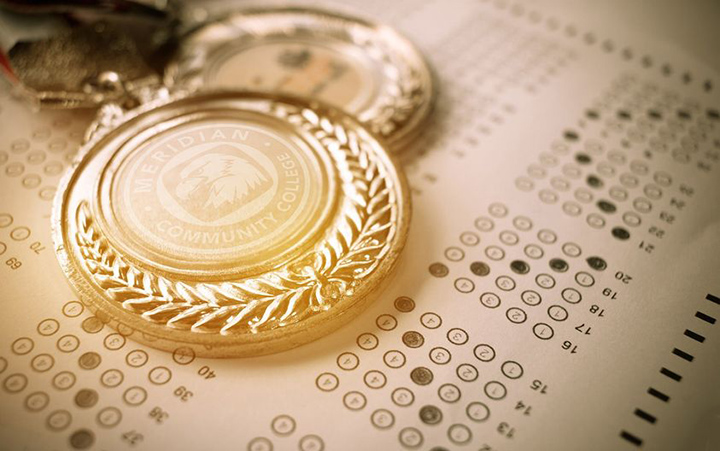 Meridian Community College recognizes scholastic achievements by publishing the President's and Dean's lists at the end of the fall and spring semesters. 
The President's List includes students carrying 12 or more semester hours who have a grade point average of 4.0 on a 4.0 scale. The Dean's List includes students with 12 or more semester hours with a grade point average of 3.25 to 4.0. 

President's List honorees for the Spring Semester 2023 include:
Kayla M. Davis, Sadie Odom, and Isabella Caitlin Sanders, all of Bailey; Steven Kyle Brady of Brookhaven; Alexander Coleman of Butler, Ala.; Peyton Seth Esslinger of Carriere; Ally Houston of Carthage; Darrin S. Harris of Chunky;
Griffin W. Atkinson, Ivan Betancourt, Matthew D. Bowling, Savannah L. Cooksey, Logan Dean Copeland, Lanie R. Crawford, Alexis J. Hamilton, Isaac T. James, Tulsa S. Kirk, Brittney D'Shan McDaniel, Jasmyne T. McDonald, Nathan L. Mott, Josie M. Reid, Ronald Gregory Ries, Meadow Smith, Joseph Thomas Stephens, Karlee E. Sullivan, John David Voss, and Dylan P. Williams, all of Collinsville;
Olivia K. Gray of Crawford; Lorien Keamber Gowdy of Daleville; Brittany Lynn Thomas of Decatur; Jacoree D. Cole, Marcus A. Fox, Cornelius Griffin, and Tonya Denise Jenkins, all of DeKalb; Chandani M. Patel of Diamondhead; Callie Cox Abraham of Edwards; Daniel W. Bihn, Hannah Regina Chandler, Haley E. Copeland, Olivia L. Peavy, Cameran B. Sammons, and Anna Kathryn Touchstone, all of Enterprise;
Mattie K. Granberry of Florence; Michael Banks Hyde of Flowood; Kesia Nicole Gray and Skylar Nicole Sharp, both of Forest; Scarlet A. Duplantis of Franklinton, La.; Colton Mozingo of Gilbertown, Ala.; Garrett B. Riggs of Hanceville, Ala.; Khadeja A. Johnson and Emily M. Wicker, both of Jackson; Jamaal A. McDonald, Shaqunta McDonald, Stanton J. Michael, Jordan L. Miles, and Keilon D. Robinson, all of Lauderdale; Ashley E. Hollman and Savanna Brown Martin, both of Laurel; William Conner Clark of Lawrence; Zackary Taylor Goforth and Jeffery Jackson Rigdon, both of Little Rock; Michael Dewane Pickens of Livingston, Ala.; Mary A. Gallarno of Madison; Joseph Chavelle Hopson of Marion; Madison Kate Etheridge of McComb;
Charvis Alexander, Abdurahman A. Alsadi, Ali Grace Applebee, Lauren E. Boswell, Cody S. Britt, John Thomas Bryant, Jr., Melodie Noelle Coates, Christinia Lynn Coon, Haleigh Leanne Cullum, Mary Ashley Culpepper, SeDerrick E. Davis, Woniel Dwyane Davis, Henrique Dos Anjos Dainez, Hannah G. Dover, Brandon C. Epting, Ean L. Fisher, Natacha Taylor Fortenberry, Margaret R. Freeman, Keri Rae Hans, Luke James Harrison, Lexie Elizabeth Henderson, Justin Blake Hopkins, Derricus J. Johnson, Marquez Teshawn Kennedy, Daniel Craig Knight, Joel Parrish Linton , Kamari Orianna Martin, Thiago Martins Fasano, Dorcia Mayer, Connor James McOlgan, Cory Lee Meyer, Aaliyah C. Miller, Mikayla Grace Miller, Stephen Cole Milling, Madison Elise Moore, Paden T. Moore, Alison B. Perez-Zapata, Alyssa Jeanette Pickett, Brinnon Christine Powell, Elon W. Presley, Edward Jerome Rackley, Hanna M. Robbins, Aurora Rosette Smith, Jessica Nicole Smith, Diana Suarez, Mark Anthony Thomas, LaToya A. Tubbs, Jaylen E. Vance, Skylar Madison Vance, Kiersten White, Camella Anastasia Wilburn, Jayden A. Williams, Katherine Elisabeth Williams, Taylor N. Williams, Zantarious L. Williams, and Wynecia Willis, all of Meridian;
Jennifer Torres of Morton; Phallyn M. Clark of Moselle; Dalton Trace McIntyre of Oakfield, Tenn.; Tabitha Anne Mayfield of Ocean Springs; Destiny Marie Redmond and Derrick Dion Sterling, both of Pachuta; Justin Anthony Pugh of Petal; Aizlynne P. Deason, LaFera Lashae Holt, Christian Cooper Russell, and Jackson A. Ward, all of Philadelphia; Lorin Greene and Katelyn Johnson, both of Quitman; Destiny Little and Christopher Michael Watson, both of Ridgeland; Lauren K. Lewis of Rose Hill, Catherine G. Compton and Madison E. Hines, both of Scooba; Kassidy Jean Ducarpe of Slidell, La.; Reagan Lynn Dyess, Samantha Marie Howell, and Antonio Wallace, all of Stonewall;
Charles Reece King of Stringer; Jon David Weed of Terry; Jordan McKee and Deanna Nicole Reed, both of Toomsuba; Parker Breland Lyons of Vancleave; Lauren Tyler Waites of Waynesboro; and William Brian McCullough and Makenzie Claire Smith, both of Wesson.
Dean's List for Spring 2023 honorees include:
Caitlyn E. Rhea of Abbeville; Gracie E. Bunyard, Peyton Jordan Henderson, Kamori Traeqwan Munnings, Jordan Nix, Reagan Mackenzie Reid, and Makayla Danielle Thompson, all of Bailey; Kristen Lynette Hosey of Bay Springs; Jacob P. Allen of Biloxi; Waylon Wesley Sebren of Brandon; Dawson R. Hester of Brookhaven; Kishona Siera Davis and Joslyn M. Overstreet, both of Buckatunna; Olivia Nicole Willard of Butler, Ala.; Meagan Cade of Caledonia; John Thomas Carpenter, Gabrielle O. Johnson, T'Yunna Romona Pierce, Nahasia S. Sanders, Tylar Brook Weaver and Sarah Leoni Williams, all of Carthage; Devlin Ford of Chunky; Pheneisha Winford of Collins;
Hannah-Marie T. Andreacchio, Sam T. Balderas, Emily L. Benthall, Jean C. Betancourt, Dalton Frank Bishop, Andrew B. Breland, Jayden Deshun Brown, Destiny T. Chisolm, Sarah L. Cooksey, Riley C. Crawford, Daniel V. Davis, Daniel Austin Deaton, Matthew A. Ethridge, William B. Gordon, Kayla ReAnne Horton, Justin E. Humphrey, Cheyenne Renea Long, Sarah E. McCoy, Elijah J. Mckenzie, Jordan Miracle Murray, Camryn B. Parten, John C. Plowman, Addisyn Pope, Ella M. Smith, Jacob D. Smith, Abbie E. Thornton, Lesleigh Denene Wallace, Caitlin C. Whitney, and Christopher Williams, all of Collinsville;
Reagan P. Greenhaw and Megan Renae Rodriguez, both of Columbus; Lizzie T. Walker of Crystal Springs; Jeremiah J. Boyd, Jordan Gradarius Campbell, and Bionnica Carshee' Hurst, all of DeKalb; Hayden Parker Chaney, Jamia Y. Hornsby, Marilyn Marin-Martinez and Taylor Alexis Mott, all of Decatur; Anjana Karki of Demopolis, Ala.; Landon B. Waters of Duck Hill; Breanna L. Dearman, David James Downs, Samuel K. Downs, Haley Michelle Freeman, Idasha' Kristina Glenn, Ali F. Mehr, and Peyton Simpson, all of Enterprise; Jessie R. Broadwater and Nicole Lee Lawrence, both of Florence;
Jessica Taylor Anderson, Sade Vonice Gammage, M'Kenya K. Gray, Jadazia Niquesha Hillie, Roshelle Johnson, Shastiana Sykes, and Ashley N. Viverette, all of Forest; Callie Leanne Cowan of Gautier; Anthony G. Gammill of Greenwood; Colbert T. Hathcock of Grenada; Danik Reed of Hammond, La.; Michael B. Ekes, Jasmyne Henry, and Shakala Raquel Roebuck, all of Hattiesburg; Peyton Parker and Tessa Camille Windham, both of Heidelberg; Aryanna Da'Shaun Wright of Jackson; Brandon Paul Bordelon of Kiln; Kaytlin Amber Hillman of Lake; Katelyn Danielle Reding of Larose, La.; Deonna Dasha Brandon, Amaya N. Bryan, Andrew Derek Clayton, William Robert Cline, Christopher Scott Dean, Cameron B. Ezell, Madison Elizabeth Miller, and Kyleigh D. Turner all of Lauderdale; Julia D. Blackledge, Autym L. Brashier, Lemontrell D. Cooley, Anita C. Craven, Kyiesha Marie Crosby, Macey Jane Hill, Kaitlyn Elise Ralls, and Madison Chantel Williams, all of Laurel; Rebecca M. Coonce of Lawrence; Shamia Easter of Lisman, Ala.; Margaret Jane Austin and Anna G. Blount, both of Little Rock;
Hayden L. Anthony, Tianna Lynette Hardin, and NyLexia Aaliyah Howell, all of Louisville; Madison E. Gregg of Maben; Tyler Reed Borntrager and Sara A. Gaylord, both of Macon; Abdias Arreola-Espino, Carlisha L. Barfield, James E. Germany, Sabrina Lasonja Gordon, Tanner A. Miley, Cassie Thanh Nhi Nguye, Russell Isom Smith, Mya Simone Spears, and Edwin M, Trejo, all of Marion;
Marcos D. Aguirre, Matthew G. Alexander, Jakyriah Irene Denise Allen, Matheus Arins Farias, Gabriel William Baker, Harleigh Bryanna Barham, Allison R. Beard, Christina Bell, Brianna L. Benamon, Austyn C. Blakney, TaShanna Latris Bland, Camden P. Boes, James Bradly Bonner, Carson B. Boutwell, Kasonya Nytorshia Boyd, Alyssa R. Boykin, Madisyn Danielle Breedlove, Lakeitha Ar'geana Brown, Nikkie D. Brown, Tristan H. Buckalew, Thomas Taylor Bucklew, Cora L. Bucurel, Syi Rayshawn Burrage, Maggie F. Bush, Olai Caicoya Lopez, Nia Camp, Tayana A. Campbell, Courtney Nicole Carney, Jaeden McKenna Carney, Juan DeJesus Chagolla, Om M. Chaudhari, Privillege Chikara, Imari D. Cistrunk, Jaylen D. Clark, Noelle Clay, Sarah M. Clay, Jake Rylan Coats, Calandria D. Coleman, Joseph S. Covington, Darion Dewayne Cox, Pretavia T. Crockett, Nicholas Blane Crouch, Atoria Crowell, Savannah Rose Cunningham, Chloe E. Davis, Ana Julissa De Mata Rodriguez, Samantha Claire Denson, JaBria Dunnigan, Christopher J. Dykes, Colin D. Everett, Kayla D. Evins, Amber Kathryn Fant, Jessica Irene Franks, Alicia Gabrelcik, Marisol M. Garcia, Noah Ray Garner, Gary L. Gibson, Kirsten Amber Glover, Piper C. Gonzalez, Fredriqus D. Gowdy, Jack A. Gray, Shelby Rose Gray, Malia Trinity-Lanae Greer, Shawanda M. Harris, Jessica K. Harrison, Jaylen Lavern Harvey, Megan E. Heggie, Sebastian Alexander Hendricks, Simone Latreese Henry, Whitney La-Chelle Hill, Christopher Hines, Loic Gilbert Pierre Hiss, Melissa Elanda Hopson, Dellonte L. Hossley Timmedria Latazia Houston, Vincent Jax Hubbard, Eli Davis Huebner, Gary Floran Huffmaster, Cohen F. Hurst, Brianna Faith Hutchinson, Gabrielle B. Hutchinson, Jasmine A. Ibarra, Daniel W. Johnson, Jamesha A. Jones, Christen Faith Jordan, Tylaia Shy'Mire Keeton, Jada Markevia Kendricks, Chloe BreAnn Kinney, Lauren N. Kirchhefe, Zachary Scott Kirk, Aaron Larkin, Keoka Cyanne Leggett, Laquandra Shawnee Lewis, Brian Anthony Lummus, Sabien Crow Lyons, Jhada K. Martin, Marshall L. Mayerhoff, Allyn Grace McCary, Robert Neal McCharen, Jake Nielsen McElroy, Laila G. McKenzie, William Dalton McMullan, William L. Mitchell, Sara Moffett, Erian Dennise Moody, Hollie Moore, Keleigh Breanna Moore, Viskiyya N. Muhammad, Toan Thanh Nguyen, Trinity Nguyen, Lolita M. O'Neal, Alicia Richelle Parks, Robert Ellis Parrish, Keegan S. Pearson, Natalie Pierce, Angel L. Plott, Rawson Anthony Polizzi, Johnathan D. Polk, Tnaizha Cashai Portis, LaPorsha S. Pratt, Phillip A. Priester, Zane Newell Pritchard, Isabella Quintero, Jamal Lashon Roberts, MaKeem Roberts, Ras J. Roberts, Mackenzie Brooke Robinson, Jalen Jamar Rose, Clayton Robert Schickel, Derrick Smith, Nykolis Deezil Stevens, Elijah Xavier Stringfellow, Jonathan Isaiah Sublette, Isabel M. Susunaga, Samuel A. Swanner, Sidney J. Taylor, Ember Lynn Temple, Rachel Thaggard, Kylee B. Thompson, Australia R. Tucker, Jayla Raina Vance, Hunter E. White, Jaden Nicole White, Tyrone B. White, Lane I. Williams, Mathishia LaShia Wilson, Tiffiney Nicole Wilson, Emma Winstead and Ashley M. Wolvers, all of Meridian;
Timothy Wade Walley of Millry, Ala.; Matthew J. Scott of Mooreville, Ala.; Emily Abigail Moore of Morton; Lauren Sydney Brooks of Moss Point; Dansby Chance Broach and Tommy L. Griffin, both of Newton; Savannah Grace Edwards of Noxapater; Kiana A. Bailey and Brennen Michael Study, both of Ocean Springs: Shilon Rena Watts and Amani T. Wilson, both of Pascagoula; Jalin O. Coleman, Gunnar K. Dennis, and Arianna N. Durrell, all of Pearl; Haley Alexis Groves and Karen S. Perrett, both of Pelahatchie; Eli J. Britt of Petal;
Ahlyric J. Ben, Cameron Bryan Spencer Case, Chezzie Starr Dearing, Ayden Grace Edwards, Macy E. Gray, Elijah Cade Griffin, Bailey N. Houston, Tayah Marie Latimer, Kristen DeAnn Lewis, Cora Rose Manning, Caitlin E. McDonald, Addison E. Nowell, Abbey Sistrunk, Chiquita Alexis Slaughter, Macy R. Smith, Ruth Abigail Storment, Ashley Stribling, Kellie Marie Watson, Abby Rose Woods, and Emily Ann Stewart, all of Phildelphia; Sha'Kenye' Darden and D'Undra Lotonia Jackson, both of Porterville; Katherine Z. Dailey, Gabriel Francis, Anthony E. Haddox, Angela D. Johnson, Aldyn B. Minella, Mary Abigail Pean, Kloe Shyanne Scott, and Jessica Alejandra Suarez, all of Quitman;
Allison Cheyenne Gill of Richland; Kimberly D. Brewer of Richton; DaVanye' Iman Kight and Kellie V. Payton, both of Ridgeland; Carmen Mariah Banks of Shubuta; Carson William Fox, Dhilan Bharat Patel, and Jasmine L. Pegues, all of Southaven; Seth T. Cooper of Star; Mary Celeste Driskill of Starkville; Aubree Hayes Younger of Steens; Hannah R. Herrington and Ashley Brooke Robinson, both of Stonewall; Gabrielle H. Burney of Tallulah, La.; Elisha Grace Allison, Jennifer Anthony, Mason T. Doxey, Patrick Dewayne Martin, Trevor M. McGlothin, Kirsten B. White, and Ethan J. Wooldridge, all of Toomsuba; Gracie M. Humphreys and Baylee Nicole Robinson, both of Union; Hanna Homra of Union City, Tenn.; Cali Grace Davis and Amarra Jennae Kennedy, both of Vicksburg; Loren Taylor Wade of Vossburg; Samantha C. Olmedo of Walnut Grove; Destiny Brooke Holmes, Tyla Hutcherson and Cha'Kiya D. Smith, all of Waynesboro; Samuel Rhett Ketchum of West Point and Braeden Presley Brewer of Wiggins.
To learn more about Meridian Community College, visit meridiancc.edu.