Hubbard begins journey to better life again thanks to MCC Adult Education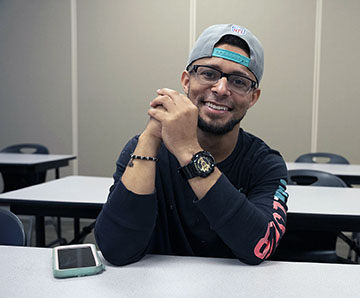 Dexter Ju'Von Hubbard wants to travel, meet people, and see the world.
He's taking that first step on his journey by enrolling in Meridian Community College's Adult Education/High School Equivalency classes. "As a young man, I sat around long enough. I want to do better, and I want better opportunities," the 30-year-old Lauderdale Countian said.
"I know I need this," he said. "I know with my GED I can go further."
Hubbard didn't finish high school when he was younger. "Life just happens … I made selfish choices," he said. "Now it's buckle-down time."
Talking to others who earned their GED with the help of MCC's Adult Education department, Hubbard decided to give it a go – again. "Dexter was in our program years ago, and as he said, he was immature and not ready to work toward achieving anything," said Jennifer Whitlock, director of adult education at MCC.
"Now his growth and maturity are obvious. When conversing with him, you can tell he's changed," Whitlock added. "We are looking forward to helping him achieve his goals," the director said.
Hubbard welcomes the helping hand and is pleased with how accommodating the adult education staff is. "They are consistent, caring, and understanding. It's different from being in high school with them," he said.
MCC's Adult Education program, located in the Ralph E. Young, Jr. Center for Adult Basic Education, provides foundational skills in math, reading, and writing to help students acquire the skills needed to earn a High School Equivalency (HSE) Diploma, go to college, and/or join the military. Students must be at least 16 years of age and not currently enrolled in school. Students under the age of 18 must provide the necessary documentation. When an examinee successfully passes an HSE test (GED or HiSet), MCC gives them one free academic or workforce class.
The College's Adult Education program instructional services are free.
With plans to also earn his Commercial Driver's License so he can see the world while making a living, Hubbard said he's got dreams of a better life. He explained that he knows people making three times more than minimum wage without a high school diploma: "Imagine what I can do with a GED," he said.